Hello






Amphawa and Bang Noi floating markets

We continue exploring Samut Songkhram this month by visiting two very different floating markets in the province. The Amphawa floating market, of course, is well known to many Thai and foreign visitors.

I've never heard of the Bang Noi floating market until the day I visited it. It has a very different and special character. You decide which atmosphere you prefer.


Contents (click on the link to go directly to the topic)



Floating markets in Thailand

Floating markets are a natural consequence of the many waterways in Thailand. Before roads were constructed almost all activities were water-borne. People bought and sold their goods along rivers and canals, resulting in floating markets.

Many floating markets have disappeared as a result of development. Some are very old and have been revived, others were created from scratch. In some of the old markets, many of the vendors are from the surrounding communities which give the markets a very local flavour.

I have noticed that initially these markets still manage to retain the traditional charm. However as more people get to know about them, they soon become over-crowded. I guess you have to visit them before they get too popular. Some however still retain their local charm.

Let's visit these two floating markets in Samut Songkhram. Both are located at the mouth of canals that meet the Mae Klong River, the main river passing through Samut Songkhram.

Table of contents


Amphawa floating market

The Amphawa floating market is everything one would expect of a floating market; vendors on boats, vendors by the banks, vendors in the surrounding areas.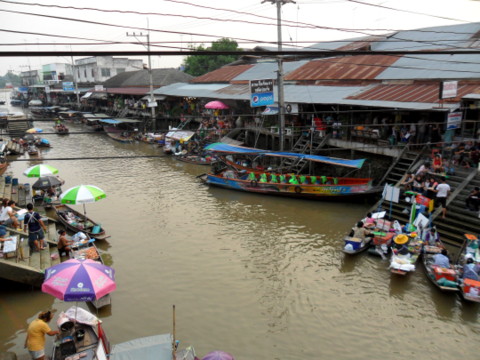 Amphawa floating market

There are lots food and people moving along the narrow lanes between the stalls. We had to weave our way along the narrow passages passing boats and other stalls laden with food.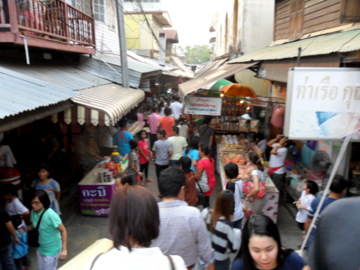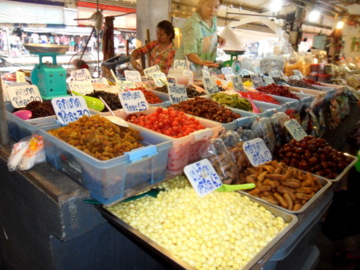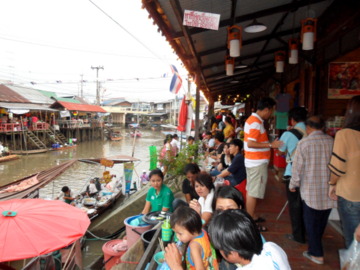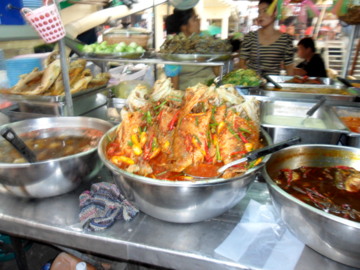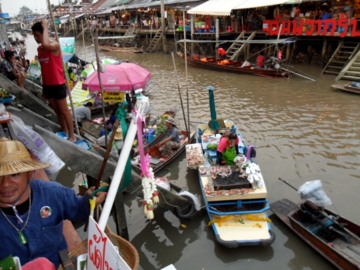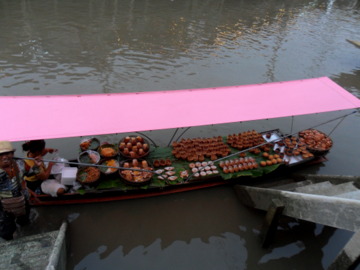 In addition, cultural shows nearby provide some attractive entertainment.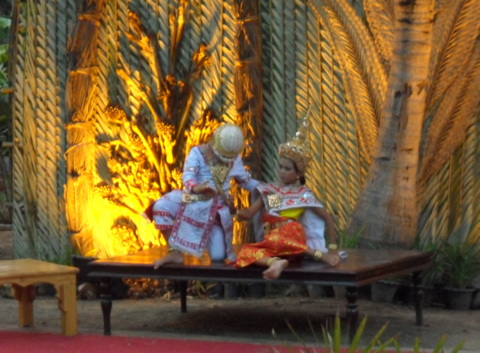 Khon mask dance display

Children in traditional dress play a game from the old days when we didn't have distractions like computer games and iPads.

This game is called "ngu kin hang", (snake bites tail). The children on the left who line up behind each other are the mother snake, in front and her baby snakes behind her. The boy on the right is the father snake.

Father snake will ask a question and mother would reply. The children would chant the chorus and sway the line as they chant. After a number of times, father snake will try and catch the babies. Mother snake will protect her babies by swaying the line from left to right to block him.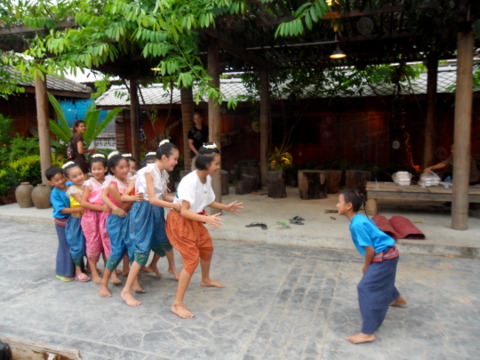 "Snake bites tail"

Here's a short video clip showing them in action.



If the video doesn't appear in your e-mail, click on this link to view it.

Besides the cultural shows, there were vendors selling traditional Thai desserts. Visitors were welcome to taste these desserts.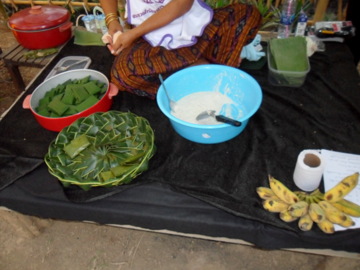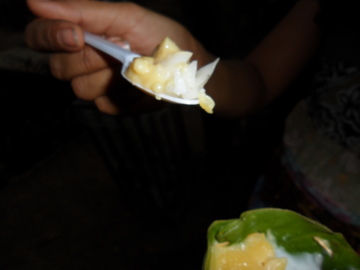 Boat rides in the evenings take visitors out to watch the fireflies for which Amphawa is famous. I didn't get to see the fireflies but these dolls made up for it.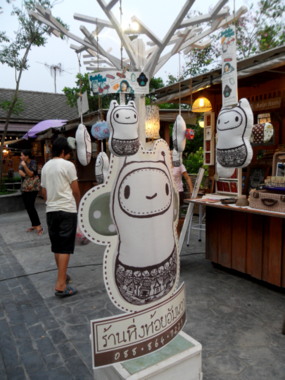 Firefly dolls

If you want to get away from the bustle of the busy market, the King Rama II Memorial Park nearby provides a peaceful sanctuary. King Rama II who reigned from 1809 - 1824 was born in Amphawa in 1768 and the park was built in his memory.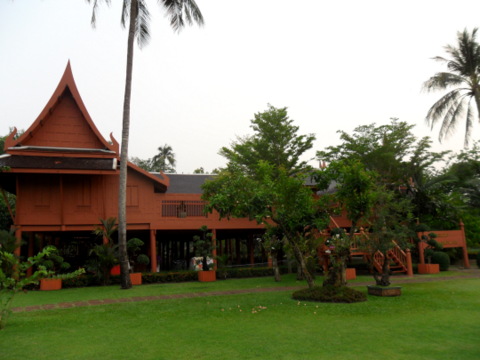 King Rama II Memorial Park

The Amphawa floating market is open on Fridays, Saturdays and Sundays from 12:00 noon – 08:00 pm.

Table of contents


Bang Noi floating market

The Bang Noi floating market in Amphur Bangkhonthi is about 100 years old. It's one of those old floating markets that was renovated and revived. At the time of my visit, it was a world apart from the Amphawa floating market.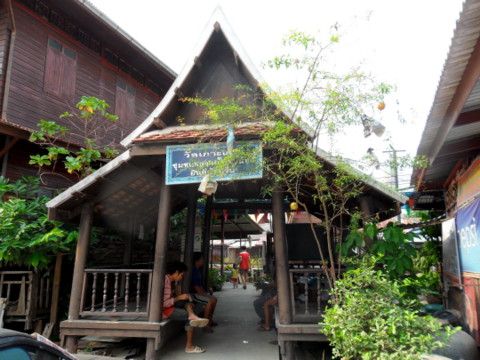 Entrance to the Bang Noi floating market

Bang Noi has an idyllic charm, peaceful and serene less all the blaring announcements and music over loud speakers. It's just the place to have a quiet lunch, coffee (they even serve latte), chat and photograph or paint the surroundings. Or do nothing and just relax.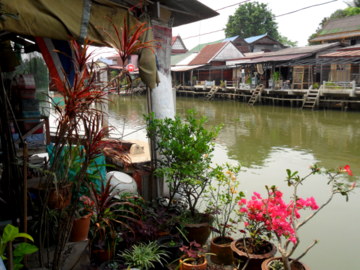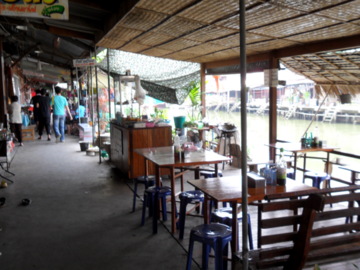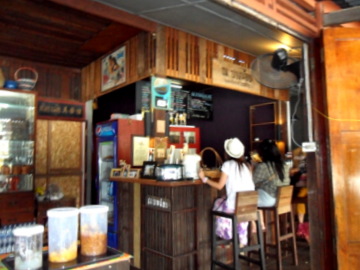 There are lots of local snacks and delicacies on sale for those who feel peckish. The vendors make some of these snacks right before your eyes.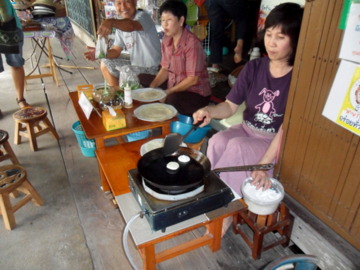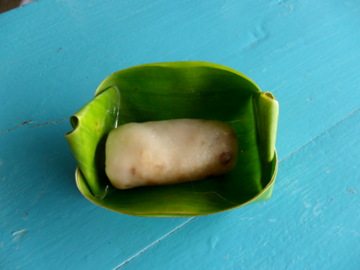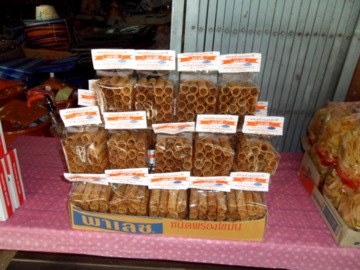 Local fabrics, fresh fruits, flowers and vegetables are available too.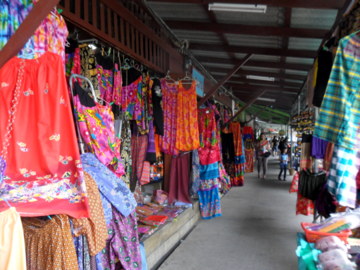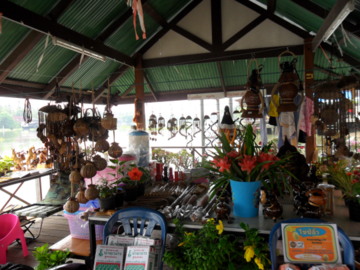 A band playing traditional Thai instruments provides the musical background.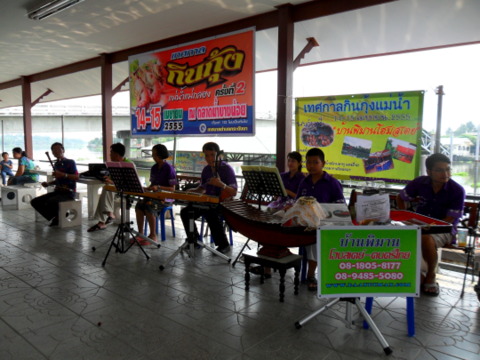 A school orchestra provides the music

The souvenir shops selling old postcards and photos give the Bang Noi floating market that special charm. Some of them have homestay facilities in their shops which are right by the canal.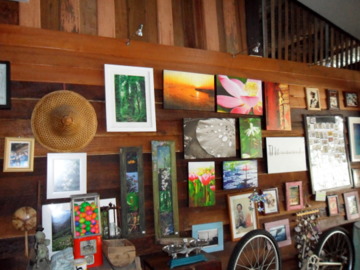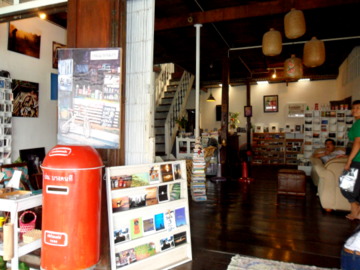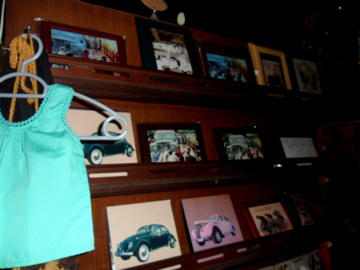 You can spend a leisurely afternoon at the weekend strolling along the boardwalks to enjoy the scenery.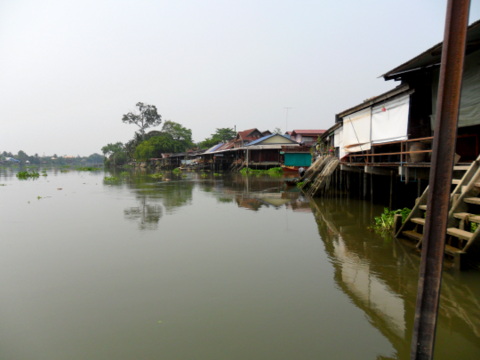 Scenery in Bang Noi floating market

In the past, the Ban Noi floating market had the old tradition of opening on the 3rd 8th and 13th days of the waxing and waning moon every lunar month. That's going to be tough if you are not used to the lunar calendar. Thankfully today it's open on Saturdays and Sundays from 8:00 am – 6:00 pm.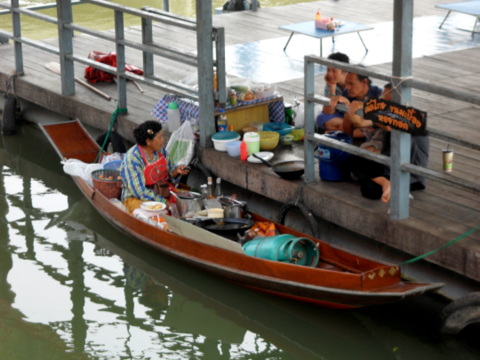 The solitary boat vendor that afternoon


You have just reviewed two contrasting floating markets in Samut Songkhram. Which do you prefer?

Table of contents


How to get to Amphawa and Bang Noi

General map of area


View Amphawa and Bang Noi - general map in a larger map

By car

Amphawa floating market

From Bangkok cross over to the Thonburi bank and take Rama II Road which continues on to Highway 35 all the way to Samut Songkhram.

Turn right into Highway 325 and travel for about 8 km before you get to Prachaset Road. This road leads to the Amphawa floating market.

Cross the bridge, then turn left to Wat Amphawan and find a parking space there. If you can't find a parking space here, you can cross the Mae Khlong River to Tambon Suan Luang and park at Wat Bang Nang Liyai. Then take a ferry across to Amphawa. That's what we did.

Bang Noi floating market

Take the same route as the one to Amphawa; Highway 35 – Highway 325 – Prachaset Road. After you have passed the Amphawa floating market, continue along Prachaset Road till you get to the Bang Noi floating market. Parking is available at Wat Ko Kaew.

Table of contents


Map of Amphawa floating market – close up


View Amphawa floating market - close-up in a larger map

Table of contents


Map of Bang Noi floating market – close up


View Bang Noi floating market - close-up in a larger map

Table of contents


Where to stay – hotels in Amphawa and Bang Khonthi

Amphawa and Bang Noi are just a day trip from Bangkok. However if you like to stay over to enjoy the atmosphere of the place, here are some accommodation available.

Ban Imoun Hotel Ban Platubtim Resort Baan Amphawa Resort & Spa

Baanpiangtawan Banbauntoum Ta Ngok Chababaancham Resort

Khetwarin Resort Panviman Amphawa Riverside Resort

Relax Smile Resort Ruenmalai Homestay Ruen Thai Amphawa Resort

Ruenthai Bangkung Resort Serenehome @ Samutsongkhram


There are homestay facilities available at both these floating markets. Here's one that's right in the Bang Noi floating market.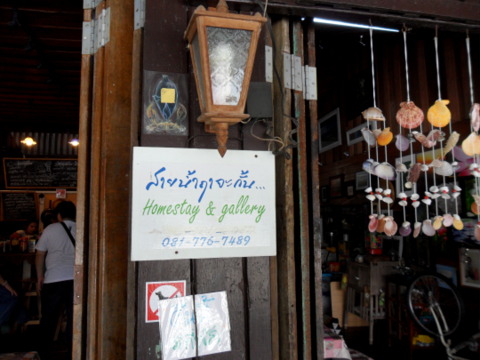 Sai Nam Bang Noi – Homestay & Gallery

Address:

85 Mu 8 Tambon Kradangnga,
Amphur Bang Khonthi
Samut Songkhram 75120

Tel: +66 817 767 489

Table of contents


Next month

The dinosaurs of Kalasin

If you enjoyed reading this e- zine, please forward it to a friend. If you received this from a friend and found it interesting, please subscribe at Bangkok Travelbug.


What you think of the Bangkok Travelbug?

We love to hear from you

What other subscribers have said

Till next month then.

Eric Lim

Find us on Facebook

Stay updated with what's new at Tour Bangkok Legacies. Copy the link below and paste it into your Google Reader, NetNewsWire or your favourite feed reader.

https://www.tour-bangkok-legacies.com/tour-Bangkok-legacies.xml

If you use My Yahoo! or My MSN, head over to my home page and click on the button for your favourite Web-based feed reader.

Visit our home page at Tour Bangkok Legacies.


Copyright@2008-2009 Tour Bangkok Legacies All rights reserved