Hello






Rayong Fruit Fair 2013

Hello again. Welcome back. This month we re-visit Rayong a province I first visited in 2010. This time it's the annual fruit festival that brings me back. The event will give us an idea of the rich variety of fruits available in Rayong and the neighbouring provinces.


Contents (click on the link to go directly to the topic)




Rayong - general information

Rayong is a province on the eastern seaboard that's about 180 km south-east of Bangkok and about two hours' drive. This coastal province is famous for her beaches, seafood, national parks, the island of Ko Samet and of course her fruits.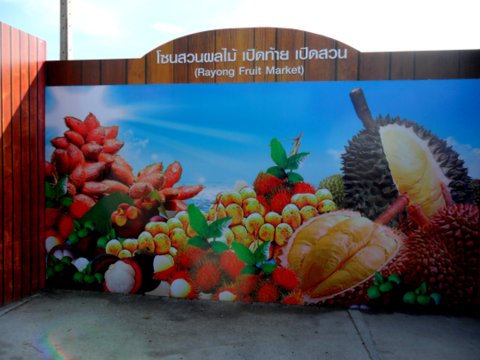 Rayong Fruit Fair 2013

Around May every year, when most of the fruits are in season and ripe for harvest, a fruit fair is held in the province to promote the local economy and to help the local farmers sell their fruits.

Rayong isn't the only province to do this. Neighbouring Chanthaburi and Trad have similar fruit fairs around this time.

Table of contents


Rayong Fruit Fair 2013

This year the Rayong Fruit Fair was held from 23 – 29 May 2013 at Talat Taphong (Taphong Market) in the sub-district (tambon) of Taphong which is about 9 km east of Rayong city centre.

At this market the visitor will have a chance to view some of the more popular Thai fruits available as well as some that you rarely see. Let's take a tour of this market.

Table of contents


Tour of Taphong market

The song taeow ride from the city to Talat Taphong was pleasant. The lady on board was very helpful and told where to get off at the market as she was going to her stall at the fruit fair.

She told me that the following week she'll be in Chanthaburi for the fruit fair there. So these fairs are not limited to the farmers in the province but are open to others from neighbouring provinces as well.

When I walked into the open air market, I realised why the durian is the King of Fruits. It was everywhere!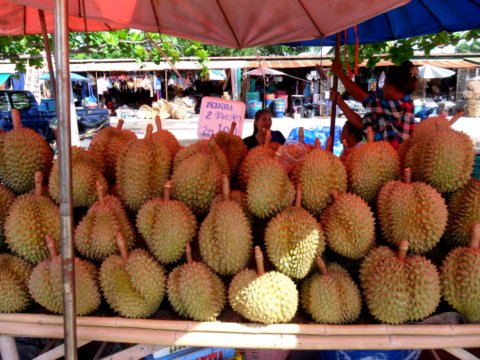 Durians

There are three varieties of durian in Thailand.

Cha Ni – this is the cheapest variety the quote for the day was about 50 – 60 baht per kg


Cha Ni


Morn Thong (golden pillow) – a popular variety priced about 90 – 120 baht per kg


Morn Thong


Karn Yao (long stem) – this is the premium grade and costs about 180 – 200 baht per kg


Karn Yao – note the long stems

There's a board at one end of the market that gives the daily price quotes, every much like in a commodity market.

Next the rambutans, a sweet, translucent and juicy fruit round a little seed were going for 30 – 35 baht per kg that day.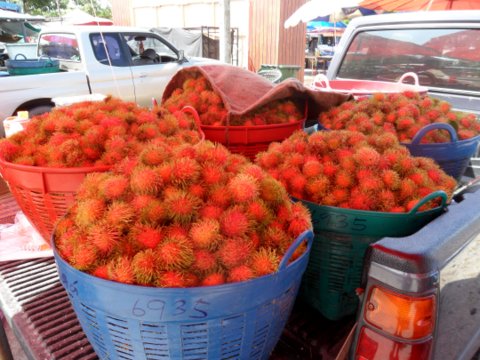 Rambutans

Mangosteens were one of my favourites. This white and juicy fruit cost 35 – 50 baht per kg.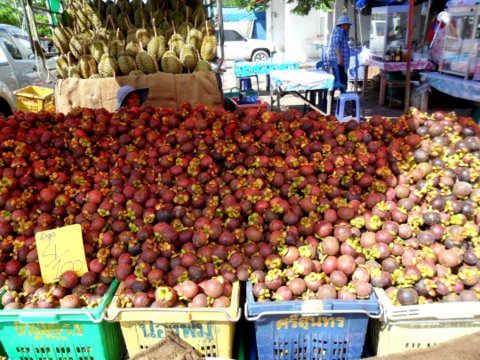 Mangosteens

I didn't like this fruit with its sharp prickly skin. It's called sa la in Thai. I don't know the English equivalent. I tried it once, got pricked all over my fingers just to peel the fruit only to taste something sour. I never tried it again. It's not cheap, 90- 100 baht per kg.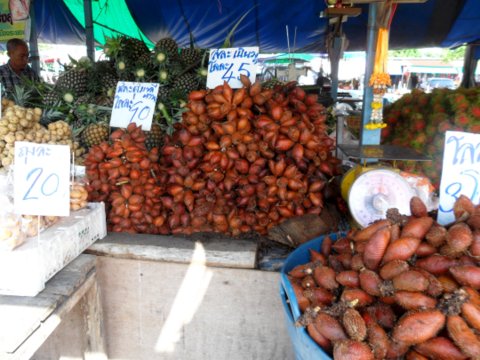 Prickly fruit

This fruit is interesting. It's called long kong in Thai. I had difficulty remembering the Malay word for this as this fruit is also available in Singapore and Malaysia.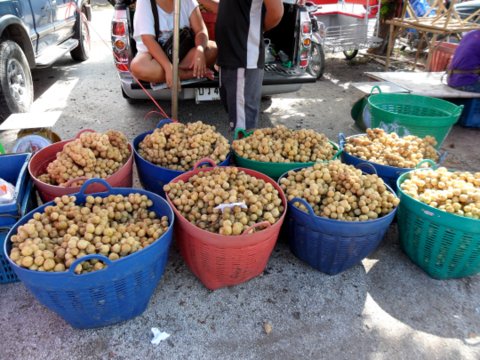 Long Kong

It has three varieties.

Duku which has a thicker skin covering a fleshy, translucent fruit


Langsat is a variety with thinner skin


Then there's the duku-langsat variety

Surprisingly all three varieties have the same scientific name, Lansium Domesticum. I prefer the Thai version, simply long kongfor all three.

Most of the vendors sold only one type of fruit. There were a few who sold an assortment like bananas, jackfruits, mangos and pineapples.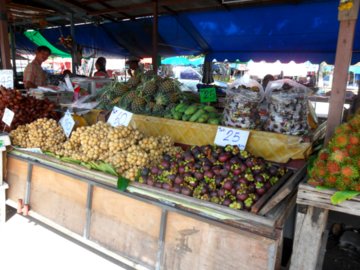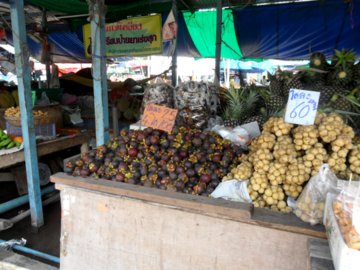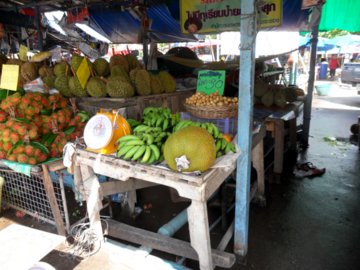 Table of contents


Other attractions in Rayong

While you are in Rayong city, take a trip to Leam Thong beach which is about 3 km south of the city centre. There's fishing community there and the fishing fleet is anchored in the tributary of the Rayong River.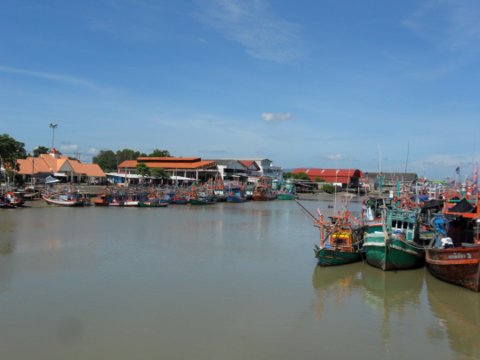 Fishing fleet in Rayong

Laem Thong is also famous for seafood. Here are some of the other attractions there.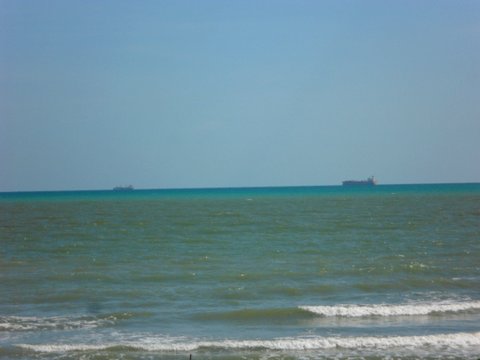 Laem Thong beach

St Paul's Church

As I was browsing through the map of Rayong, I chanced upon st Paul's Church near the Laem Thong beach. Unfortunately the gates were locked on a weekday and this is the best shot I could get through the grills of the gate.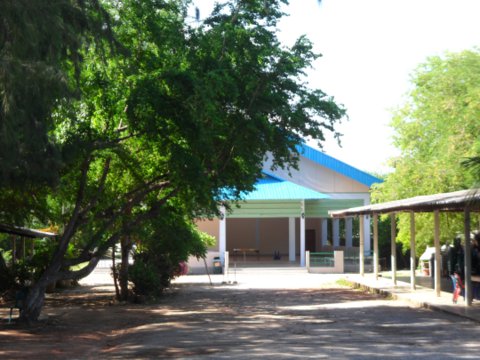 St Paul's Church

Jao Mae Rumphueng Shrine

What I didn't see on the map was this shrine dedicated to Mae Rumphueng. That name sounded familiar. The beach just to the east of Laem Thong is called Hat Mae Rumphueng (Mae Rumphueng beach).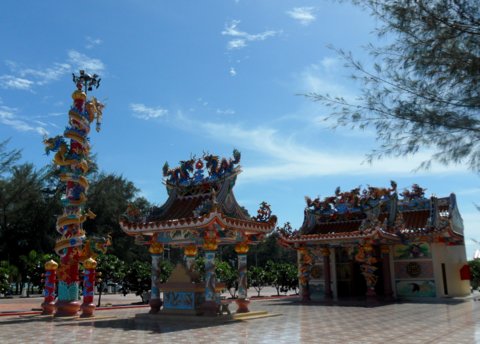 Jao Mae Rumphueng Shrine

A Thai friend related the tale of this shrine. Years ago there were several drowning cases at Hat Mae Rumphueng and most of the victims were women. As a result, this shrine was built to preserve the safety of the visitors to the beach.

Putting legend aside, the beach at Mae Rumphueng has a very sharp drop and this can cause swimmers to panic when they suddenly get into deep waters. There are also strong undercurrents.

Rayong lighthouse

You would expect lighthouses to be on crops of land off-shore. But this one's right on the mainland.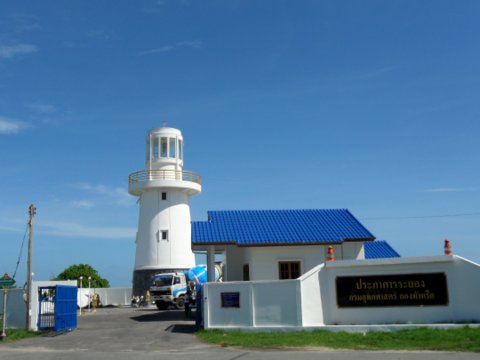 Rayong lighthouse

Here's an account of my previous visit to Rayong three years ago.

Rayong – the poet's inspiration

Table of contents


Map of Rayong


View Rayong Fruit Fair and other attractions in a larger map


How to get to there

By mini-bus

There are mini-buses from the Victory Monument passing Rayong city on route to Ban Phe pier and Ko Samet. Tell the driver you are getting off at Sukhumvit Nakhon Rayong Soi 39 where the city bus terminal is. These buses don't terminate in the city. Fare is 150 baht

Mini-buses from Ekamai the eastern bus terminal, which leave every 40 minutes, however terminate at the Rayong Bus Terminal I in Soi 39. Fare is 160 baht

By tour bus

There are tour buses from Ekamai going to Rayong and they terminate at the Rayong Bus Terminal 1 in Soi 39.

Getting around Rayong

At Soi 39 there are several song taeow services going to various parts of Rayong; Ban Chang, Klaeng, Map Ta Put, Mae Rumphueng, Pak Nam (Rayong River estuary) etc. Ask around to get the right one.

The song taeow passing Talat Taphong where the fruit fair is held are white and parked in the next soi, Soi 43 where the market is. These song taeow terminate at Klaeng.

Note:

Like Bangkok, the soi in Rayong have two names, for example, Soi Sukhumvit Nakhon Rayong 46 or Soi Rajvimon 2. Both names are shown on the road signs.

Where to stay

Here are some relatively inexpensive hotels in Rayong city that are within walking distance of Rayong Bus Terminal 1in Soi 39.

Caza V1 Serviced Apartment Central Place Hotel

Rayong President Hotel Star Hotel

Table of contents


Next month

Yomchinda Road – old town in Rayong







If you enjoyed reading this e-zine, please forward it to a friend. If you received this from a friend and found it interesting, please subscribe at Bangkok Travelbug.


What you think of the Bangkok Travelbug?

We love to hear from you

What other subscribers have said

Till next month then.

Eric Lim

Find us on Facebook

Stay updated with what's new at Tour Bangkok Legacies. Copy the link below and paste it into your Google Reader, NetNewsWire or your favourite feed reader.

https://www.tour-bangkok-legacies.com/tour-Bangkok-legacies.xml

If you use My Yahoo! or My MSN, head over to my home page and click on the button for your favourite Web-based feed reader.

Visit our home page at Tour Bangkok Legacies.


Copyright@2008-2013 Tour Bangkok Legacies. All rights reserved