Hello






Sawanvoranayok National Museum, Sawankhalok

Hello again! I've just published my first book, an e-book and here it is Tour Bangkok Legacies


For readers living in countries where Amazon isn't available, I will be publishing the same e-book with Smashwords soon. The Smashwords edition will be more readily available and to a wider range of e-readers.

Back to our visit this month and we are still in Sukhothai to visit a very special museum in Sawankhalok city that features the centuries-old Sangkhalok ceramics that Sukhothai is famous for.

Last month we visited the ancient kilns in Si Satchanalai that produced these ceramics so popular in S E Asia in the 13th – 16th C. Let's visit the Sawanvoranayok National Museum in Sawankhalok city to view these exhibits that are more than 700 years old.


Contents (click on the link to go directly to the topic)

Background to the museum

The Sawanvoranayok (sa-wan-vo-ra-na-yok) National Museum was the brainchild of Phra Sawanvoranayok, an abbot from Wat Sawankharam and the chief administrator of the Buddhist clergy in Sukhothai.

Phra Sawanvoranayok wanted to preserve the Thai national heritage by bequeathing his personal collection of old artefacts to the nation. In 1981 the Fine Arts Department received these artefacts together with exhibits from Ramkhamhaeng National Museum in Sukhothai and the excavation sites at Si Satchanalai.

Also included were Sangkhalok wares recovered from ship wrecks in the Gulf of Thailand and artefacts donated by members of the public.



Sawanvoraknayok National Museum, Sawankhalok

On 15 March 1984, HRH the Crown Princess Maha Chakri Sirindhorn officially opened the Sawanvoranayok National Museum. The exhibits in the museum are divided into four sections.

Table of contents


Sawankhalok History Gallery

Sawankhalok city is about 40 km north of Sukhothai city. It's located between Sukhothai and Si Satchanalai. The region was part of the area under the influence of a Buddhist civilization Dvaravati that covered large parts of central, northern and north-eastern Thailand during the 6th – 9th centuries.

In the 11th and 12th centuries, the Khmer Empire based in Angkor emerged as the new influence until the rise of Sukhothai in the 13th century.



Early life on the Yom River

The rise of Ayutthaya a century later saw the decline of Sukhothai. Oddly the area around Si Satchanalai 20 km to the north was renamed Sawankhalok. It was only in the reign of King Rama I that the name Sawankhalok was re-assigned to the present location.

Table of contents


Sangkhalok Ceramics Gallery

Of all the old ceramics found in Thailand, the Sangkhalok ceramics of Sukhothai are the most well-known and popular. Sangkhalok ceramics are found in two areas in Sukhothai; outside Sukhothai city and in Si Satchanalai 65 km to the north.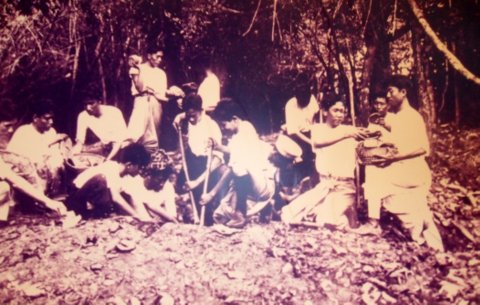 Excavation in Si Satchanalai - 1907

There were two main areas in Si Satchanalai where these old kilns were discovered; Ban Pa Yang and Ban Ko Noi. Please see Ancient kilns in Ban Ko Noi

There are two types of Sangkhalok wares:

Earthernware – These are made from clay and heated from 700 – 1,100° C. The vessels turn reddish after heating and are coarse and porous.


Stoneware – These are made from hard clay and heated to 1,200° C and are greyish after heating if they remained unglazed. Glazed stoneware are made in different colours and designs.

Here are some displays of unglazed Sangkhalok wares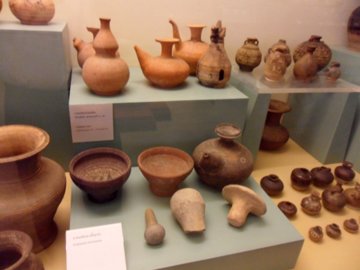 Unglazed ware display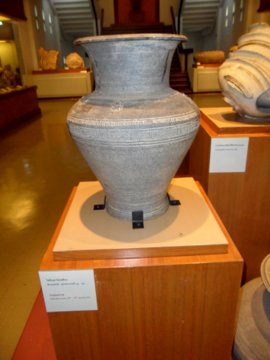 Unglazed jar – Sukhothai style 14th – 15th C

Glazed wares usually have elaborate designs painted on the surfaces and have glossy surfaces.


Glazed Sangkhalok – Sukhothai style 14th – 15th C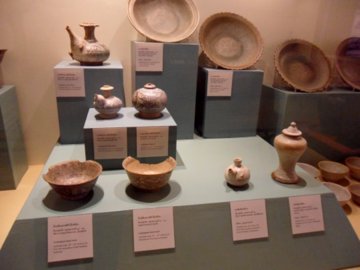 Sangkhalok wares were very popular in S E Asia during the Ayutthaya period and trade was brisk. Some of the trading ships carrying these wares must have sunk as discoveries in the 20th century indicate.

These glazed pots from the Sukhothai period 15th – 16th C have lost their shine as they were recovered after being submerged underwater for centuries.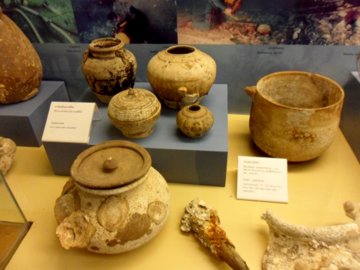 Glazed Sangkhalok – Sukhothai style 15th – 16th C

These unglazed jars from the Ayutthaya period 17th – 18th C were recovered in the Gulf of Thailand off Sattahip, Chonburi.




Besides pots and jars, Sangkhalok ceramics were also used as architectural ornaments particularly in the Sukhothai period.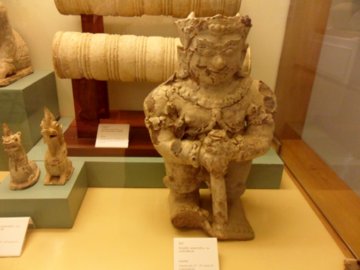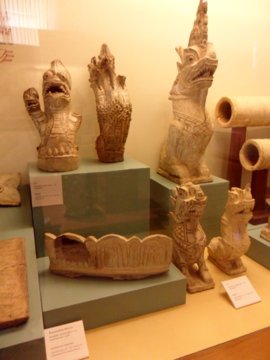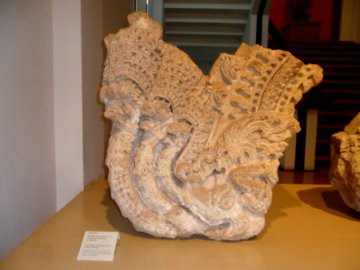 Table of contents


Buddha Image Gallery

The Buddha Images Gallery displays Buddha art in the form of Buddha statues and tablets through the ages from Lanna, Lopburi, Ayutthaya, Sukhothai and Rattanakosin periods. Most of the Buddha images here were donated by Phra Sawanvoraknayok.

Other images were from Sukhothai, Phisanulok and Kamphaengphet and were originally displayed in the Ramkhamhaeng National Museum in Sukhothai before being transferred here.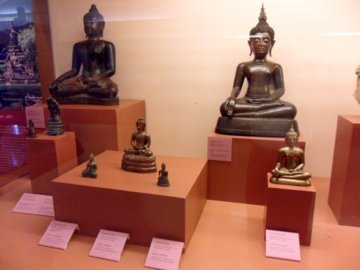 Lanna period 13th – 14th C
Buddha protected by the Naga - Lopburi period 13th C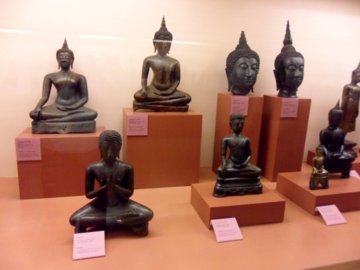 Sukhothai period 14th – 15th C
U-Thong period 12th – 15th C

Ayutthaya period 15th – 17th C

In the Rattanakosin period, Buddha statues depicted Buddha in different postures.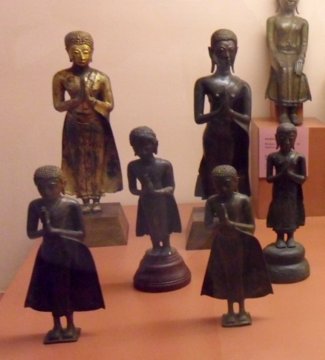 Rattanakosin period 19th C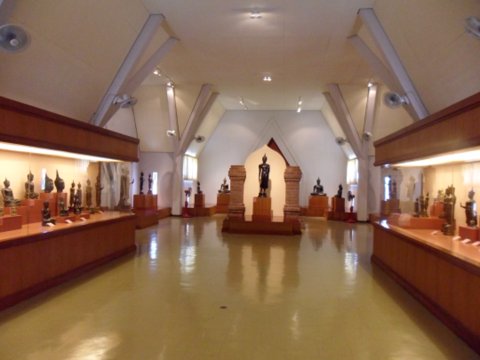 View of the Buddha Image Gallery

Table of contents


Phra Sawanvoranayok Gallery

This last gallery features manuscript cabinets with beautifully decorated surfaces for keeping Buddhist scriptures. These cabinets were donated by Phra Sawanvoraknayok.



Manuscript cabinet

Table of contents


Map to Sawanvoranayok National Museum


View Sawanvoraknayok National Museum in a larger map


Opening hours

Open from Wednesday – Sunday from 9:00 am – 4:00 pm
Closed on Monday, Tuesday and public holidays

Admission fees

Thai – 10 baht, foreigner 30 baht

How to get to there

By tour bus

Take a tour bus from Mor Chit the northern bus station in Bangkok to Sawankhalok. Do not take the bus to Sukhothai city as it terminates at the city bus terminal.

This is the same bus that goes to Si Satchanalai and Phitsanulok. Fare is 387 baht to Sawankhalok. For accommodation in Sawankhalok, this beautiful hotel came highly recommended.

Where to stay

I stayed at the Sawankaburi Boutique Hotel for 800 baht per night. The rooms are comfortably furnished with traditional Thai décor of wood paintings and ceramics.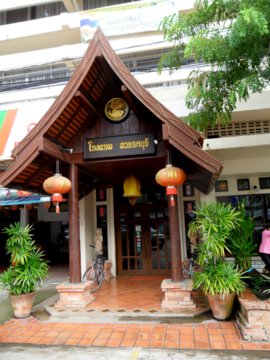 Sawankaburi Boutique Hotel

Getting around Sawankhalok

Public transport in Si Satchanalai consists of motor cycles and public buses running on regular routes. It would be difficult for someone from out of town to be familiar with these in a short period.

The best alternative is to enquire with the hotel where you are staying to rent a car. The museum is in the city. However if you are feeling adventurous, there's this specially converted motorized trishaw operating within the city, the front cargo compartment has been fitted with seats for two with a motor-cycle fitted to the rear.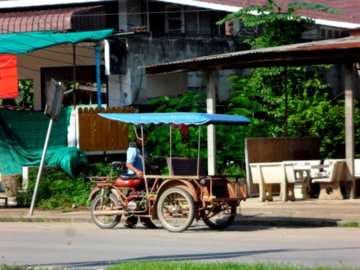 Motorized trishaw
Table of contents
Other attractions in and near Si Satchanalai



Sathorn Gold Textiles Museum

Table of contents


My thanks

I am grateful to Lumpoo Pramchit for showing me the historical and cultural sites in her home province of Sukhothai.

Table of contents


Next month

We visit the Sathorn Gold Textiles Museum in Si Satchanalai






If you enjoyed reading this e-zine, please forward it to a friend. If you received this from a friend and found it interesting, please subscribe at Bangkok Travelbug.


What you think of the Bangkok Travelbug?

We love to hear from you

What other subscribers have said

Till next month then.

Eric Lim

Find us on Facebook

Stay updated with what's new at Tour Bangkok Legacies. Copy the link below and paste it into your Google Reader, NetNewsWire or your favourite feed reader.

https://www.tour-bangkok-legacies.com/tour-Bangkok-legacies.xml

If you use My Yahoo! or My MSN, head over to my home page and click on the button for your favourite Web-based feed reader.

Visit our home page at Tour Bangkok Legacies.


Copyright@2008-2014 Tour Bangkok Legacies All rights reserved