Hello






Pridi Banomyong Memorial, Ayutthaya

Welcome back! This month, we return to Ayutthaya and visit a historical memorial dedicated to a famous person who was born here.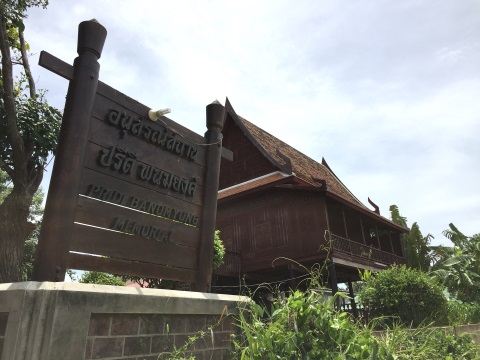 Pridi Banomyong Memorial

The Pridi Banomyong Memorial consists of two traditional Thai houses on the banks of the Khlong Muang in the old City of Ayutthaya. The first building serves as a museum displaying letters and mementoes belonging to Pridi.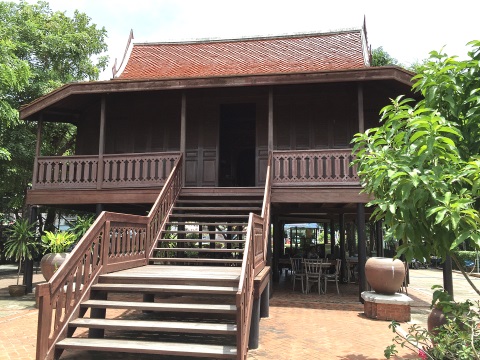 The museum

Let's examine some of the items on display in the museum and relate them to the stages in Pridi's life and political career.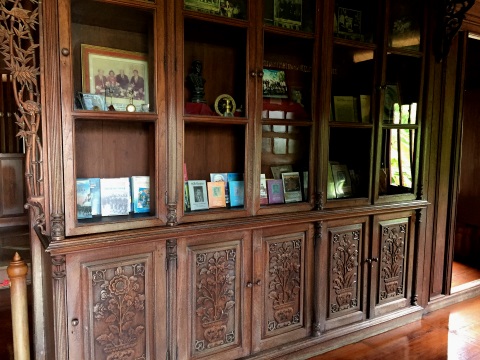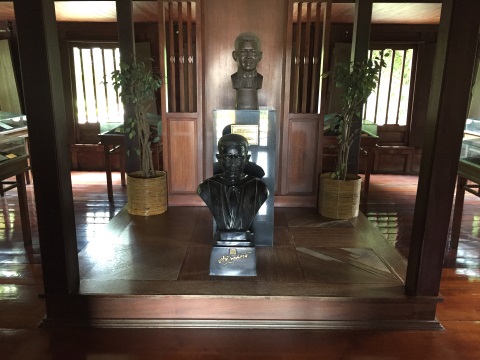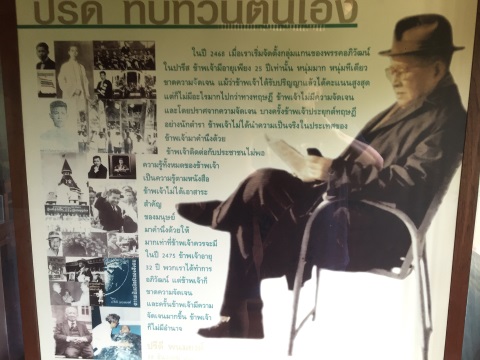 Some of the displays in the museum

For a more complete account of his life, please see Pridi Banomyong

Contents (click on the link to go directly to the topic)



Early Life

Pridi Banomyong was born on 11 May 1900 in a traditional floating house in Ayutthaya on the Khlong Muang near Wat Banomyong*. This house is now preserved within the memorial grounds. It's not open to visitors.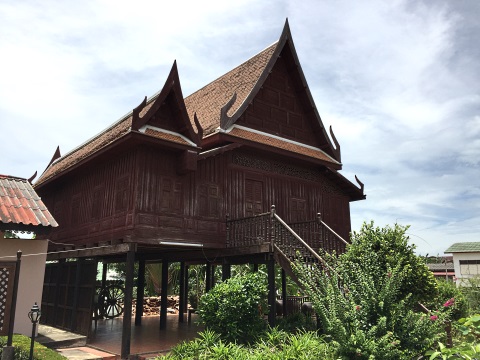 House where Pridi was born

*According to information from a display board in the museum. I was not able to locate Wat Banomyong on the map but if you switch to the satellite version there is a huge temple across the canal from the memorial. The temple is unnamed.

A brilliant student, he finished school early when he was 14, waited till he was old enough then went on to complete Law School. The Ministry Justice awarded him a scholarship to France where he completed his Masters and Doctorate in Law specialising in Constitutional Law. In addition, he received a diploma in economics.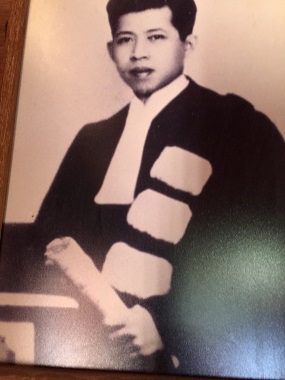 Pridi in his academic robes

While in Paris in the 1920s, he met up with other liked-minded Siamese students, civilian and military and discussed politics. The hot topic of the day was, of course, change, revolution#.

# In the first 20 years of the 20th century, two major political upheavals had taken place in two of the biggest countries in the world.

Firstly, the establishment of the Chinese Republic on 1 January 1912 following the Xinhai Revolution in the previous year which overthrew the Xing Dynasty thus ending two thousand years of imperial rule in China.

Secondly, the Russian Revolution, a pair of revolutions in 1917 that led to the end of Tsarist rule and the rise of the Soviet Union.

When this group of officers returned home, they continued meeting and planning. At dawn on 24 June 1932, this group of men, military and civilian, seized power in Bangkok and declared a constitutional monarchy.

Pridi was responsible for writing the first constitution for Thailand and a copy in kept in the central pedestal in the Democracy Monument. He started University of Moral and Political Science (Thammasat University today) which is one of the premier universities in the country.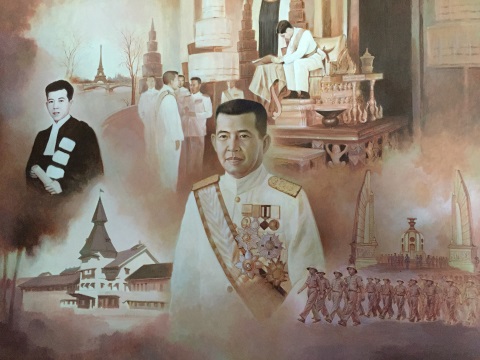 Mural depicting Pridi's achievements

In 1933, Pridi married Poonsuk na Pombejra, they have six children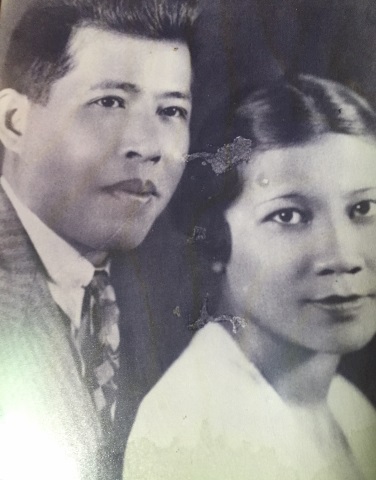 With his wife Poonsuk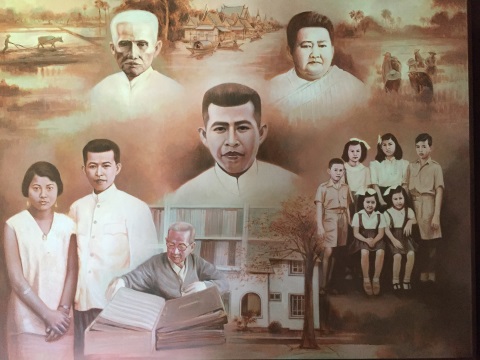 Mural depicting Pridi's family

Between 1933 – 1947, Pridi had an illustrious political career and a tumultuous one too. He was Interior Minister, Foreign Minister, Finance Minister, Regent, Prime Minister and Senior Statesman.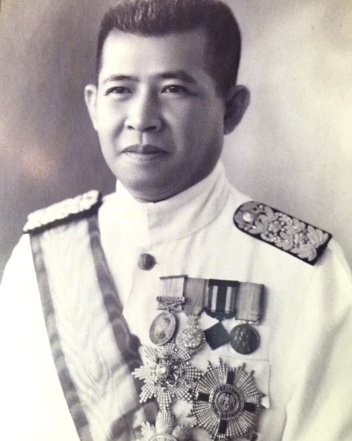 Pridi as Regent 1941 – 45 in his ceremonial uniform

This is a popular photo of Pridi used in several articles about Pridi and also on the cover of his book, "Pridi on Pridi".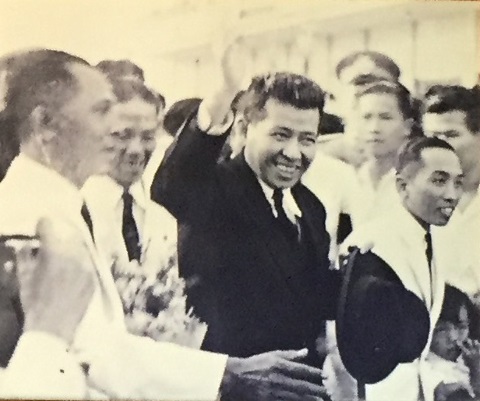 Pridi visiting Kloeng Toey Port in 1946 when he was Prime Minister

However, he had to flee the country three times, the last time for good.

Contents


Exile

After the abortive coup in November 1949, Pridi went into exile in China. Later in May 1970, he moved to Antony a town south of Paris, France. During his years in exile, he met with several world leaders and statesmen.

These are two of Pridi's letters to his wife Thanpuying Poonsuk during the early years of his exile. The first was written on 3 July 1949. His wife was arrested in November 1952 for subversion and remained in custody until February 1953. On her release she joined Pridi in exile.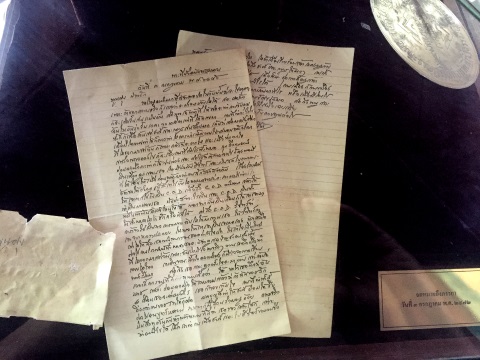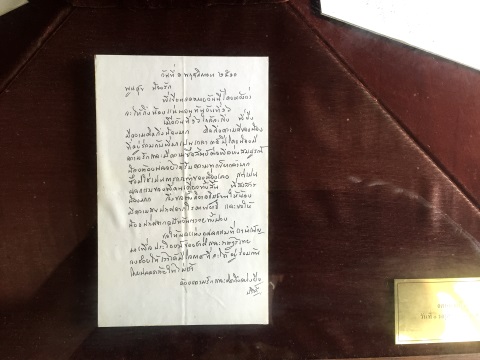 Letters from Pridi to his wife

Pridi sympathised with the Vietnamese independence movement and in 1966 he met Ho Chi Minh, presumably in China, when Ho was President of the Democratic Republic of Vietnam.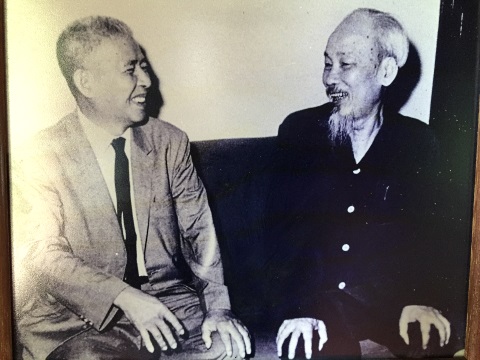 Pridi with Ho Chi Minh in 1966

In 1942 at the start of World War II in South-east Asia, Thailand declared war on Britain and the USA. Pridi and those who disagreed with the government's stand were removed. Pridi lost his Finance Minister post and became the Regent. He started the underground anti-Japanese resistance, Seri Thai (Free Thai).

Seri Thai maintained radio communications with the Allies and helped Allied agents parachute into Thailand to set up a resistance movement.

When the war ended in 1945, Pridi met with Lord Louis Mountbatten, Supreme Allied Commander of the South-east Asian Theatre. In 1970 while Pridi was in exile, Lord Mountbatten visited him in France.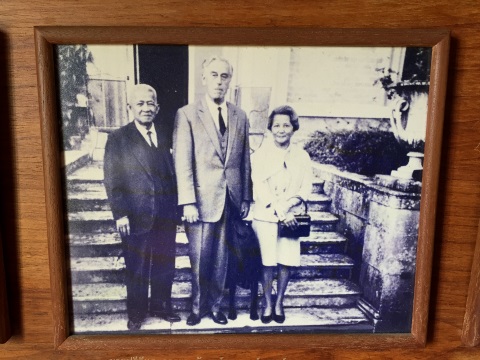 Lord Louis Mountain with Pridi and his wife Poonsuk

Lord Mountbattnen was assassinated by the IRA in 1979 off the coast of Mullaghmore, Ireland when a bomb was planted in his fishing boat and radio activated. Pridi sent a letter of condolence to Queen Elizabeth II, Mountbatten's cousin and received this telegram in reply.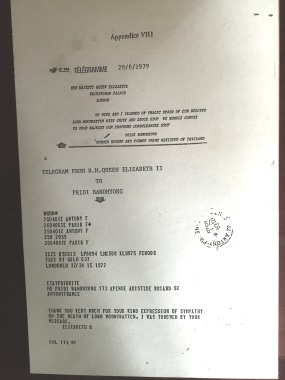 Telegram from Queen Elizabeth II to Pridi Banomyong

Thank you very much for your kind expression of sympathy on the death of Lord Mountbatten. I was very touched by your message.

Elizabeth R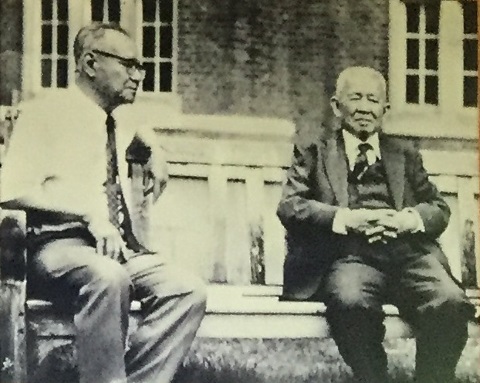 Pridi with Dr Puey Ungphakorn 1973

Dr Puey Ungphakorn (1917 – 1999) had a distinguished career. He was parachuted into Thailand by the Seri Thai in 1944, received his Doctorate in the London School of Economics in 1948, was Governor Bank of Thailand 1974-76 and Rector of Thammasat University 1974-76.

He was forced to flee Thailand after the 6 October 1976 Thammasat massacre and lived in London till the end of his days.

Contents


Last Days

Pridi spent the rest of his life in exile in France. He never lived to see Thailand again. As a staunch Buddhist, he carried this booklet of Buddhist teachings with him till his last days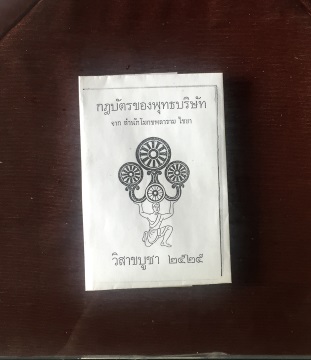 Booklet on Buddhism which Pridi had with him all his life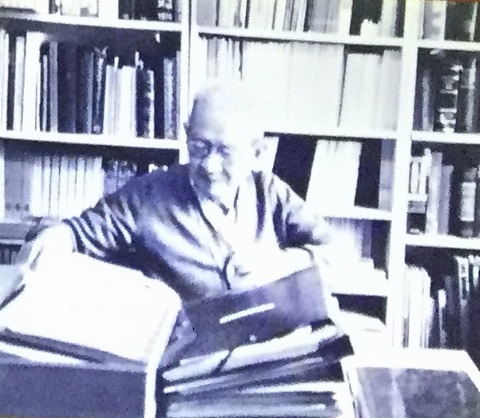 Pridi at his desk – photo taken nine days before he died

This was the draft of Pridi's last letter on 2 May 1983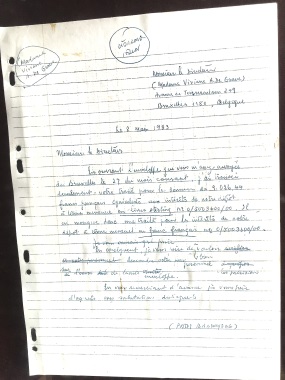 Pridi's last letter

It is in French and addressed to the director of a bank in Brussels and with the help of Valentin Fouillet, one of our readers, the English translation is below.

Director
Mrs. Viviane A. De Grave
Avenue of Tervurenlaan 249
Brussels 1150, Belgium
May 2, 1983

Mdm. Director

In the letter you have sent to me from Brussels on the 27 May, I have found only your draft for the sum of 9,026.44 French francs for the interests on our monthly term deposit in pounds sterling no. 0/5003600/00.

A draft for the interest on our monthly term deposit in French francs no. 0/5003600/00 is missing. Please check with your staff on this matter.

Thanking you in advance.

Best regards,
Pridi Banomyong

Pridi died within an hour of completing the letter on 2 May 1983, just nine days short of his 83rd birthday.

Just before I left, the administrator directed my attention to a display in the memorial grounds. "It looks like four pillars but there are actually six," she said. That aroused my curiosity.

I had a passing look at it earlier, it appeared like a dried-up pond; I was mistaken. On closer examination, it's actually a monument. I didn't realise the significance to the six pillars until much later when I was reading about the six-point program of the People's Party to achieve economic and social progress for the people of Thailand.

National independence


Public cohesion, safety and security


Economic plan for full employment


Equal rights


Liberty for all


Universal education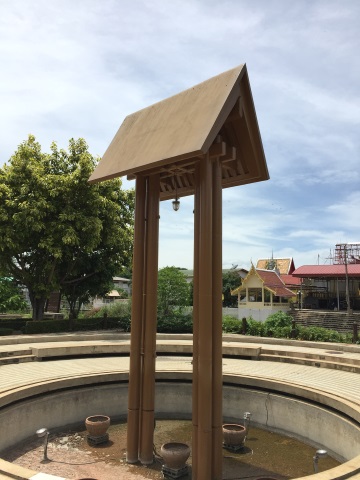 The Six Pillars – symbolic of Pridi's ideals and legacy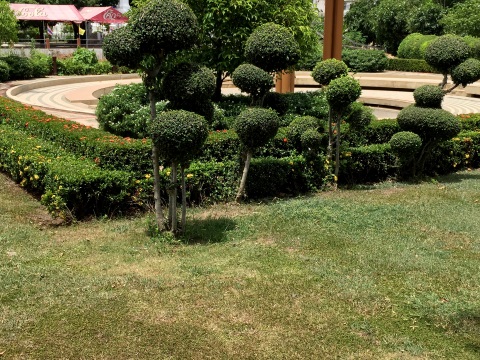 Well-kept garden around the monument

The Thammasat Association, the alumni for graduates of the university, is located in Soi Ngam Dupli and can be reached from Soi Sathorn 3.

Though there are many institutions, places and roads named after Pridi, this is the most poignant. Across the street from the alumni are two narrow lanes (soi), Soi Pridi and Soi Poonsuk; one named after a man who stood by his beliefs and the other after the woman who stood by him.

For more on Pridi, please click here

Contents


My Thanks

I am grateful to the administrator of the Pridi Banomyong Memorial for the information and photos taken to write this article.

My thanks to Valentin Fouillet, one of our readers, who translated Pridi's last letter from French to English.

Contents


Map to the Pridi Banomyong Memorial, Ayutthaya



If the map doesn't appear, click on this link

How to get there

By car

From Bangkok - Don Muang toll way – Highway 1 – Highway 32 – Highway 309 – this leads directly to the old city of Ayutthaya.

Address

U-Thong Road
Tambon Tha Wasukri
Amphur Phra Nakhon Si Ayutthaya
Ayutthaya 13000

Opening times

Wednesdays – Sundays
0800 hours – 1630 hours

Admission - free

Contents


Next month

Fish Sanctuary, Wat Huai Phlu, Bang Len

If you enjoyed reading this e-zine, please forward it to a friend. If you received this from a friend and found it interesting, please subscribe at Bangkok Travelbug.


What do you think of the Bangkok Travelbug?

We love to hear from you

What other subscribers have said

Till next month then.

Eric Lim
Tour Bangkok Legacies
Find us on Facebook

If you are an independent traveller, here's a handy e-guide book, Tour Bangkok Legacies, which will help you along as you explore the streets of Bangkok and discover its old treasures. It's complete with historical descriptions, maps and detailed directions on how to get to these places.

My Kindle e-book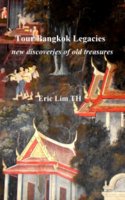 Copyright@2008-2017 Tour Bangkok Legacies
All rights reserved