Hello






Phrae Wa Thai silk of Ban Phon

Welcome back to the September Bangkok Travelbug. We are still in Kalasin this month and will be visiting Amphur Kham Muang, a district on the northern end of Kalasin province. There is a community here that produces a distinctive type of Thai silk, the Phrae Wa Thai silk.


Contents (click on the link to go directly to the topic)



Ban Phon, Amphur Kham Muang

Ban Phon is a small town in Tambon (sub-district) Phon, a sub-district in Amphur Kham Muang, Kalasin. The town is about 65 km north of Kalasin city.

The community in Ban Phon prides itself in producing a beautiful brand of Thai silk, Phrae Wa Thai silk. This product is now marketed as an OTOP* product for the sub-district.




*Note

OTOP (One Tambon One Product) was a project started in 2001 to promote the indigenous products in the sub-districts of Thailand in order to boost local economies and incomes.

This scheme is modelled after the Japanese One Village One Product (OVOP) movement started by Dr Morihiko Hiramatsu, Governor of Oita Prefecture, Japan.

Table of contents


Weaving Phrae Wa Thai silk

Phrae Wa Thai silk weaving is not done in factories or even in Thai silk shops. It is done in homes and shops selling other products. For example, the shop that invited me in for a demonstration is a furniture shop!

The community in Ban Phon weave Phrae Wa Thai silk as a cottage industry and on a part-time basis to augment their incomes while they engage in their other jobs.

The lady in this furniture shop was kind enough to invite me into her shop to show me her Phrae Wa Thai silk products and to give me a demonstration on weaving the silk fabric.



Weaving the silk

Weaving other types of Thai silk merely involves working the loom. In the case of Phrae Wa Thai silk, there's a manual process as well. The weaver has to tie certain threads manually to create the intricate designs.

Here's a short video clip of the process.



If the video doesn't appear, please click on this link to view it.

Table of contents


Samples of Phrae Wa Thai silk

These are some of the pieces woven by this lady who gave us the demonstration earlier. They are exquisite.



Phrae Wa Thai silk samples

Pieces with repetitive patterns are relatively inexpensive. However those with different patterns require more work and consequently cost more, the more different patterns the more costly the material.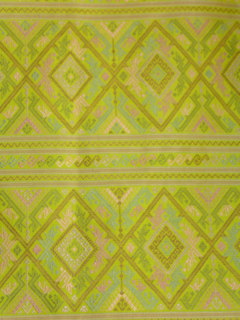 From the samples shown above, the broad band with diamond-shaped symbols is counted as one pattern, the narrow band with s-shaped symbols are counted as a second pattern. These two patterns are repeated throughout the fabric.

Table of contents


Marketing Phrae Wa Thai silk

There is a group of housewives in Ban Phon producing Phrae Wa Thai silk from home. They make Phrae Wa Thai silk cloth and products made from this silk like hand bags, cushions, curtains.

These products are sold through this shop in Ban Phon.



Vichit Phrae Wa Ban Phon Centre

Contact details are:

Vichit Phrae Wa Ban Phon Centre
Tambon Phon
Amphut Kham Muang
Kalasin province

Tel no +66 41 856 204

Here are some of the products sold in this shop.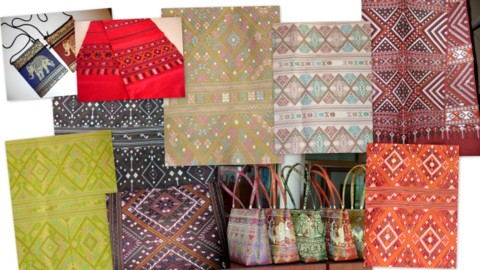 Phrae Wa Thai silk fabrics and other products

When not weaving Phrae Wa Thai silk, one of the ladies sells Thai deserts in a stall by the road. On a hot afternoon this desert of crushed ice, red beans, syrup and evaporated milk was just refreshing.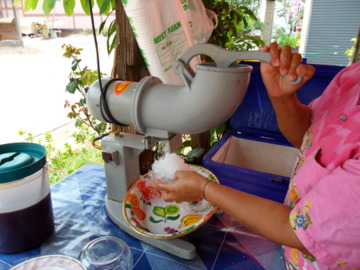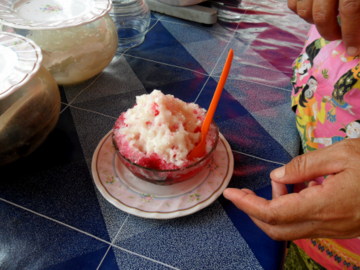 Desert anyone?

I just couldn't view such beautiful handicraft and not buy some. Here are some of the souvenirs I took back with me to Bangkok.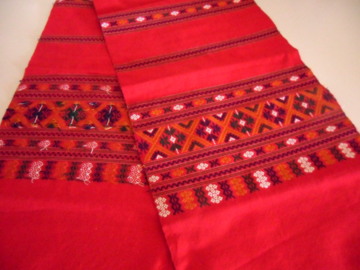 Memories of Kalasin

Table of contents


Map of Kalasin


View Map Kalasin, Thailand in a larger map

Table of contents


Map to Ban Phon, Kham Muang


View Map to Ban Phon, Amphur Kham Muang in a larger map

Getting to Kalasin

From Mor Chit the northern bus terminal in Bangkok the journey by bus takes about eight hours. Fare for the 1st class tour bus is 441 baht.

Getting to Ban Phon

From Kalasin city take Highway 227 northwards all the way past the Dinosaur Museum at Sahatsakhan and onto to Ban Phon.

How to get around Kalasin, please see this link in the August 2012 issue, getting around Kalasin.

Table of contents


Where to stay – hotels in Kalasin

The Paiboon Place Hotel is just 500 m from the Kalasin bus terminal.

A P Garden Hotel Pailin Hotel Phaiboon Place Hotel

Ponthong Garden Ratchapreuk Resort Suak Hotel

Table of contents


My thanks

My sincere thanks to the people of Ban Phon, Amphur Kham Muang, Kalasin who have invited me to their shops and homes to show me their work in producing Phrae Wa Thai silk.

I am really grateful for their openness and warmth in welcoming me a total stranger to their homes. They have given me an idea of their daily lives and the traditional skills which they have inherited and I am thankful for this.

Table of contents


Next month

The Phu Thai of Kalasin

If you enjoyed reading this e-zine, please forward it to a friend. If you received this from a friend and found it interesting, please subscribe at Bangkok Travelbug.


What you think of the Bangkok Travelbug?

We love to hear from you

What other subscribers have said

Till next month then.

Eric Lim

Find us on Facebook

Stay updated with what's new at Tour Bangkok Legacies. Copy the link below and paste it into your Google Reader, NetNewsWire or your favourite feed reader.

https://www.tour-bangkok-legacies.com/tour-Bangkok-legacies.xml

If you use My Yahoo! or My MSN, head over to my home page and click on the button for your favourite Web-based feed reader.

Visit our home page at Tour Bangkok Legacies.


Copyright@2008-2009 Tour Bangkok Legacies All rights reserved