Hello






Sathorn Gold Textiles Museum Si Satchanalai

Welcome back! Some readers are unable to access my Kindle e-book as Amazon isn't available in their countries. So I've re-published another edition under Smashwords.

The Smashwords edition can be read on the Kindle reader relevant to your mobile device or PC which can be downloaded free. If you are using the Kindle reader, click on the "mobi (Kindle)" button to preview or purchase.

Alternatively, readers can download the Adobe Digital Editions e-reader for free. This e-reader is common to all mobile devices and PCs. In this case click on the "ePUB" button to preview or purchase.

Thank you for the feedback and happy reading!





This is our last stop in Sukhothai and we visit another very special museum in Si Satchanalai that displays some very old textiles some of which are more 100 years old.


Contents (click on the link to go directly to the topic)

Background to the museum

The Sathorn Gold Textile Museum was started in 1988 by Sathorn Sorajprasobsant in Tambon Baan Had Siew, Si Satchanalai district, Sukhothai.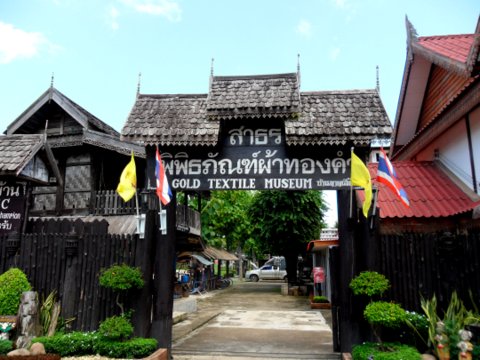 Entrance to the museum – the museum is to the right

Khun Sathorn deals in these gold textiles woven by the Thai Puan community in Baan Had Siew and the surrounding area. He decided to open a museum to preserve these works of art which range from 60 – 200 years old.

He has won several awards for his craftsmanship including OTOP (One Tambon One Product) and royal awards.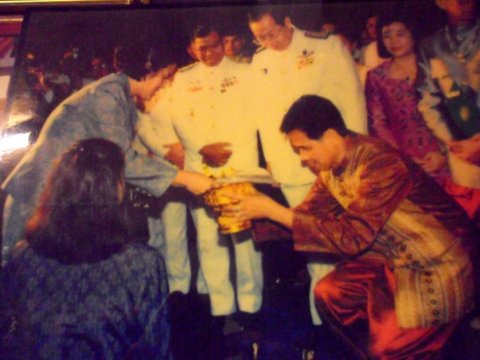 Receiving an award from HRH Crown Princess Sirindhorn

Besides a shop selling textiles just next to the museum, there is also a cultural village within the grounds.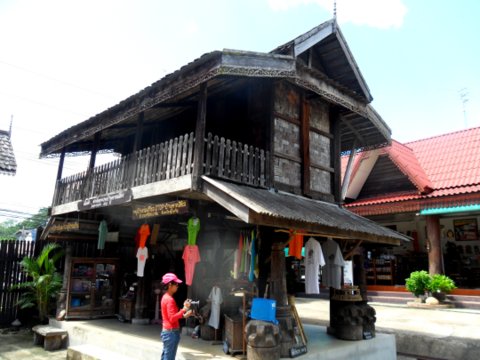 Souvenir shop in a traditional house

Table of contents


Thai Phuan

The Thai Phuan are an ethnic group that originated from Xieng Khouang province in Laos. Xieng Khouang province is on a plateau where the famous Plain of Jars is located. This area with its huge pre-historic burial jars was heavily bombed by the USA during the Vietnam War.

Many of the Thai Phuan have migrated to Thailand as early as 200 years ago and settled in the north, north-east and central regions of Thailand scattered around 19 provinces in Thailand. The biggest concentration of Thai Phuan is in Lopburi about 150 km north of Bangkok.

The Thai Phuan are famous for their beautiful hand woven textiles, Pa Sin Tean Jok and we will be viewing some of these textiles with their ageless beauty in the next section.

Table of contents


Displays in the museum

Here are some of the old textiles on display in the museum. Many of these old pieces were donated by members of the community.


Pa Sin Mook – over 100 years old

Pa Gung – age unknown

During the courting period, a young man must be ordained as a monk. His bride-to-be will prepare a set of five different types of special fabrics for the ordination ceremony. The Pa Gung is one of them.



Pa Sin Khen – 80 years old

The next piece of textile was a surprise. It's donated by a resident from Koh Samui, Surat Thani in southern Thailand, who acquired the fabric from Bali, Indonesia.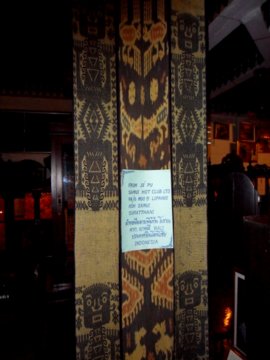 Textile from Bali, Indonesia

Here are four pieces from Uttaradit, a province just north of Sukhothai.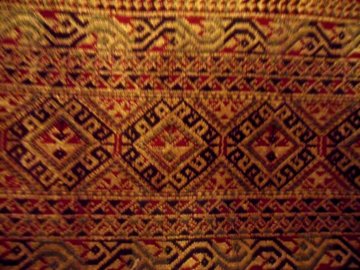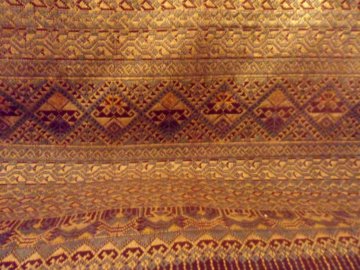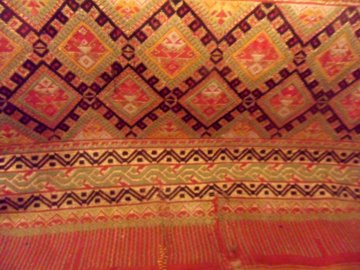 The next few photos feature the Pa Sin Tean Jok fabric for which Tai Phuan are famous. These are more than 200 years old and were donated by the various people from Thai Phuan communities in Si Satchanalai.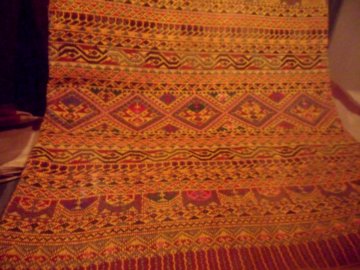 Khun Sathorn pointed out with pride the wedding photo of his son. The fabric for the wedding dress worn by the bride was woven with gold thread made from gold equivalent to the weight of 82 one baht coins. It is customary for unmarried women or brides to wear read skirts and married women to wear black.



Pa Sin Mai Kum fabric

At the price of gold in 1992, the dress cost 382,000 baht! Imagine what it will cost at today's gold prices.

The Sathorn Gold Textile Museum also has some interesting and old displays are found on the walls and the sides of the room.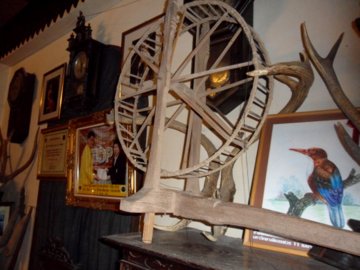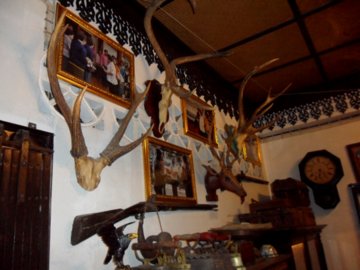 Table of contents


Cultural village outside

The cultural village within the grounds of the museum is modelled after a Thai Phuan village and preserves their farming equipment used in the old days.



Preserving local culture and knowledge

With the help of the picture illustrations, I managed to figure out what some of these utensils were for.


Sugar-cane crusher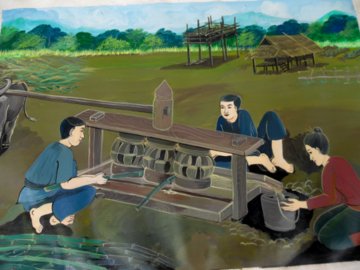 Sieve to separate rice form the leaves and twigs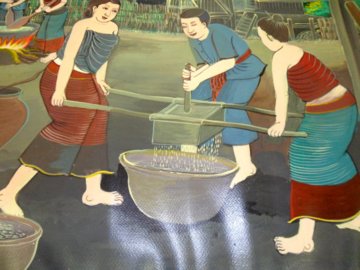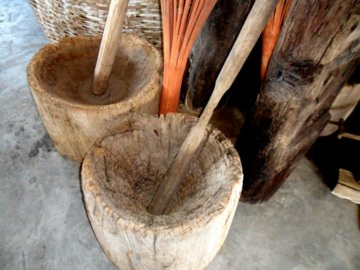 Thresher to separate rice grains from the stalk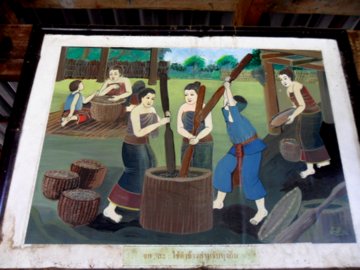 In the empty space below another house, two ladies work steadily on hand looms.



Weavers at work

These beautiful textiles woven by them are on sale.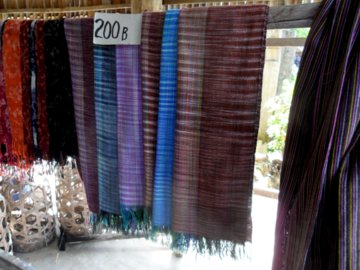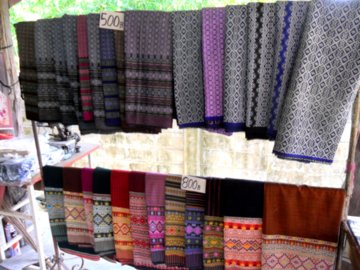 With this visit to a special museum set up by a dedicated individual, we end our tour of Sukhothai province. There are many such museums like this all over the country that feature special works of art that we may not have thought about.

My thanks to Khun Sathorn Sorajprasobsant for sharing this experience with us.

Table of contents


Map to Sathorn Gold Textiles Museum


View Sathorn Gold Textile Musuem in a larger map


Opening hours

Open every day from 9:00 am – 5:00 pm

Admission free

How to get to there

By tour bus

Take a tour bus from Mor Chit the northern bus station in Bangkok to Si Satchanalai. Fare is 409 baht. Do not take the bus to Sukhothai city as it terminates at the city bus terminal.

Where to stay

For accommodation, this beautiful hotel in Sawankhalok came highly recommended. I stayed at the Sawankaburi Boutique Hotel for 800 baht per night. The rooms are comfortably furnished with traditional Thai décor of wood paintings and ceramics.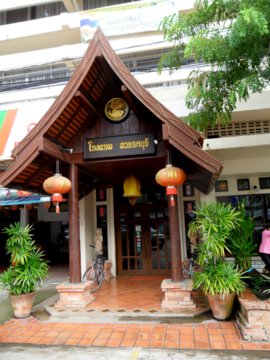 Sawankaburi Boutique Hotel

Getting around Si Satchanalai

There is very little public transport available. So make arrangements with hotel where you are staying for car rental services.

Table of contents


Other attractions in and near Si Satchanalai

Table of contents


My thanks

I am grateful to Lumpoo Pramchit for showing me the historical and cultural sites in her home province of Sukhothai.

Table of contents


Next month

We explore Bang Pakong, the Dragon River, Chacheongsao.


If you enjoyed reading this e-zine, please forward it to a friend. If you received this from a friend and found it interesting, please subscribe at Bangkok Travelbug.


What you think of the Bangkok Travelbug?

We love to hear from you

What other subscribers have said

Till next month then.

Eric Lim

Find us on Facebook

Stay updated with what's new at Tour Bangkok Legacies. Copy the link below and paste it into your Google Reader, NetNewsWire or your favourite feed reader.

https://www.tour-bangkok-legacies.com/tour-Bangkok-legacies.xml

If you use My Yahoo! or My MSN, head over to my home page and click on the button for your favourite Web-based feed reader.

Visit our home page at Tour Bangkok Legacies.


Copyright@2008-2014 Tour Bangkok Legacies All rights reserved