Hello






Window to Isarn – Beauty, colour and diversity

In late January 2013, I had the pleasure of visiting the Amazing Isarn Fair 2013 held at the Queen Sirikit National Convention Centre in Bangkok. This fair was organised to promote tourism in the north-eastern region of Thailand or Isarn.

The fair was beautifully presented and really brought out the cultural wealth, rich ethnic diversity, exquisite handicraft and colourful festivals in Isarn. For those who were not in Bangkok to see it, I thought it would be a waste if these beautiful displays were not preserved.

So here they are presented in the form of a virtual tour of Isarn.


Contents (click on the link to go directly to the topic)




Overview of Isarn

Isarn or the north-eastern region of Thailand is the largest region in the country covering almost a third of the total land area* with approximately a third of the population** in the country.

This region which is on the Korat plateau has 20 of the 77 provinces in Thailand. Some of the largest provinces in the country like Nakhon Ratchasima, Ubon Ratchathani and Udon Thani are in Isarn.


View Map of Issarn the north-eastern region of Thailand in a larger map

We will be visiting the following provinces in our virtual tour.

1. Kalasin 2. Loei 3. Surin 4. Udon Thani 5. Yasothon

Footnote

* The total land area of Thailand is about 510,000 sq km which is equivalent to the size of France.

** The total population of Thailand is about 69.5 m. Source - World Bank 2011

Video - Welcome to Isarn



Or click on this link to view the video.

Table of contents


Isarn communities and their handicraft

Painting pottery designs – Ban Chiang, Udon Thani

Ban Chiang, Amphur Nong Han, Udon Thani is the location of the famous archaeological site containing evidence of a civilisation that is more than 5,000 years old! Ban Chiang was designated an UNESCO World Heritage site in 1992.

For more on the artefacts from this site, please see the Ban Chiang Collection.

Some of these artefacts are painted pottery and the designs of this Ban Chiang pottery is the subject of this section. Local artists have mastered the skills in painting these designs and have passed these skills to the community.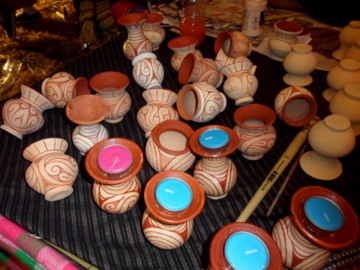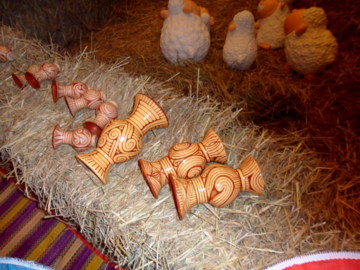 In doing so they are passing the knowledge from generation to generation, preserving this heritage for Thailand and the world.

These pottery patterns are characterised by curves and spiral designs in red and have used to decorate new pottery, embroidery for fabrics and other products sold as souvenirs at Ban Chiang. These products have acquired OTOP status.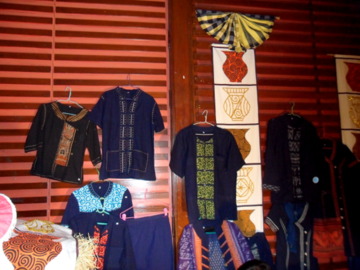 School children from the Ban Chiang School have been taught the skills in painting these designs on pottery. During the exhibition, these children were demonstrating their skills.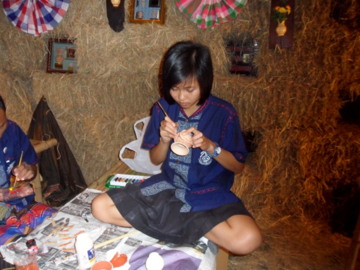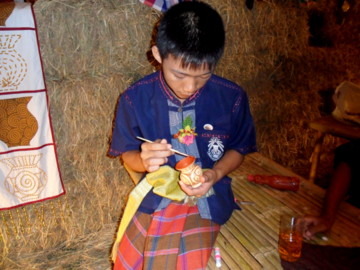 Note the designs on the children's tunics

The products in the photos are done by the children of Ban Chiang School.


Tai Dam of Chiang Khan, Loei

The Tai Dam or Black Tai are an ethnic group from Dien Bien Phu, Vietnam who later migrated to Laos and north-eastern Thailand. They have retained their customs, festivals and language. Their name "Black Tai" was probably from their distinctive dark coloured traditional dress.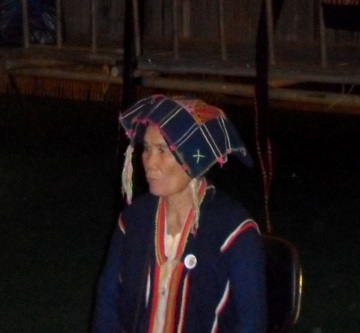 Tai Dam woman in her traditional dress

One of their communities is in Ban Tai Dam, Amphur Chiang Khan, Loei. In this visit, we can to see the traditional Tai Dam house realistically reconstructed. The Tai Dam house is made from local and natural material, bamboo, teak or the paduak tree.

The sloping roof is made from long grass covering the entire surface. A narrow long roof at the gable serves as protection from tropical storms. There are no windows in the house, only the front and back doors. The house is raised and the space below the house is used for storage.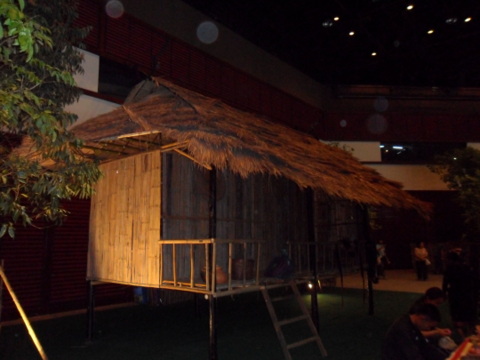 Traditional Tai Dam house

The Tai Dam cultivate rice, vegetables and rear animals. They also engage in weaving, basketry and metal work. They have special weaving techniques, plant their own cotton or rear silk worms to make clothing for the family or as gifts on special occasions. Natural material is used to dye the cloth.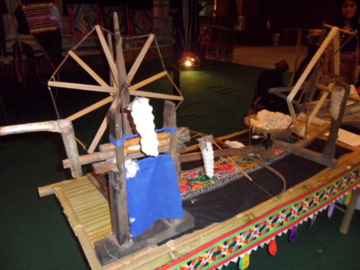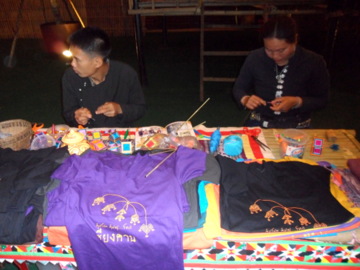 Various ornaments are used in their dressing like cloth bags, scarves, bracelets for wrists and ankles and hair pins.

"Tom nok tom hu" of the Tai Dam are lucky charms to expel evil spirits from their homes. These charms are also used by their medicine men in dances to cure illness and in ceremonies after the sick person has recovered.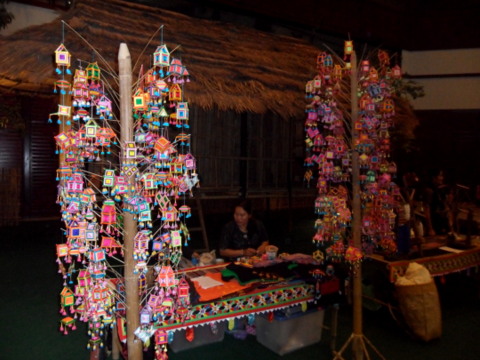 Tai Dam lucky charms


Phu Thai of Ban Kut Wa, Kalasin

The Phu Thai are not to be confused with the Tai Dam although their ancestors come from Laos too. They are a distinct ethnic group with their own language and customs.

Ban Kut Wa, Amphur Kuchi Narai, Kalasin is one of the Phu Thai communities in Kalasin. For more about the Phu Thai, please see the Phu Thai of Kalasin.

One of the handicrafts of the Phu Thai is bamboo craft which is painstakingly assembled in great detail. This bamboo handicraft is used as offerings in the Puang Malai Ceremony in the 9th and 10th lunar month around August and September each year.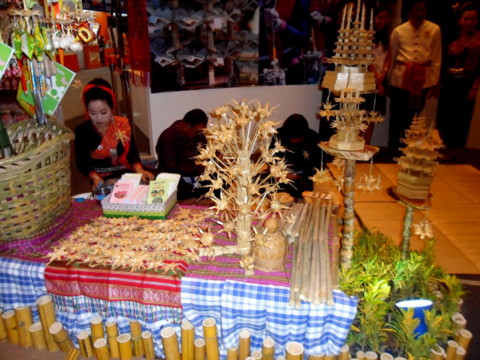 Bamboo craft of the Phu Thai

The bamboo handicraft is decorated with flowers, lighted joss sticks and candles and carried in a procession around the temple, hung from bushes then offered to temple.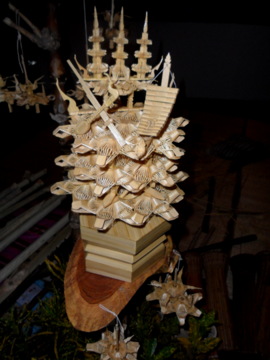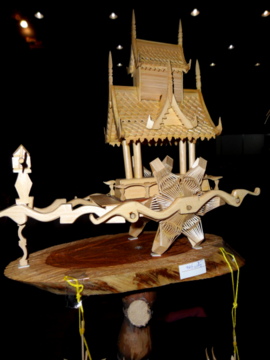 These pieces of art are made from young bamboo about 15 days old, cut to various lengths, split and cut to smaller and lighter strips; the size depends on what's going to be made. Six strips are bent and folded in a zigzag or serrated pattern from which these beautiful pieces are made.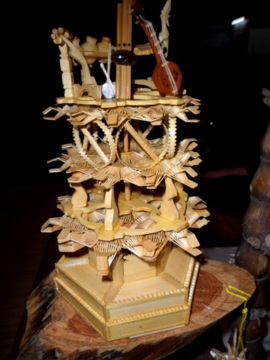 The Phu Thai are also famous for their silk and cotton fabrics as shall see in the next section.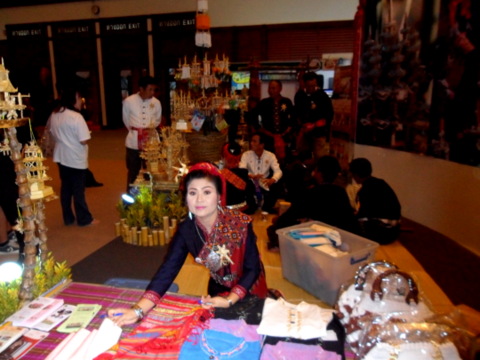 Phu Thai fabrics

Here's a member of the Phu Thai community from Ban Kut Wa in her traditional dress.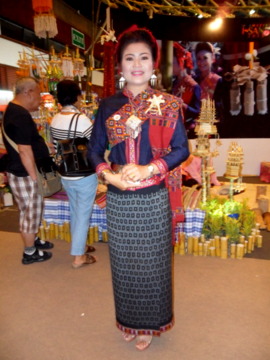 Phu Thai in her traditional dress

Table of contents


Isarn silk and cotton

Phrae Wa Queen of Silk, Ban Phon, Kalasin

Phrae Wa silk comes from Ban Phon, Amphur Kam Muang, Kalasin another Phu Thai community. It's a traditional skill passed down through generations and is the prominent feature of the Phu Thai in Ban Phon.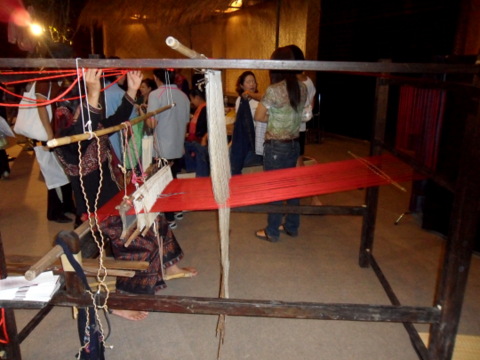 Loom for weaving Phrae Wa silk

Multiple coloured threads are inter-woven to give multiple designs made in lengths of one wa (1 wa = 2 m). Hence the name Phrae Wa (phrae – silk, wa – the length). This exquisite silk with beautiful designs on each piece has earned the title "Queen of Silk".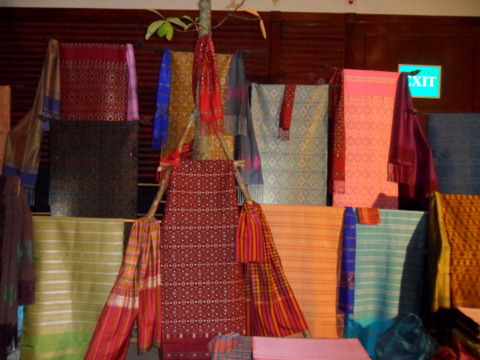 Phrae Wa – the Queen of Silk

The Phrae Wa industry was quiet until a royal visit by HM Queen Sirikit in 29 November 1977. With royal support to establish silk weaving as a profession, Phrae Wa silk flourished and got nation-wide and international recognition.

This traditional skill is now preserved as a heritage to the Phu Thai of Ban Phon. For more, please see Phrae Wa silk of Ban Phon.





Yok Thong silk Ban Tha Sawang Surin

Yok Thong silk comes from Ban Tha Sawang, Surin. The Chansoma Group, a local group has preserved the skill of silk weaving using traditional methods.

Yok Thong silk uses the finest and lightest threads which are bleached, boiled and dyed in the three primary colours of red, yellow and indigo blue. Real gold or silver threads are interwoven with the other threads to give multiple designs.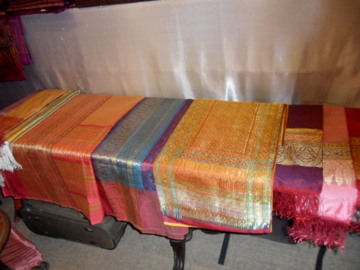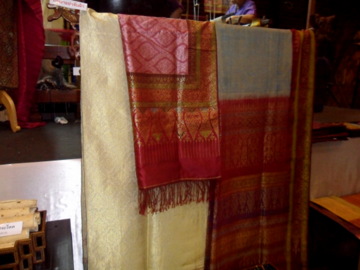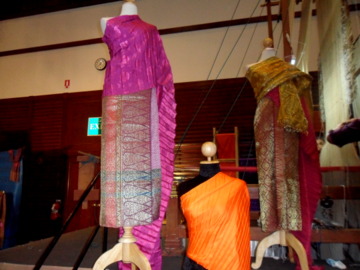 Weaving Yok Thong silk is a difficult process involving 4 – 5 persons producing only 6 – 7 cm of material per day. The weaving process requires a very different loom from other silk.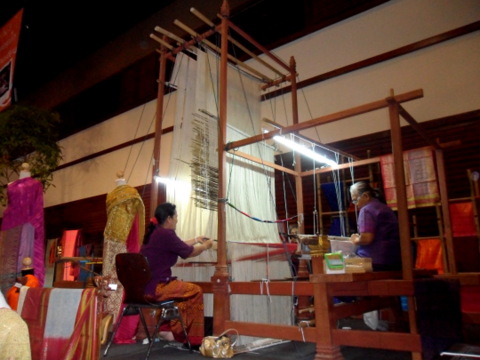 Loom for weaving Yok Thong silk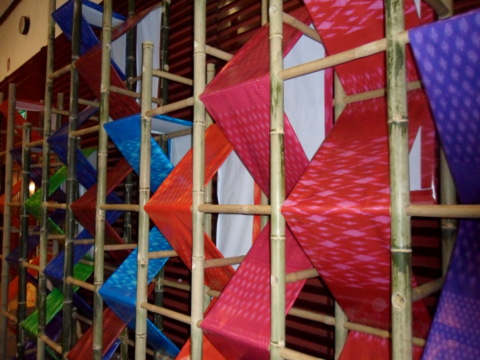 Table of contents


Isarn festivals

Hae Ton Dork Mai, Loei

"Hae Ton Dork Mai" or Flower Procession is a festival native to Tambon Saeng Pa, Amphur Na Haeo, Loei. It's a 400-year old festival during Songkran from 14 – 16 April held at Wat Sri Pochai, a temple that is just as old.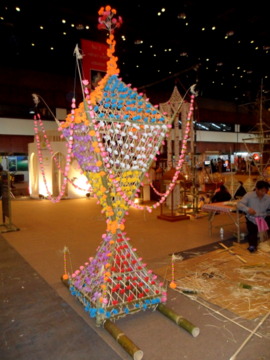 The Flower Procession is also a major merit making ceremony for the community in Tambon Saeng Pa to pray to Buddha for happiness and productivity.

Making these beautiful structures is a community effort. Only bamboo is used to make the tower frame, no wires or nails used to hold this frame together.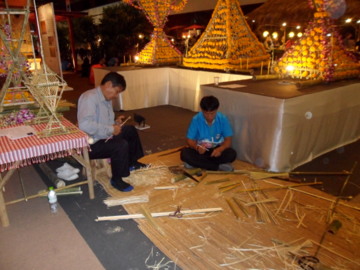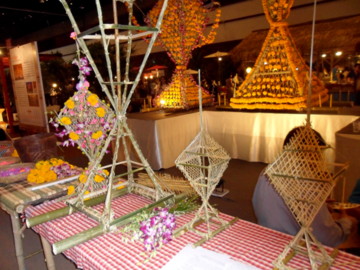 The height of these towers ranges from 2 to 20 m and they are decorated with flowers that are in full bloom during this period, the like "dork khun", "dork jam pah". Smaller towers are made too for children.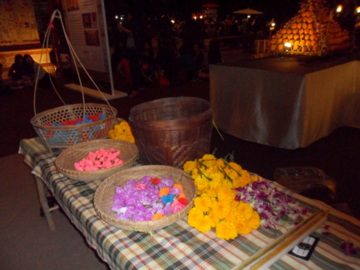 Candles or bulbs placed inside these towers as the procession is at night around 7 pm. The flower towers are carried on the shoulders in a procession that goes three rounds around the 400 year old temple.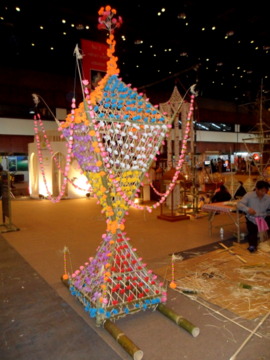 The first round is for Buddha, the second for Buddhist teachings and the third for the monks. After the first night the towers are left in temple and the procession is continues for the next two days at the temple. These processions are also made every holy day (8th and the 15th night of the full moon) till the end of April.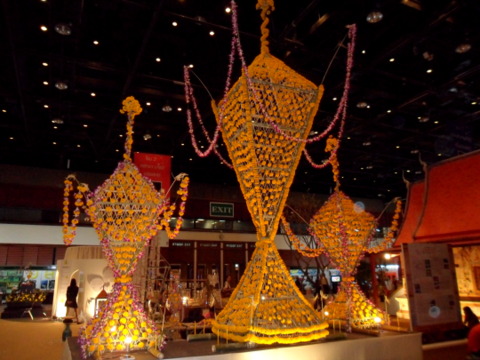 Hae Ton Dork Mai

The flower towers are carried to a rhythm of local music and chants of encouragement from the people in the procession. It's the only such festival in Thailand and is held in conjunction with other Songkran activities like flower competition, Miss Songkran beauty contest and other religious rites.


Hae Malai Kao Tork, Yasothon

"Hae Malai Kao Tork" or Rice Garland Procession is a local festival in Ban Fah Yad, Amphur Mahachanachai, Yasothon. It's celebrated on the 14th night of the rising moon in the 3rd lunar month which is a day before Makha Bucha Day*, the Buddhist All Saints Day usually at the end of February or early March each year.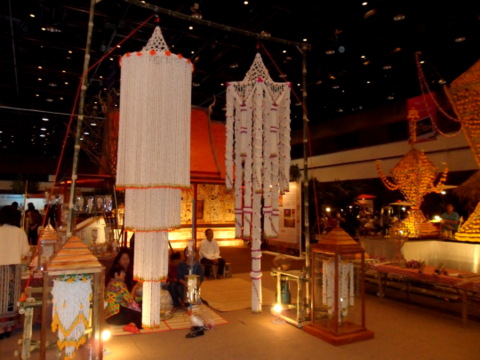 Hae Khao Tork Malai

Traditionally the husk of the best sticky rice placed in a bamboo tray and roasted over a heated earthen pot.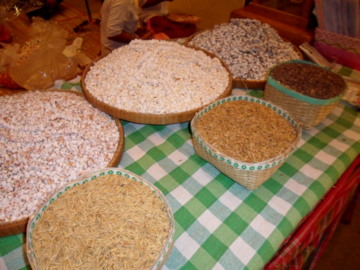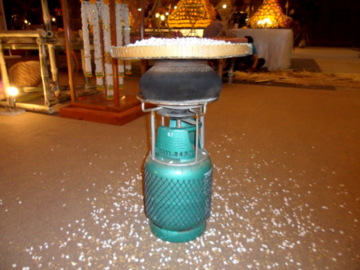 When the rice grains burst they are strung up in long strings and made into garlands of various lengths.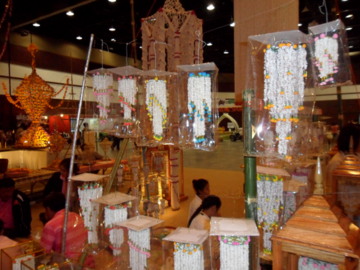 From a distance a visitor might mistake these garlands for flowers. These colourful garlands are carried in a procession to worship at the temple to pray for good harvest for the community.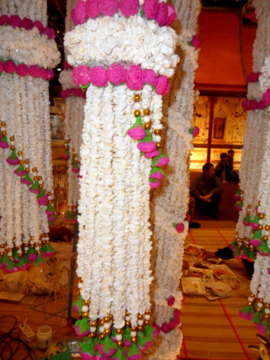 Footnote

*Makha Bucha Day falls on the 15th night of the 3rd lunar month. It commemorates the day when 1,250 disciples of Buddha who were ordained by him and all of whom have attained Enlightenment gathered impromptu to receive a sermon by Buddha on the principles of Buddhism.


We complete our virtual tour with an Isarn market scene re-constructed in a convention hall in the Queen Sirikit National Convention Centre. You wouldn't imagine you are in a convention hall!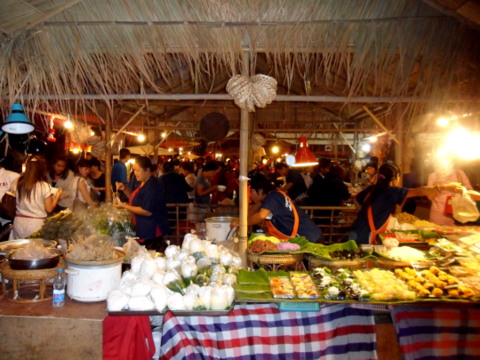 Isarn market scene

We hope you enjoyed this virtual tour of Isarn which gives an idea of the sheer beauty of the region.

Table of contents


Map of places in our tour


View Window to Isarn in a larger map

Table of contents


My thanks

My thanks to the participants from the various provinces that took part in this exhibition for their helpfulness and information on their communities and handicraft.

Table of contents


Next month

Handicraft communities in Surin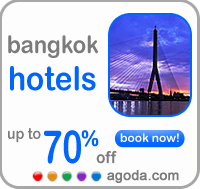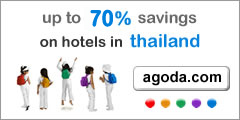 If you enjoyed reading this e-zine, please forward it to a friend. If you received this from a friend and found it interesting, please subscribe at Bangkok Travelbug.


What you think of the Bangkok Travelbug?

We love to hear from you

What other subscribers have said

Till next month then.

Eric Lim

Find us on Facebook

Stay updated with what's new at Tour Bangkok Legacies. Copy the link below and paste it into your Google Reader, NetNewsWire or your favourite feed reader.

https://www.tour-bangkok-legacies.com/tour-Bangkok-legacies.xml

If you use My Yahoo! or My MSN, head over to my home page and click on the button for your favourite Web-based feed reader.

Visit our home page at Tour Bangkok Legacies.


Copyright@2008-2009 Tour Bangkok Legacies All rights reserved