Hello






Journey to Nakhon Phanom

Welcome back to our October 2009 issue of Bangkok Travelbug, the monthly newsletter of Tour Bangkok Legacies. A big welcome if you have just joined us. We wish you an informative experience. This month we are going to skip town and head for the Thai – Laotian border.


In this October issue (click on the link to go directly to the topic)



Journey to Nakhon Phanom

Nakhon Phanom is a province in north-eastern Thailand about 740 km from Bangkok. It's right on the banks of the mighty Mekong River between the provinces of Nong Khai to the north and Mukdakan to the south. Laos is just across the river.

The Mekong starts in China and flows through Thailand, Laos, Cambodia and Vietnam, a distance of 4,350 km or 2,700 miles.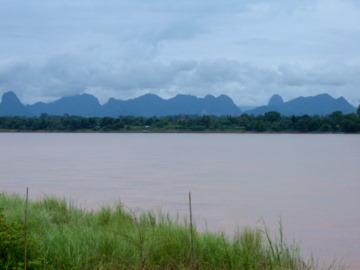 The Mekong with Nakhon Phanom in the foreground
and Laos in the distance

Like many provinces in Thailand, the provincial capital shares the same name as the province. Nakhon Phanom city (City of Hills) is right on the banks of the Mekong. A road runs along the banks with an esplanade.

To get there, I took the morning tour bus from Mor Chit the northern bus terminal. Once on the highway, we leave the congestion of Bangkok behind and get into open country. I'm glad I took the suggestion to travel by day. It's a wonderful way to see the countryside.

Our journey took us up the rocky foothills towards the Korat plateau, the gateway to Isarn, northern eastern Thailand, through Maha Sarakam, Roi Et, Yasothon and Mukdahan. A rather circuitous route but this was the first time I got to see a cross section of rural Thailand in broad daylight.

We passed miles and miles of rice fields for as far as the eye can see. This is part of the rice bowl of Thailand and of many countries where rice is the staple food. Isolated houses, grazing cows, haystacks and tractors are some of the idyllic scenes encountered along the way.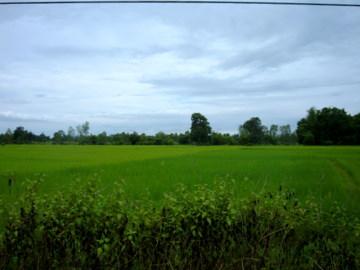 Rice bowl of Thailand

But it hasn't always been this peaceful. In the 20th century, Nakhon Phanom played host to two of the major adversaries in the Vietnam War. The legacy of that period remains to this day.

At eight that evening, I arrived in the small town of That Phanom where I stayed during this visit. The town's on the banks of the Mekong at the southern end of the province near Mukdahan province. When I got off the bus, this was the first thing that caught my eye.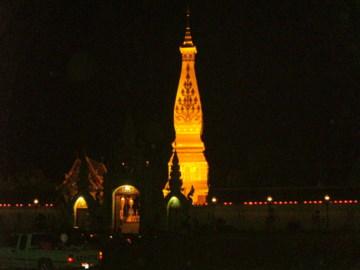 Glowing in the night

Table of contents


Recent history of Nakhon Phanom

During the Second Indochina War (Vietnam War 1954 – 1975), the United States maintained several air bases in Thailand from which air strikes were launched against North Vietnam.

These bases were Don Muang, Nakhon Phanom, Nakhon Ratchasima (Korat), Takhli, Udon Thani, Ubon Ratchathani and Utapao. However not all the air operations were directed at North Vietnam.

Back in 1963, Nakhon Phanom was a small border town with dirt roads and a small air strip near town. Seabees or the US Navy's Construction Battalions built a new airfield outside town with a PSP (perforated steel planking) runway and wooden shacks. The airfield then had an air force radar station and three rescue helicopters.

By the late 1960s, the airfield was expanded to one with a concrete runway which operated fixed wing propeller planes and helicopters flying a variety of missions; forward air controllers, close air support, insertion and extraction of personnel, search and rescue.

That airfield is the provincial airport today.

However there were also some air units that flew planes with no US insignias or markings; their pilots didn't wear Air Force uniforms. These air units flew missions over neighbouring Laos in a war (1965 – 1975) in which American involvement was not officially acknowledged by the US government.

Some of these units operated from Nakhon Phanom. This is where our story begins.

Note of thanks

I am grateful to a former US Air Force pilot who flew out from Nakhon Phanom in the mid 1960s for sharing his memories with us. He currently lives in Thailand and prefers not to be named.

Table of contents


The Vietnamese legacy

A visitor to Nakhon Phanom city, a modern city today, can't help but notice the Vietnamese influence. There's clock tower built in 1960 dedicated to the Vietnamese return to their motherland.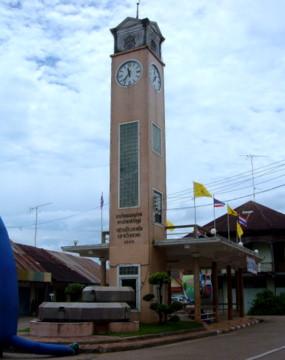 Monument for the Vietnamese migrants

There're a number of Vietnamese restaurants in town. In the city outskirts there's a Thai-Vietnamese Friendship Village in Ban Na Chok with a Vietnamese cemetery. The local television here includes a Vietnamese channel.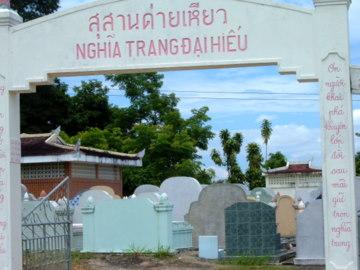 Entrance to the Vietnamese cemetery

Vietnamese migration to Thailand began as early as 18th – 19th C when Catholics fleeing religious persecution settled here. Later emigrants were those opposed to French colonial rule. The period from the end of WW II to the Second Indochina War saw further Vietnamese migration to Thailand.

Of those Vietnamese who sought political asylum in Thailand during their struggle for independence from the French, some settled in Nakhon Phanom owing to its proximity.

About 4 km from Nakhon Phanom city, is a wooden house where a Vietnamese in exile stayed in the 1920s as he continued with his quest for freedom for his country.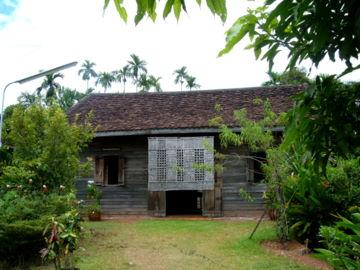 Ho Chi Minh's house

Ho Chi Minh's house near Ban Na Chok, the Thai – Vietnamese Friendship Village, is now preserved as a museum. The spartan interior consists of a living room and two smaller rooms to the rear.


Altar dedicated to Ho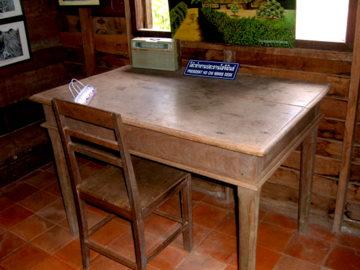 Ho's working desk is still there

This is the dining table where Ho had his meals or met with compatriots.



Dining table

This wooden platform is a common piece of furniture in rural Thailand. You can sit and yarn, have meals or even take a nap.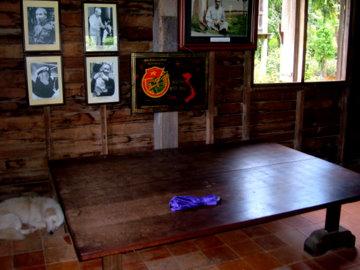 The dog's a recent addition and he's not allowed on the couch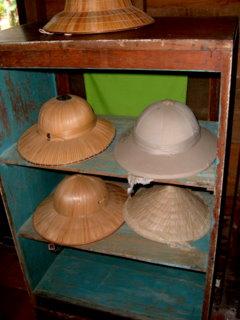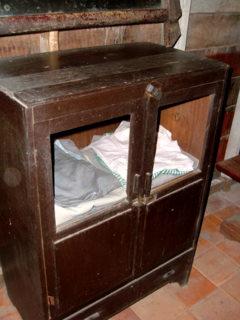 Ho's hats and clothing preserved in his small bedroom to the rear

These old photos in the hall are a wealth of history.



On the walls of Ho's house

In the photo below, Ho and his colleagues are poring over a map of Dien Bien Phu in 1953 which was occupied by the French on 20 November 1953.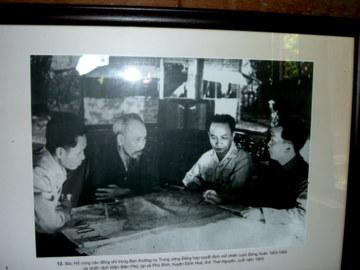 Council of War

Vietnamese victory at Dien Bien Phu on 7 May 1954 put an end to French colonisation of Vietnam since the Treaty of Saigon in 1862. But this only brought on a new adversary and the Second Indochina War.

The man on the extreme right started life as a history teacher, General Vo Nguyen Giap was Commander-in-Chief of the Vietminh forces and later Minister of Defence.

Ho Chi Minh became President of North Vietnam from 1945 till 1969 when he died at the age of 79. He never lived to see a reunified Vietnam, free from foreign domination. Six years after his death, North Vietnamese tanks entered Saigon and his life-long goal was achieved.

Ho's humble home in Nakhon Phanom bears silent witness to the early days of that long struggle.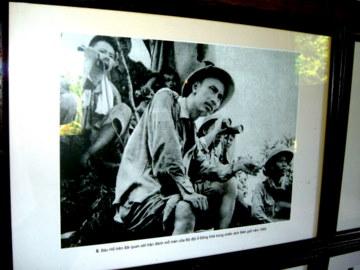 Picture taken in 1950

"Write in such a way as that you can be readily understood by both the young and the old, by men as well as women, even by children."

Ho Chi Minh

For the Vietnamese community in Bangkok, please see Soi Mitrakham.

Table of contents


Nakhon Phanom scenes

Nakhon Phanom city has some beautiful temples, like these two temples on the river front, Wat Mahathat and Wat Klang.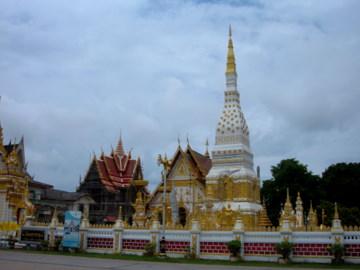 Wat Mahathat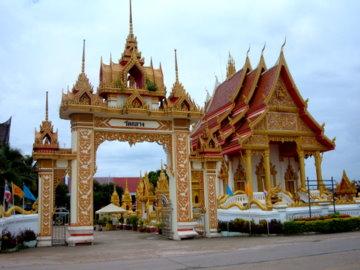 Wat Klang

Further up the river front road in a place called Nong Saeng, there's this old Catholic church built in 1926 dedicated to St Anna.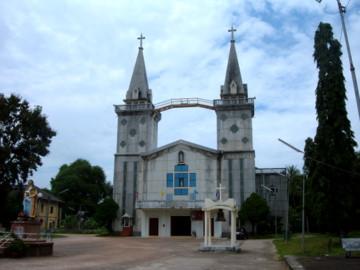 St Anna's Church

According to Catholic beliefs, Joachim and Anna were a childless couple who prayed for a child.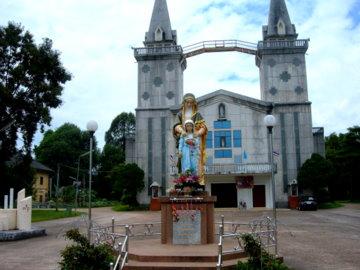 Statue of St Anna

When their prayers were answered, they were blessed with a daughter whom they named Mary, later the Virgin Mary who conceived Jesus.



Inside the church

At first glance this looks like the remains of an old fort. But on a closer look, it's actually part of the walls and watch tower of the old prison.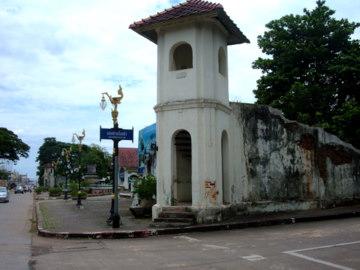 Old prison in the town centre

The other sizeable ethnic group in Nakhon Phanom are the Lao. This was apparent from some of the restaurants I went to, the apartment where I stayed and there's also the Lao Star channel on TV.

I spotted a couple of left hand drive Laotian registered cars around Nakhon Phanom city. Besides the passenger ferry service, there is also a car ferry service between the two countries.

Table of contents


That Phanom town

We now return to the southern town of That Phanom. That Phanom is a quiet one main street town, crossing the street is a breeze unlike the streets of Bangkok. You can almost close your eyes, well almost.

The prominent landmark in town is Wat That Phanom after which the district and town are named. The 57 m high chedi or "that", (a Lao chedi), is studded with gold. This was the chedi I saw on my first night.



Gold studded chedi

It's a very old temple built by the early Laotian kings in the 6th - 7th C AD. The present structure was built in the 15th - 16th C AD. The chedi however is relatively new. It was rebuilt in the late 1970s after the old one collapsed.

Wat That Phanom is a very important temple in that region and it's revered by both Thais and Laotians.



Wat That Phanom

Table of contents


Dining on the Mekong

My story wouldn't be complete without tasting the local food and telling you about it. The local delicacy is Mekong River fish or "pla nuea on", deep fried with garlic and pepper. It simply disintegrates in your mouth. Don't ask me what it's called in English.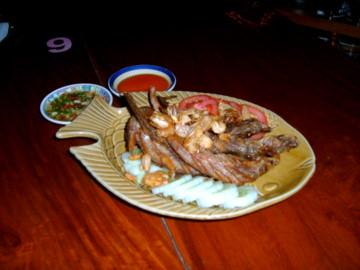 Pla nuea on

Barbecued river prawns are another favourite. You'll need a strong tummy for this raw prawn salad, for the raw prawns or the fiery hot chillies or both.


Fiery hot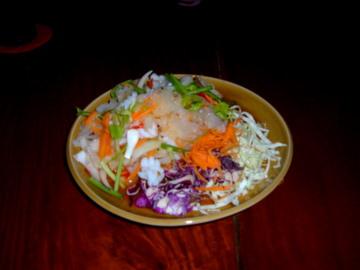 This cuttlefish salad is much milder

Table of contents


Leaving That Phanom

On the morning of 31 August, it was time to leave this peaceful town and return to the teeming streets of Bangkok. This was the last memorable image of That Phanom at seven thirty that morning. I wouldn't even be up at this time in Bangkok.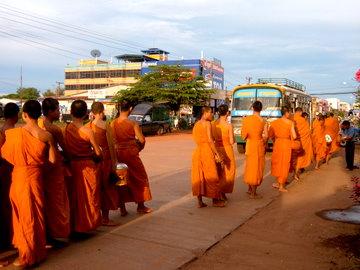 Monks collecting alms in That Phanom

I used to think that it would be difficult for me, a city boy, to live in the country. Who knows, maybe I might just get used to it. Or is that wishful thinking?

Table of contents







Next month

Letter from London, a visitor from UK gives his impressions of Bangkok. See you then.

If you enjoyed reading this e-zine, please forward it to a friend. If you received this from a friend and found it interesting, please subscribe at Bangkok Travelbug.


Your comments please

We'd love to hear from you. Please tell us what you think, e-mail-us.

Visit our home page at Tour Bangkok Legacies.


Copyright@2008-2009 Tour Bangkok Legacies All rights reserved