Hello






Handicraft communities in Surin

Welcome back! We return to Surin to again which we visited a few months earlier. It's a province that's rich in culture, festivals and handicraft like silverware, basket weaving and silk.

I had the opportunity of visiting three handicraft communities in Surin to see how their work is done. It's a joy watching craftsmen and craftswomen doing what they do best.


Contents (click on the link to go directly to the topic)




Basket weaving in Ban Bu Thom, Surin

Ban Bu Thom is a community in the city district of Surin about 17 km east of Surin city on the road to Sikhoraphum. This community has a handicraft group that specialises in basketry and wicker products.

You can't miss the place as you drive eastwards. This huge basket is by road to indicate the location of this handicraft community.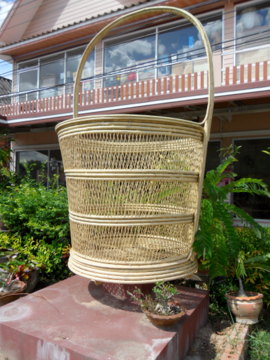 Ban Bu Thom, Surin

Like most of the handicraft communities there's a cooperative store on the main road selling the products made by the residents. We entered the shop that was just behind the huge basket display.

There weren't any customers that hot November afternoon and a lady rushed into the shop to receive us. Here are some of the products in that shop.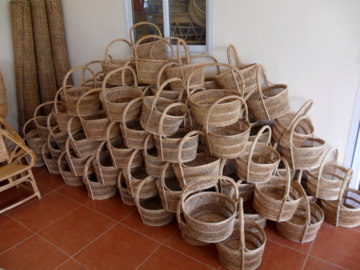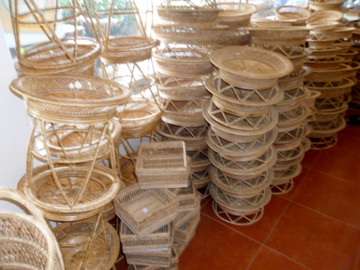 The shop not only sells baskets and trays of all sizes but wicker furniture as well.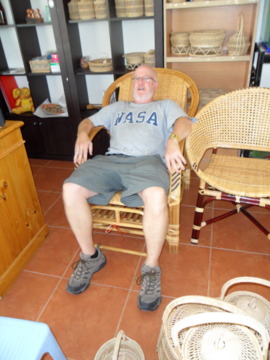 Al taking a break from the heat

Seeing the finished product is just the end process. We wanted to see where and how these products were made. For that we were directed to the homes just behind the shop. We managed to visit three households to watch the residents at work.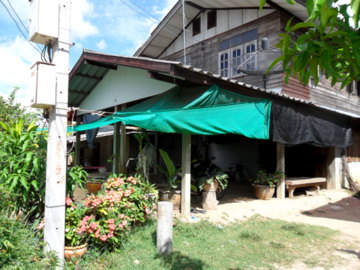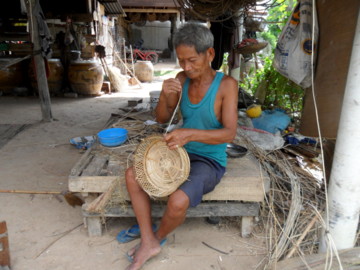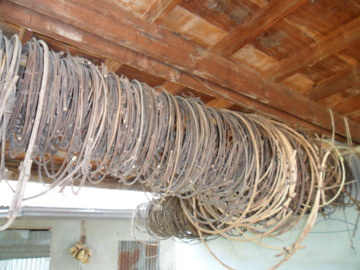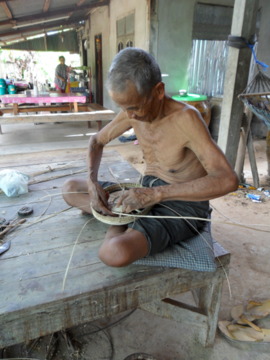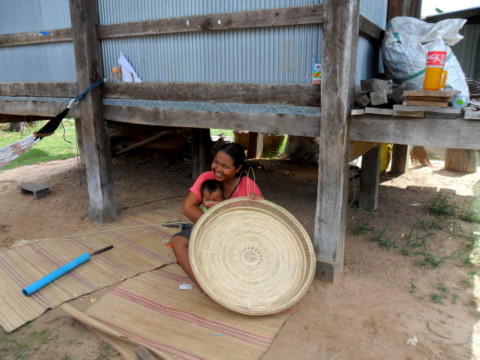 Cheerfully displaying her work

Table of contents


Silk weaving in Kwao Sinarin

Our next stop is at Kwao Sinarin district to a place about 15 km north of Surin city. The district got her name from Khun Sinarin, a nobleman who was the first ruler of the city.

Kwao Sinarin is famous for silk weaving, a traditional skill passed down through generations. There are six communities in the district weaving silk, each with their own special techniques and styles. We visited one of them in the Ban Kwao Sianarin Handicraft Group.

It wasn't easy trying to locate this place. We had to stop to ask at a few places. Unlike the earlier handicraft group they are not clustered at one location.

We finally found this lady's house where she was weaving in the space below the house. She has been weaving for 10 years, a skill passed down by her mother.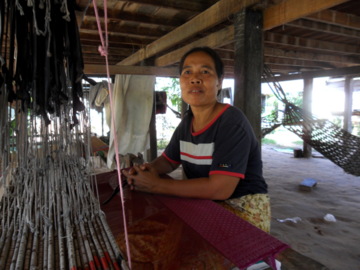 Silk weaver in Kwao Sinarin

The raw silk is bought at 2,400 baht per kg and the weaver washes and dyes the silk threads herself. The silk thread is wound around a big spool and then manually transferred to smaller spools for weaving.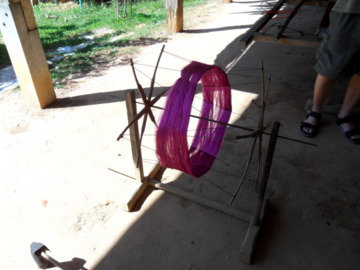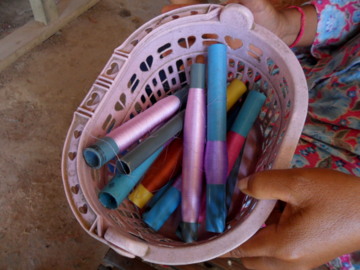 There were several looms at the workplace strung with different coloured threads indicating work in progress on different patterns. I had the chance to have a close-up view of the silk weaving loom but I still have problems figuring out the complicated functions of this device.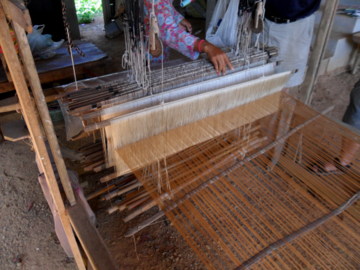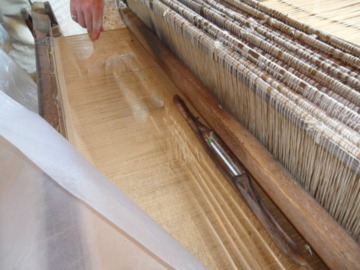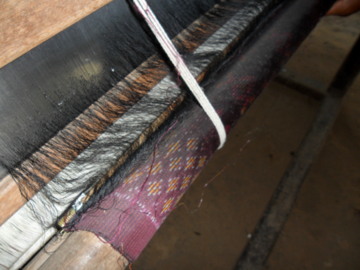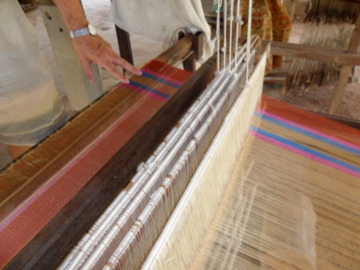 A four-metre length of woven silk requires about two weeks of work and can be sold at 3,500 – 3,800 baht to the OTOP shops that serves as retail outlets or to buyers from Bangkok.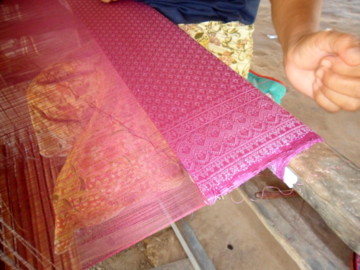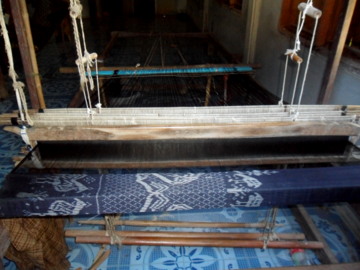 Another type of silk in Surin is the exquisite Yok Thong silk in Tha Sawang which is about 10 km north of Surin city.

There is an annual silk festival in Kwao Sinarin in February to promote the silk products from all the communities in the area.

Table of contents


Silverware in Ban Chok, Kwao Sinarin

I've left the best till last. It's an honour to be able to see a master craftsman at work. Lung (Uncle) Puan Jiewthong aged 76 has been a silversmith for 50 years!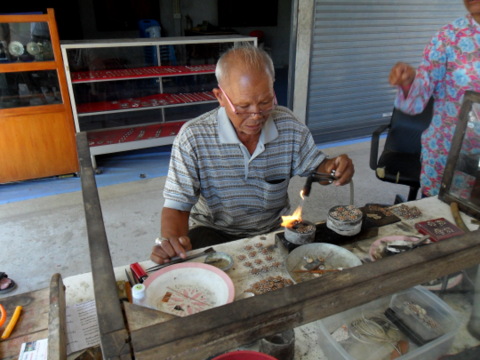 Lung Puan Jiewthong

Lung Puan got his degree in the arts at the age of 65 and he has won international acclaim as well.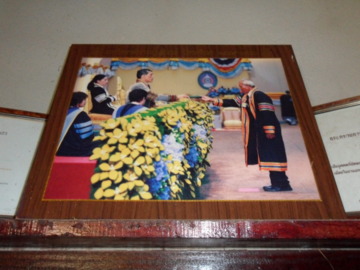 Lung Puan receiving his degree from HRH the Crown Prince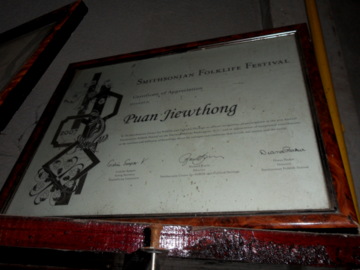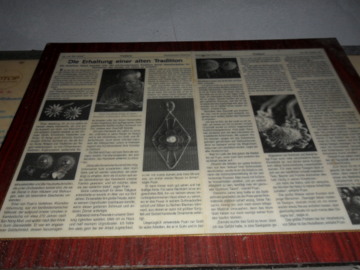 International recognition from the Smithson Folk
Festival and a German newspaper

To create these intricate designs, silver is heated till it turns liquid, mixed with borax and when the silver is still soft, the designs are carved.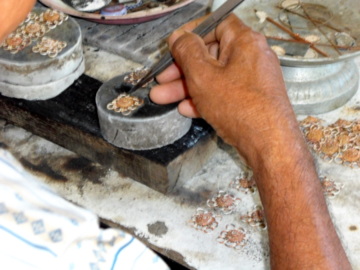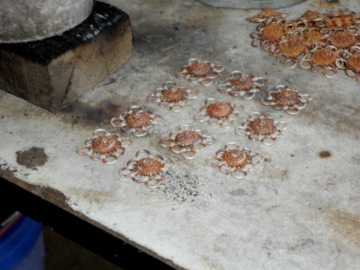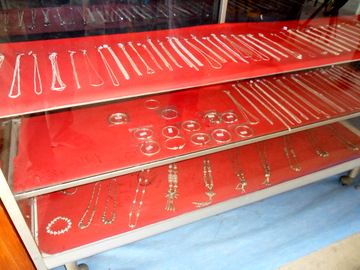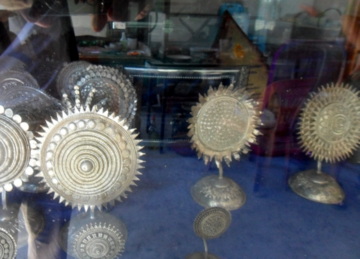 As a demonstration, Lung Puan threads a single strand of silver through a metal vice and pulls it through to get the right width. The silver is heated in a clump of burning dry grass till it's malleable.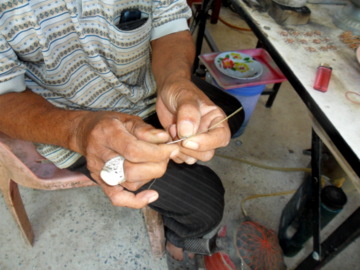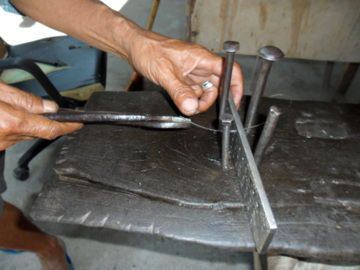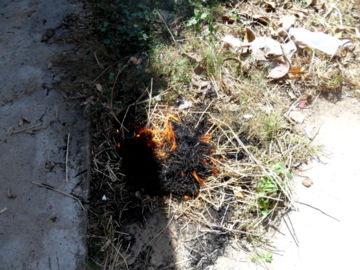 The strand of silver is wound around a tiny bronze tube and designs are imprinted on them. The bronze tube is removed. Then a special pair of pliers is used to clip off small silver rings. These rings can be joined to make a silver bracelet.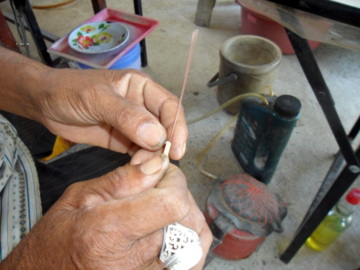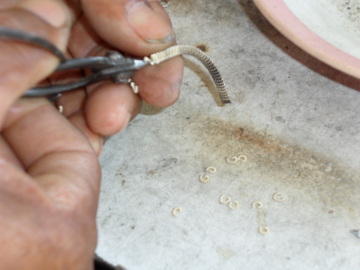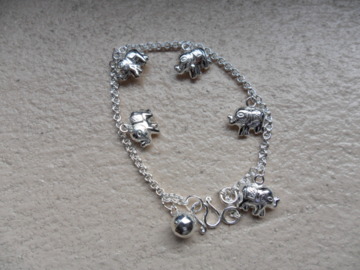 Lung Puan's masterpiece is this silver belt for ladies consisting of elaborate disks with 20 different designs linked together. One kilogram of silver went into making this belt which is valued at 140,000 baht (approx. US$ 4,830).

There are only two of these belts and they were ordered by HRH Crown Princess Sirindhorn. The Crown Princess graciously presented Lung Puan one of these belts to serve as an example for subsequent generations of students learning the fine art of silverware.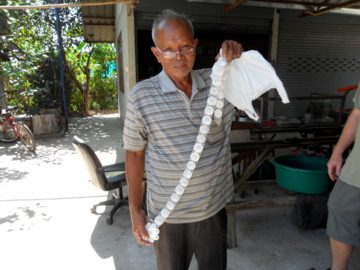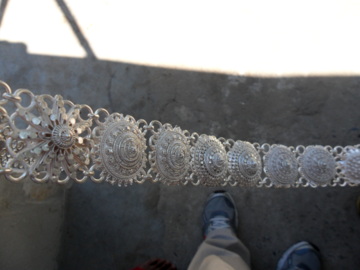 Silver masterpiece

Somboon aged 60 has been training under Lung Puan for the last 10 years. The skills in silverware will be preserved in Kwao Sinarin.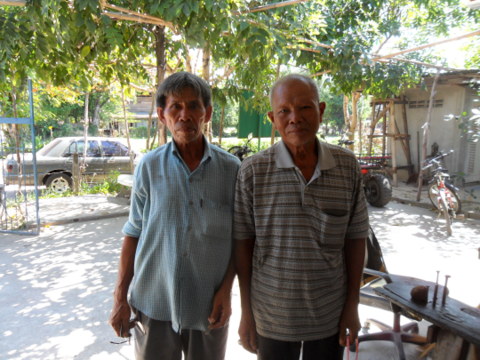 Lung Puan (right) with Somboon (left)

Table of contents


Map to handicraft communities


View Handicraft communities in Surin in a larger map


Getting to Surin

By train

The Express Line costs 389 baht and takes about 7 hours.
The Fast Line costs 279 baht and takes about 9 hours 30 minutes

The train ride can be rather long and tedious but worth the effort because you see a different side of the country.

By tour bus

A faster way would be by tour bus from Northern Bus Terminal at Mor Chit in Bangkok to the Surin bus station. This takes just 6 hours and cost a little more and shouldn't be more than 450 baht.

Please see map of Surin for the location of the bus and train stations.

Getting around Surin

You will need a car or motor cycle to get around these places, not to mention a good guide for which I am grateful to Asa.

Where to stay – hotels in Surin

In Love Resort Kasem Garden Hotel Le Bien Resort

Maneerote Hotel Martina Hotel

Oasis Hotel Surintara Resort

Table of contents


My thanks

My thanks to Asa and Teem for the hospitality extended to me in their home and for showing me around their home province.

I am grateful to the residents of Kwao Sinarin and Ban Bu Thom for their help in providing the information and photos to write this article. In all the places that I have been too, I found the people very friendly and open.

Table of contents


Next month

Bang Phli – the 150 year-old market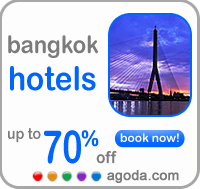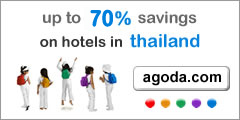 If you enjoyed reading this e-zine, please forward it to a friend. If you received this from a friend and found it interesting, please subscribe at Bangkok Travelbug.


What you think of the Bangkok Travelbug?

We love to hear from you

What other subscribers have said

Till next month then.

Eric Lim

Find us on Facebook

Stay updated with what's new at Tour Bangkok Legacies. Copy the link below and paste it into your Google Reader, NetNewsWire or your favourite feed reader.

https://www.tour-bangkok-legacies.com/tour-Bangkok-legacies.xml

If you use My Yahoo! or My MSN, head over to my home page and click on the button for your favourite Web-based feed reader.

Visit our home page at Tour Bangkok Legacies.


Copyright@2008-2009 Tour Bangkok Legacies All rights reserved