Hello






Eternity Village - poverty expressed in art

Dear friends and readers of the Bangkok Travelbug,

My apologies for missing out on the July edition of the Bangkok Travelbug. We were busy setting up our new home and moving there which took up the better part of July.

Please let me make it up to you with something very special and different in this August edition. This issue is about an art exhibition in Bangkok!

I have rarely written about art in any form as I don't feel qualified to comment. Somehow, this artist and his inspiration appealed to me, tugged at my heart strings.

I visited his exhibition, got to meet him, talked to him and bought his book to understand better the inspiration behind his work. Although the exhibition will be over by the time you read this, the work of this artist is worth placing on record.

Contents (click on the link to go directly to the topic)


About the artist

Pachara Piyasongsoot was born on 18 November 1985. He graduated in Graphic Arts from the Faculty of Painting, Sculpture and Graphic Arts of Silpakorn University in 2008.



Pachara Piyasongsoot

From 2006, even before his graduation, to the present, he has taken part in six joint exhibitions and three solo exhibitions including the current one.

In 2006 he won the Grand Prize Winner Young Thai Artist Award (Two Dimension Art) organised by the Siam Cement Group Foundation. In 2008, he won two more awards; the Special Award of the 20th Toshiba Art Competition in Bangkok and the Honourable Mention Award Epson Colour Imaging Contest (Graphic).

With these credentials in the bag, let's take a look at his paintings.

Contents


About his work

After talking to Pachara, viewing his paintings and reading his book, what impressed me about his paintings is that he just doesn't simply paint scenery, people or still life.

His paintings reflect the political, economic and social problems faced by his subjects. To achieve this, he visits their homes, interviews his subjects extensively to understand their points of view, their history and living conditions.

This provides the context, the circumstances of his paintings to give the viewer a better understanding of the subject.

As an example, he cited his previous exhibition, "Anatomy of Silence" in 2018. These paintings were about the ex-members of the Communist Party of Thailand living in Na Bua Village, Renu Nakhon District, Nakhon Phanom.

Nakhon Pathom is on the banks of the Mekong River 750 km north-east of Bangkok, a 10 – 11-hour journey by road.



View of the Mekong River with Nakhon Phanom in the foreground and Laos in the distance – taken during my visit in 2009

The Communist Party of Thailand waged an armed struggle against Thai government forces from 1965 till 1980 when they were granted amnesty. Those who survived the struggle had to start a different struggle to rehabilitate to a new life in a society very different from the one they were familiar with.

Pachara's five paintings of the battlefield area are a graphic representation of the oral history of the experiences of these men and women.

Here are three of them; as they are no longer on display, the photos were taken off his book.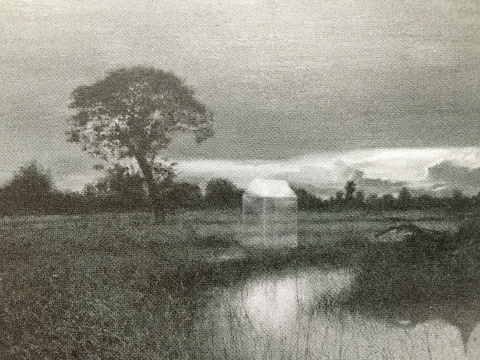 Tale from Communist 2018 – oil on canvas, 120 x 180 cm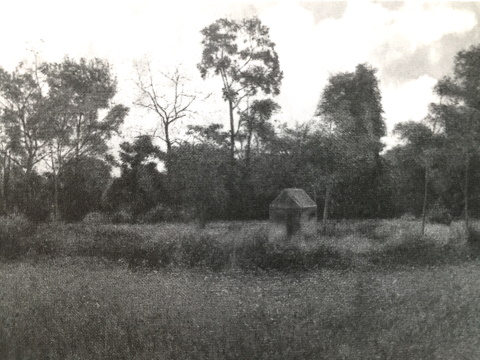 The Sound of Silence 2018 – oil on canvas, 140 x 250 cm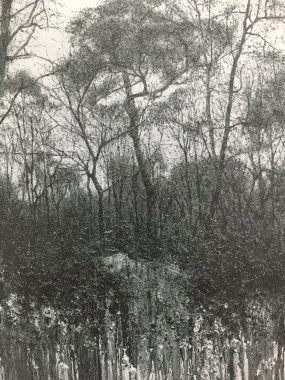 Fake Tiger 2018 - oil on canvas, 120 x80 cm

What message was the artist trying to send us? Was it about ex-Communist guerrillas who were reluctant to talk about their past as they struggled in their new lives as peaceful farmers and no longer fierce fighters?

I can't help but see the parallel between what Pachara is doing in his paintings and Frederick Forsyth's advice to writers.

You should always try not simply to see, to witness and to report but to understand. Try to understand the people you are meeting, the events you are seeing.

Your masters must be Truth and the reader, no one else.

Frederick Forsyth

The same applies in painting.

Contents


Eternity Village

This exhibition ran from 30 July – 9 August 2020. Entitled "Eternity Village", it deals with economic and social problems prevalent not only in Thailand but in many other societies as well – poverty and social injustice.

Eternity Village consists of a set of 13 oil paintings on canvas. Within the gallery, only nine paintings were hung on the wall owing to space limitations. The paintings are huge, averaging more than a metre, almost two metres in width and a metre or more in height. Later Pachara brought out more paintings that were leaned against the wall.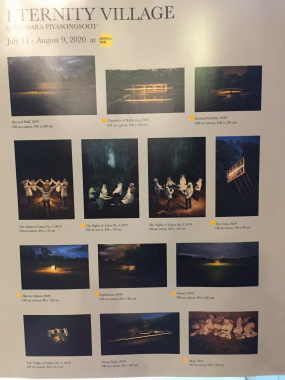 The Eternity Village

Pachara came across these subjects when he was visiting a gated housing estate complete with villas, tennis courts, swimming pool and a golf course. There was a group of workers who were responsible for keeping the place clean. He got to know them, talked to them and visited their living area and their home provinces.

These workers comprise of six families from Kuchi Narai District, Kalasin. Kalasin is about 520 km north-east of Bangkok. It's largely an agricultural area.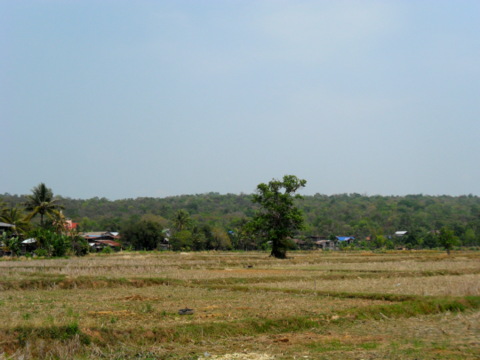 A harvested ricefield in Kuchi Narai, Kalasin taken during my visit in 2012

Their living quarters were in makeshift shacks built behind the tennis practice wall in the part of the common facilities that were no longer in use as residents ceased paying for their upkeep.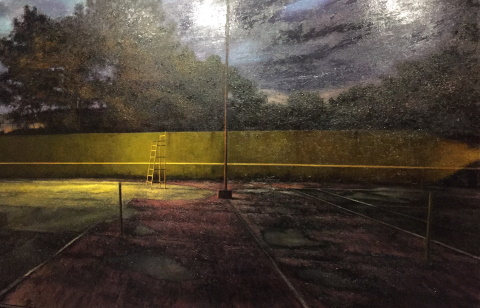 Eternal Wall 2019 – oil on canvas, 160 x 240 cm

These shacks were squeezed into an area that is 23 sq. wa, (1 wa = 2 metres, 23 sq. wa = 92 sq. metres or 990 sq. feet). This is equivalent to less the half the size of a tennis court for singles! 47% to be exact. This gives an average of 15 sq. metres or 165 sq. feet per family. All their worldly possessions are in these shacks.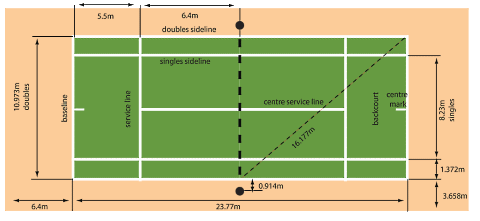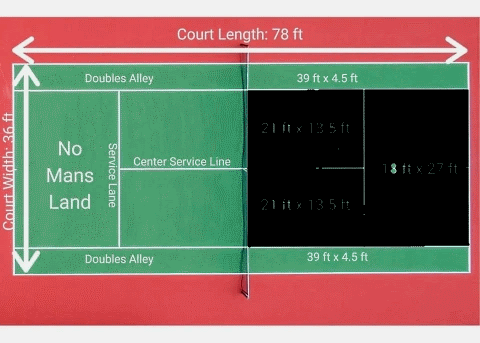 Dimensions of a tennis court in metric and imperial systems – the area shaded in black gives the approximate living space of the six families.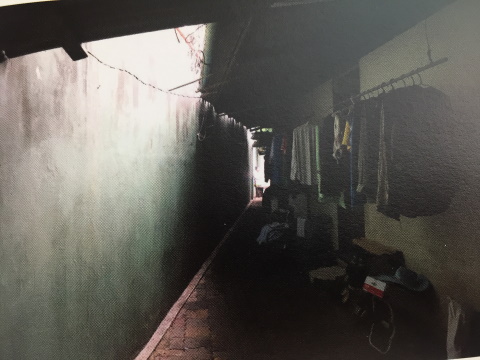 Photo of the living area behind the wall – taken from the book, Eternity Village

This painting shows the entrance to their living area that's covered by a canvas and appropriately named "Lighthouse".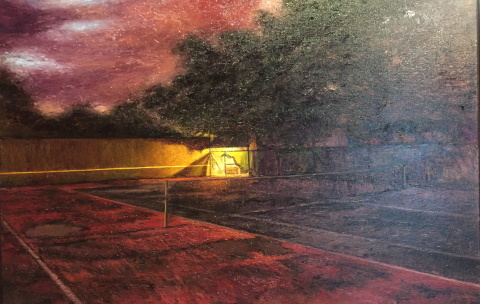 Lighthouse 2020 – oil on canvas, 80 x 120 cm

The workers work from dawn to dusk and are paid the minimum daily wage for Bangkok between 2012 - 2016 which was 300* baht (about US$ 9.65) per day with no social security and medical benefits. They are literally living from hand to mouth. Dusk brought darkness, relief from toil, rest and sleep.

*The minimum daily wage for Bangkok in 2020 is 335 baht.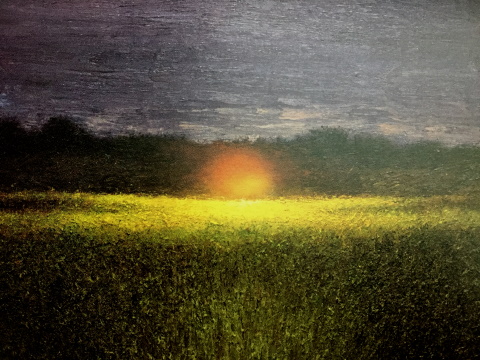 Sunset 2019 – oil on canvas, 90 x160 cm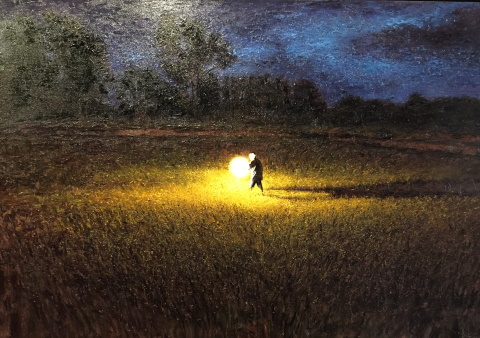 Harvest Moon 2020 – oil on canvas, 80 x120 cm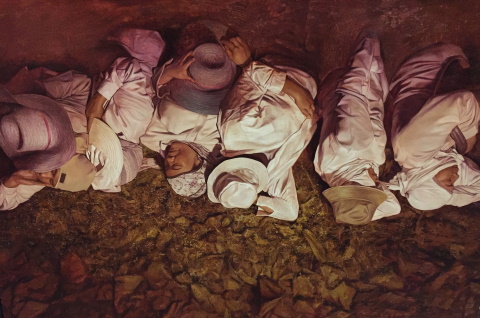 Sleep 2019 – oil on canvas, 120 x180 cm

What's more they have been in this housing estate since its inception 20 years ago. One member has passed away in one of the shacks and some of the workers are from the second generation.

These are people who are destined to work for the rest of their lives to send money home or save enough to build a home of their own.

With all the inequality we are facing today, are we surprised to find such abject living conditions amidst all the luxury in this housing development? Perhaps this painting of the swimming pool expresses the mood of the artist.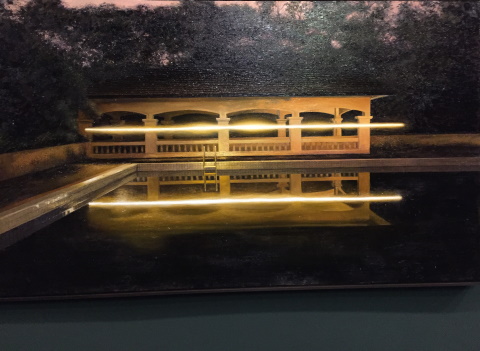 Chamber of Reflection 2019 – oil on canvas, 100 x180 cm

This set of paintings entitled "The Nights of Labour" show six workers huddled in a circle of light surrounded by pitch darkness. This is symbolic of their rituals to pay respects to the spirits.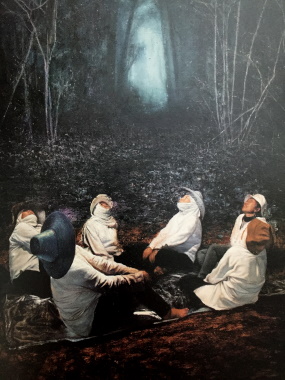 The Nights of Labour No. 2, 2019
oil on canvas, 200 x145 cm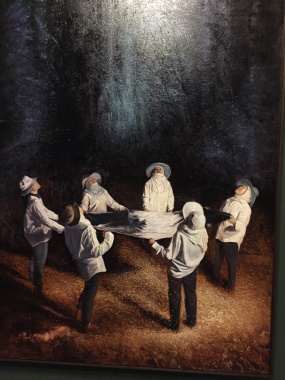 The Nights of Labour No. 3, 2019
oil on canvas, 200 x145 cm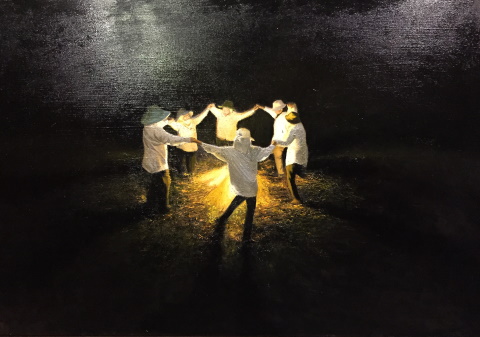 The Nights of Labour No. 4, 2019 – oil on canvas, 90 x135 cm

All the paintings are dark and gloomy with a glow of light in the centre; like a beacon of hope shining through this life of toil and hardship. I sincerely hope that they realise their dream of building their own homes in their hometown one day. That would have made all this worthwhile.

In his closing words, Pachara mentioned that he started this project with curiosity, he left in anger. I can understand that sentiment.

Contents


References

"Eternity Village" by Pachara Piyasongpoot is available at the gallery for 500 baht. The book explains in English and Thai how the artist was inspired to produce these set of paintings.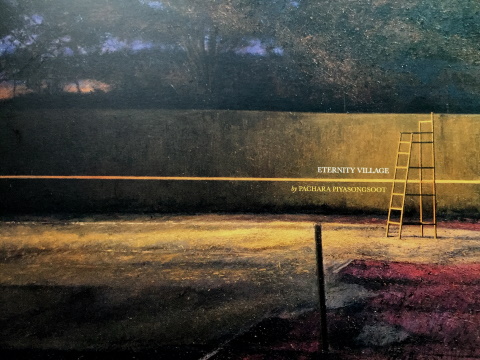 Eternity Village by Pachara Piyasongsoot – cover shows the tennis court and practice wall

Artist + Run Gallery is an art exhibition space in Soi Narathawas 22 for artists to display their works. Though this exhibition ends on 9 August 2020, keep this place in mind if you are interested in future exhibitions. For more details please see, Artist + Run Facebook

For related articles on Nakhon Phanom and Kalasin, please see

Journey to Nakhon Phanom.

The Phu Thai of Kalasin

Phrae Wa Thai silk of Ban Phon

Contents


Map to Artist + Run



If the map doesn't appear, click on this link

How to get to Artist + Run Gallery

The most convenient way to get there is to take the skytrain (BTS) to S3 Chong Nonsi station. From there, take the Bus Rapid Transit (BRT) to the Thanon Chan Station. Soi Narathiwas 22 is a short walk from the station.

Contents


Thank you

Thank you to Pachara Piyasongsoot for his very thought-provoking and meaningful paintings. His art captures on canvas the inequalities and social injustice in our societies.

Photos of the paintings are with the courtesy of Pachara Piyasongsoot for which we are grateful.

Contents


Next month

We are hitting the road again! We will explore an old canal side market in Pathum Thani which we were supposed to go last month.

Khlong Sip Song Market, Lam Luk Ka, Pathum Thani

If you enjoyed reading this e-zine, please forward it to a friend. If you received this from a friend and found it interesting, please subscribe at Bangkok Travelbug.


What do you think of the Bangkok Travelbug?

We love to hear from you

What other subscribers have said

Till next month then.

Eric Lim
Tour Bangkok Legacies
Find us on Facebook

My Journey through Thailand Part I The First Steps

This is my second e-book and the first in the series of travel journals on my trips to explore the various provinces in Thailand. This edition, which covers my travels from late 2009 to mid-2013, will guide you to historical sites, cultural monuments and exquisite Thai handicraft, across a vast spectrum of cultural and ethnic diversity.

You can have a virtual tour with this e-guide book or take the first steps yourself in this journey through Thailand.

My Kindle e-book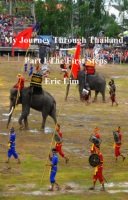 Copyright@2008-2020 Tour Bangkok Legacies
All rights reserved