Hello






Letter from Madrid

In this March 2010 issue of the Bangkok Travelbug, we have the pleasure of friends from Spain sharing their Bangkok travel experience with us. Also featured are scenes of the Chinese New Year festive joys in Bangkok last month.


Contents (click on the link to go directly to the topic)




Gerardo and Delores from Madrid, Spain visited Bangkok in January 2010. This is their story.

Letter from Madrid

My exposure to Asia was through college friends in the UK, like Carl from Hong Kong and William from Singapore, amongst others from other latitudes. Since the 1960's we have all maintained contact with one another and both Carl and William have come several times to my home in Madrid, Spain.

On the other hand I have never made it to Asia. After my retirement last year it was William who sparked my interest to travel to Asia. He suggested that Bali in Indonesia would be a great destination.

The flight from Madrid stops at Bangkok, so we decided to stopover for four days there.

William suggested that we should contact a very good school friend of his from Singapore, Eric Lim who is living in Bangkok for a good many years now and also retired.

When I spoke with Eric on the phone from Madrid prior to our trip, he already had lots of information about us. I just knew a little about him mainly from his fantastic web site Tour Bangkok Legacies where you can learn a lot about this fascinating city where he lives.

On arrival early on 17 January our travel agency took us to our hotel located in famous Silom Road. We had a short rest and met Eric for the first time in the hotel lobby.

He took us for lunch at a local restaurant nearby which isn't frequented by tourists and we had our first taste of local food. It was a very good experience and good choice of dishes by him.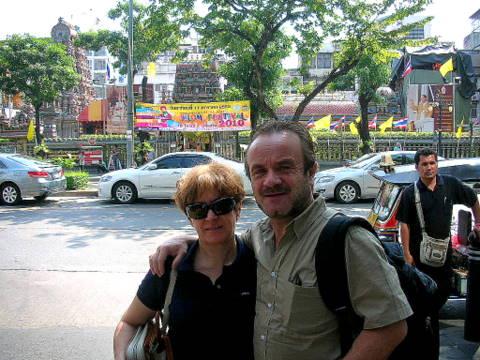 In Silom Road, the Sri Mariammam Temple is across the road

Being a Sunday we visited Assumption Cathedral, an old Catholic church in Bangkok. When we entered the church, a wedding mass was in progress. For the first time we attended part of a wedding ceremony in the Thai language.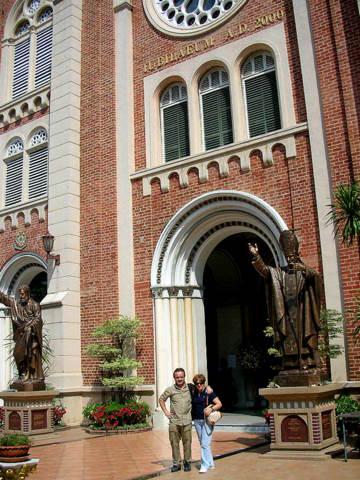 Gerardo and Delores at Assumption Cathedral

For the next two days we had the luck of Eric´s good company to show us around this fantastic orderly yet disorderly city which he knows inside out. We saw what tourists had to see but also experienced other aspects which only locals might have the chance to experience.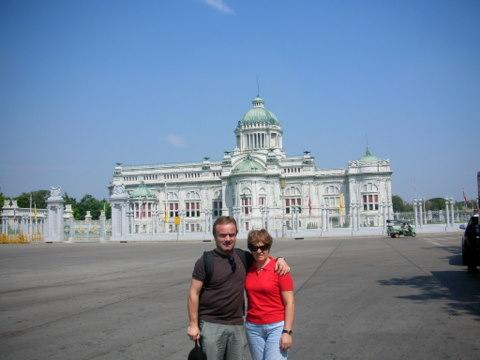 In the Royal Plaza before the majestic Ananda Samakhom Throne Hall

We had dinner in an unusual restaurant in Silom Road near the Sala Daeng skytrain station. The tables were arranged in some kind of alleyway between two blocks and the kitchen was in a backyard of a building!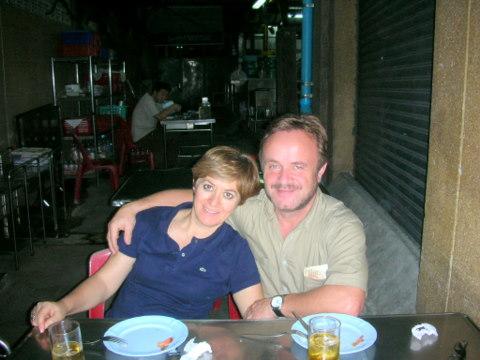 Dining in the alleyway

The food was excellent, the surroundings unusual by Western standards and his company priceless.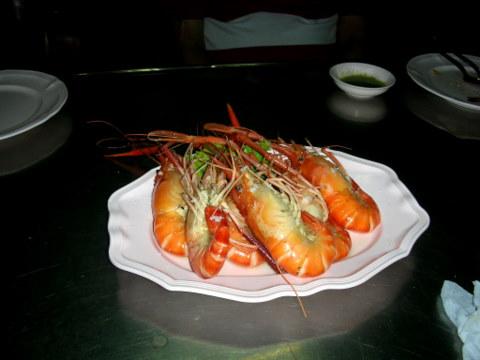 Alleyway food

What we really appreciated was how we were able to draw on his time which he was eagerly sharing with us. I have come to learn after my retirement that time is the most valuable thing that we have in life to share and to give. There was Eric also a retiree sharing his time and knowledge about Bangkok with us.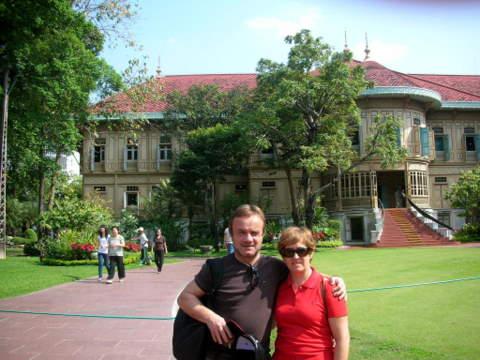 At Vimanmek Mansion, the largest teakwood building in the world

When you come to think of it, we were friends of one of his best friends and that was enough to seal a relationship. Funnily enough we ended every evening in one of his favourite places in Bangkok called Madrid where they served an incredibly well chilled beer.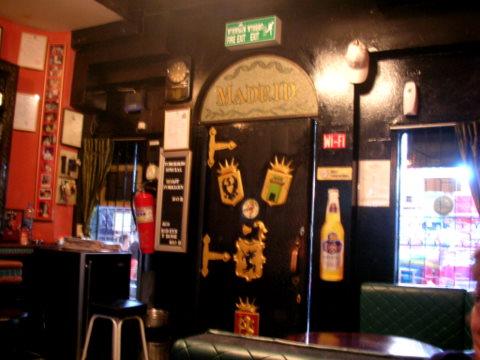 The Madrid

The only snag is that we had to wait until evening for our beer. I am not quite sure if these are local or Eric´s personal regulations.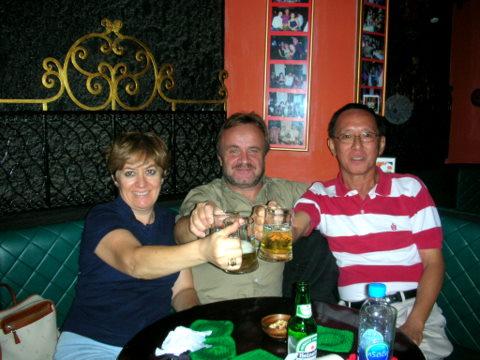 Heineken at sundown

Eric I am not going to go over all the places that we discovered with you during our great visit. I have numerous photos that we took, over 1000.

Our feelings during our days together in Bangkok are difficult to express in words. Thanks for sharing your long friendship with William by spending a few days with us.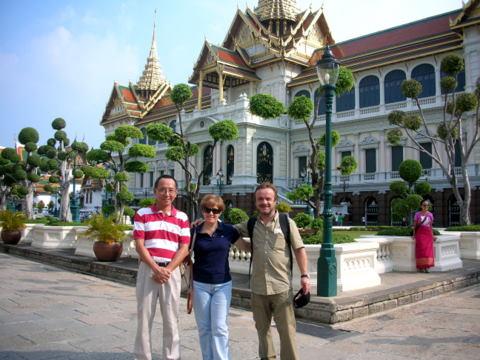 At the Chakri Maha Prasat Hall, Grand Palace

If you ever decide to visit Europe, come to Spain. You already have a place in our hearts and if you ever visit Madrid, you will have a place in our home as well.

I have enclosed some photos from our visit. Please include these photos with the article to be shared with others. Thanks again Eric and God bless.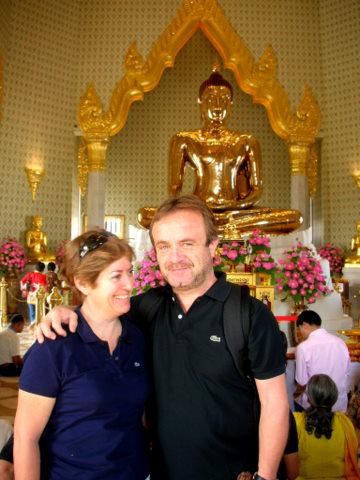 Footnote by the Travelbug

Thai law prohibits the sale of alcohol at all convenience stores and supermarkets between 11:00 am and 5:00 pm. After midnight, the 24 hour convenience stores, like 7 Eleven can't sell alcohol too.

However this law doesn't apply to hotels, pubs, some restaurants and neighbourhood pop and mom stores. If you really want a beer, it's always available round the clock somewhere in the city.

As for me, I prefer to have my first beer at sundown after the cows have gone home.

Thank you Gerardo and Delores for your friendship and for sharing your Bangkok travel experience with us. I am grateful for your invitation to stay at your home and really hope that I will be able to take up that offer one day.

Table of contents


If you have a favourite shot of Bangkok or Thailand, share it with us in our photo sharing gallery.

View what others have submitted.


Chinese New Year in Bangkok

Chinese New Year is another memorable time of the year for me. Like Christmas as a boy I would look forward to the food and other goodies. Most of all, I looked forward to receive red packets with money from married adults.

This privilege however expires with adulthood but the good memories still remain. On New Year's Eve in Bangkok, fire crackers could be heard in the neighbourhood as residents say as their prayers and then fire off the crackers.

Like any city, Chinatown is the place to visit during Chinese New Year. Yaowarat Bangkok's Chinatown was all decked out red, traditionally the colour of good luck with a street fair in full swing. I have made it a point to visit Yaowarat at every Chinese New Year since 2005.

Let me share these Chinese New Year scenes in Chinatown Bangkok with you for this year.

On 14 February 2010 huge crowds flocked to the new building in Wat Traimit that houses the golden Buddha and the Yaowarat Chinatown Heritage Centre.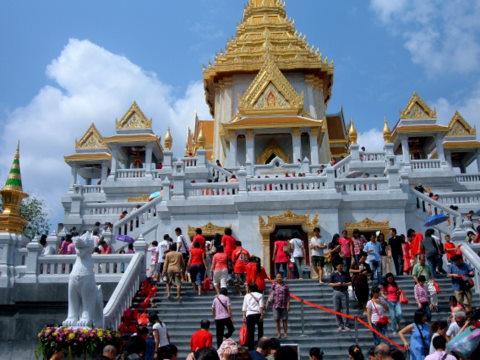 New building for Wat Traimit

Please see Wat Traimit for details of the attractions in this new building. The Yaowarat Heritage Centre is now open.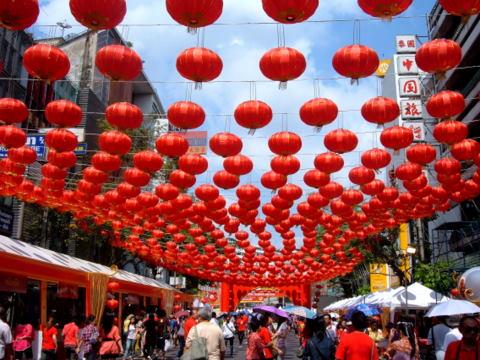 Yaowarat Road under a canopy of red lanterns

Yaowarat Road was built in 1891 in the reign of King Rama V. The name Yaowarat, meaning "young king", was bestowed by King Rama V in honour of his son HRH Crown Prince Maha Vajirunhis who passed away four years after Yaowarat Road was built.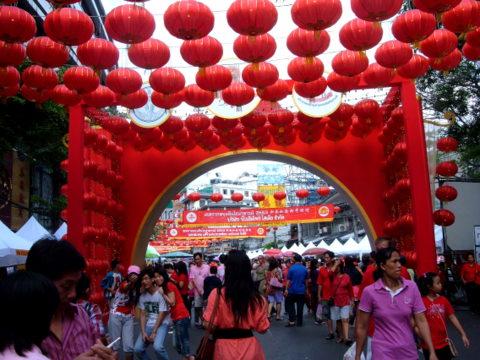 Passing the arch of good fortune

In any street fair or market, the food has always been an attraction and there were some very unusual delicacies at this fair. These guys were pounding the dough for a sweet candy embedded with peanuts and sesame seeds.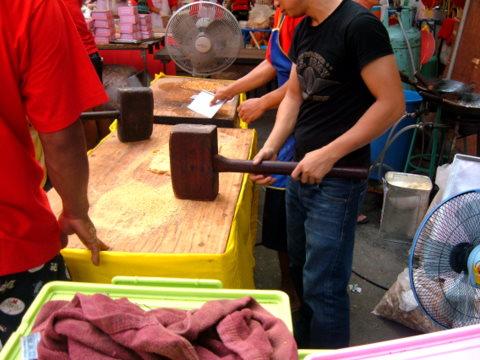 Hammering on the dough

Another favourite of mine, cha chak or "teh tarek" as it's called in Malaysia and Singapore. The tea is "dragged" from one pot to the other. This practice reputedly gives the brew a special taste.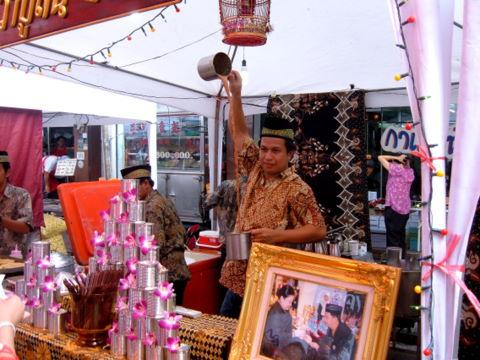 Dragging the brew

This guy gave quite a performance as he was dragging the tea. As a grand finale, he even did a pirouette without spilling a drop.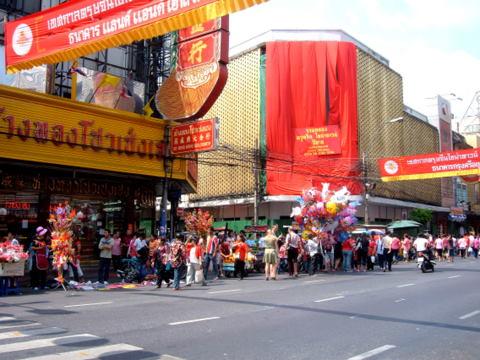 Strolling along Yaowarat Road

It was a pleasure strolling down Yaowarat Road as I snacked along the way. With goodies like these it was hard to resist.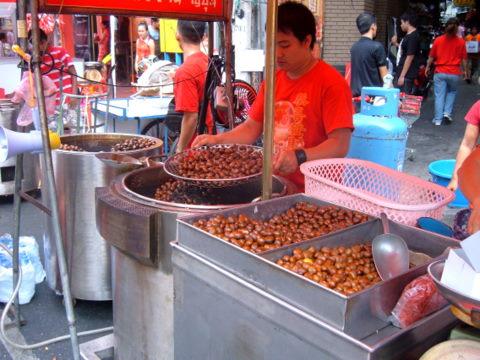 Roasted chestnuts

Here's a Chinese New Year hair-do that might catch on.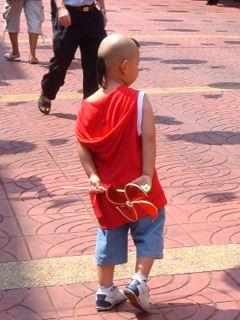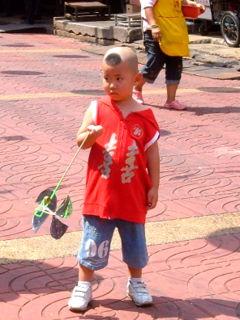 Fancy this?
Table of contents




Next month

We pay a visit to the old city of Ayutthaya, a UNESCO World Heritage site.

If you enjoyed reading this e-zine, please forward it to a friend. If you received this from a friend and found it interesting, please subscribe at Bangkok Travelbug.


Please tell us what you think of the Bangkok Travelbug

What do you think of the Bangkok Travelbug, we love to hear from you

Read what other subscribers have said

Visit our home page at Tour Bangkok Legacies.


Copyright@2008-2009 Tour Bangkok Legacies
All rights reserved