Hello






Say a prayer for love

Welcome back to our February 2009 issue 9 of Bangkok Travelbug, the monthly newsletter of Tour Bangkok Legacies. This month really brings out the cultural diversity in Bangkok. Here's what we have for you.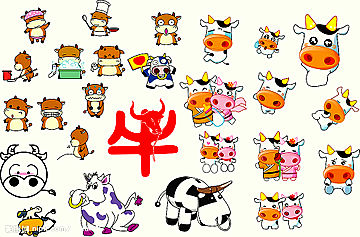 Bovine moods - courtesy of Tan Chun Wee Singapore


February's contents

Major events in February


February in Bangkok


Year of the Ox in Chinatown


New web page – Traditional Thai paintings


New feature - interactive Bangkok maps


Say a prayer for love – Valentine's Day in Bangkok


The legend of Mae Nak – a macabre tale of love
Major events in February


9 February Makha Bucha Day


14 February Valentine's Day


24 February National Artist Day

February in Bangkok

Nine months after Buddha attained Enlightenment, 1,250 disciples of Buddha from various places gathered impromptu to pay their respects to Buddha. What's more, all these disciples had been ordained by Buddha and had attained sainthood.

That day was the full moon of the 3rd lunar month or Makha. The day is called Makha Bucha Day, one of the three most holy days in the Buddhist calendar. This year, it's on 9 February.

National Artist Day is on 24 February. This day honors the nation's artists and is also the birthday of King Rama II, a patron of the arts who reigned from 1809 - 1824.

Traditionally Chinese New Year is observed for 15 days of the lunar month. For this year, it's from 26 January – 9 February. I've got some shots of the festivities in time for the February issue.

As Valentine's Day falls in February, it's a month of love. We bring you two stories; both of which are related to shrines and to love.


Year of the Ox in Chinatown

I visited the street fair in Yaowaraj Bangkok's Chinatown on the second day of the New Year, 27 January. Here are some of the pictures.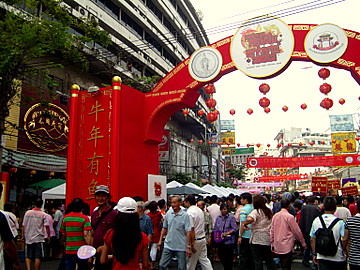 The arch of prosperity

The focus this year was mainly on food and there was lots of it.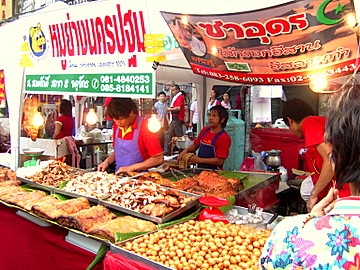 Barbecued pork from Nakorn Pathom

The moment I set eyes on these strips of crispy roasted pork I knew I had to try them out. I did on the way out.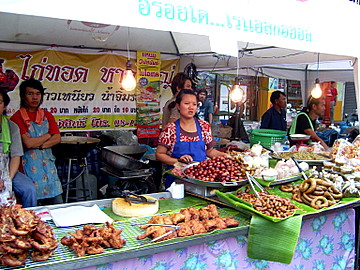 Deep fried chicken and sausages

The picture below requires a little explanation. The food on the skewers may look alike but they are very different.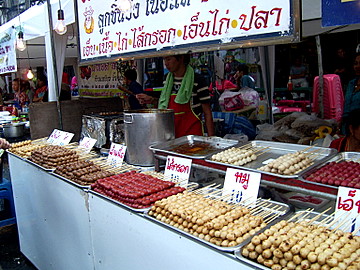 Take your pick

The trays from left to right display chicken tendon, chicken, beef, beef tendon, sausages and pork.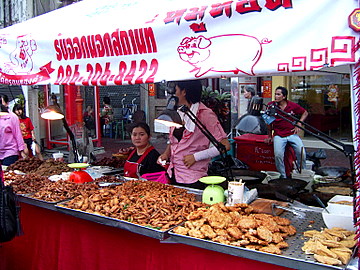 This one's pretty obvious

They do deliveries too. That's the telephone number.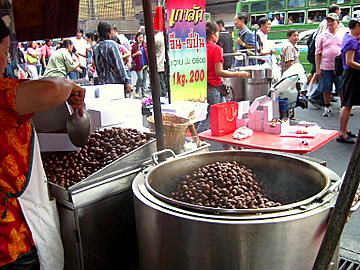 Kao Lak anyone?

The raw chestnuts are from China or Japan. Today vendors don't have to stir the chestnuts manually in huge frying pans. The mechanical roaster rotates the chestnuts as they are heated evenly. I had some over the weekend from this very stall.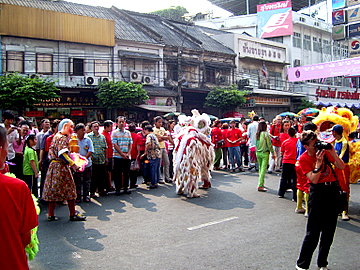 Outside the Scala

Street performers perform outside the Scala restaurant, a popular Chinese restaurant in Yaowaraj.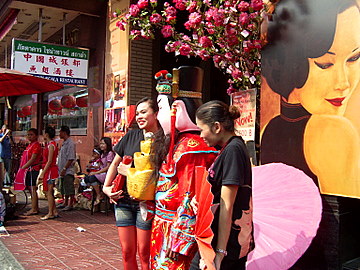 A pleasant distraction

After the tiring walk through the street fair, I found a table behind one of the stalls and gave myself a treat of fried oysters, roasted pork and peanut candy for desert. Gong Xi Fa Cai.


New web page – Traditional Thai paintings

In November 2008 there was an exhibition of traditional Thai paintings by a group of Thai artists at the River City Antique Center. Here's sample of some of the exhibits on display.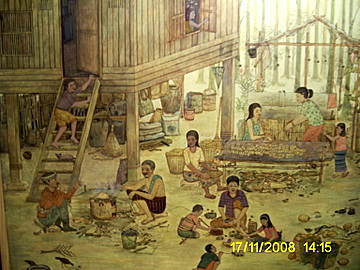 Rural life in Thailand

The oils depict life in rural and urban Thailand, some homes from the different regions, the cultural and ethnic diversity of various communities and colorful festivals.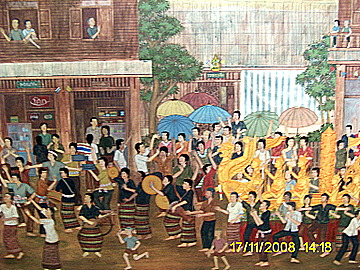 Candle procession during the Buddhist Lent

See the rest of the photos at traditional Thai paintings.


New feature - interactive Bangkok maps

I've replaced all the Bangkok maps in the website with interactive Google maps for the various attractions in the city. You can zoom in or out to get views from various elevations.

Scroll around to see the surrounding areas. Just hold down your mouse and drag it in the desired direction. Markers for locations, routes and areas are included where relevant.

Some maps are displayed as street maps for clarity. Switch between the map and satellite versions by clicking on the tabs. Some prominent features are best viewed as satellite images.

View these Bangkok maps to familiarize yourself with the city.


Say a prayer for true love

I will always remember Valentine's Day, not for any romantic reasons though. 14 February was the day I arrived in Bangkok to take up residence six years ago. I didn't even know it was Valentine's Day until I arrived.

Like most of the world, Valentine's is observed here with bouquets of roses and boxes of chocolates. Unlike the rest of the world, in Bangkok it's observed with a very quaint custom.

Just outside Central World Plaza, a shopping mall, stands a shrine dedicated to the Trinity of Hindu gods, Brahma, Vishnu and Siva. It's called Trimurti Shrine (tri-mu-ra-ti) or the Lovers' Shrine. People come here every day to pray for love.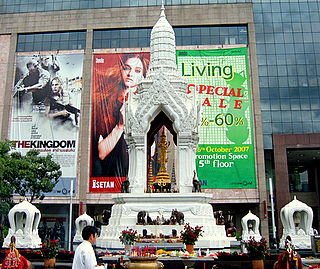 Trimurti Shrine

The shrine is particularly crowded on Valentine's night.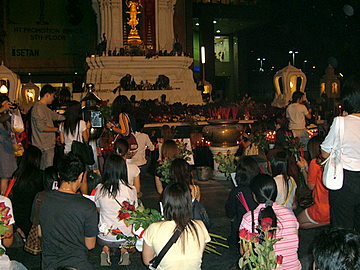 Say a prayer for true love

Bundles of red roses are left on the shrine as offerings by worshippers. The sombre air is filled with the smoke of candles and joss sticks.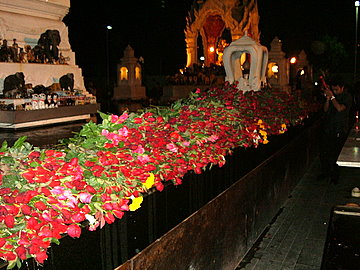 Night of roses

Next time you're in Bangkok, drop in at the Trimurti Shrine and say a prayer for true love.


The legend of Mae Nak – a macabre tale of love

There's a temple in Sukhumvit Soi 77, not far from the On Nut skytrain station. In 1762, a monk visited the villagers in the area which was then known as Phra Khanong.

As the village didn't have a temple, the villagers invited the monk to stay and built a temple in his honor. The monk's name was Phra Mahabut. The villagers named the temple Wat Mahabut.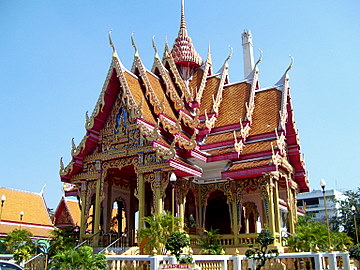 Wat Mahabut

The temple is also home of the famous Mae Nak Shrine after a woman who is believed to have lived in the area a long time ago. She marries a handsome young man called Mak. After their marriage, Mak is conscripted and goes to war during which he is severely wounded.

In the meantime, Mae Nak dies during childbirth. Unaware of what has happened; Mak recovers from his injuries and returns home to find his loving wife waiting for him.........

Why am I relating such a tale for Valentines? Take away the horror the story is actually quite sad; a loyal wife patiently waiting for her soldier husband's return. Alas when they are finally reunited, her love is unrequited.

How did this unusual love story end? Take a boat trip with me to Wat Mahabut and find out about the legend of Mae Nak.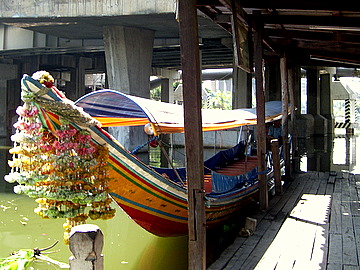 Phra Khanong pier – where our journey begins

So I leave you this February with a toast to love.

Next month we bring you Bangkok Noi – the older side of Bangkok.

If you enjoyed reading this e-zine, please forward it to a friend. If you received this from a friend and found it interesting, please subscribe at, Bangkok Travelbug.


Your comments please

We'd love to hear from you. Please tell us what you think, e-mail- us.

To return to Tour Bangkok Legacies Home Page.

Copyright@2008-2009 Tour Bangkok Legacies
All rights reserved