Hello






Towards a better year?

Happy New Year and welcome back to our January 2009 issue 8 of Bangkok Travelbug.

Bangkok Travelbug, the monthly newsletter of Tour Bangkok Legacies, covers people, places and events of historical and cultural significance in Bangkok to give visitors a more enriching travel experience.


January's contents

Major events in January


New web page - photo sharing gallery


A big thank you to all of you


A letter from Singapore – my U-Tapao experience


The Year of the Ox
Major events in January


1 January New Year's Day


10 January Children's Day


16 January Teachers' Day


26 January Lunar New Year

Towards a better year?

Happy New Year to all our friends and readers! Hope 2009 gets off to a great start for you. I hope this memorable image taken in the closing days of 2008 will brighten up your lives in the year ahead.



Forest of lights

On the second Saturday of January which happens to be the 10th this year, it's Children's Day in Thailand. It's a treat for all the kids at various entertainment venues and public buildings.

Traditionally, Government House would be open to the public. Kids will have a chance to roam around the place and even take a seat on the PM's chair. Wonder how many still want that seat now?

Teachers are also honored this month with Teachers' Day on 16 January. On this day every year since 1957, tribute is paid to the nation's teachers for their efforts and sacrifice in nurturing our children.

Of course on 26 January, it's the start of the Lunar or Chinese New Year. Though not an official holiday in Thailand, it's widely celebrated by the ethnic Chinese community in Bangkok and Thailand.


New web page – photo sharing gallery

I've started a photo sharing gallery for you to share photos from your part of the world. Some of you have wished for a page where you can submit photos from your countries.

So here it is, our new photo sharing gallery. I look forward to photos from your part of the world. Please see the first few photos by other readers. Thank you very much for your contributions.


A big thank you to all of you

Thank you very much all our loyal friends and readers for your support in the past year. Since Bangkok Travelbug started in June 2008, the subscription has almost doubled.

I'm grateful to those of you who have shared this with your friends and families by actively promoting the distribution. I couldn't have done this without your help.

Thank you for your efforts.


A letter from Singapore – my U-Tapao experience

Dennis Tan of Singapore, one of our readers, visited Bangkok with his wife on 23 November 2008. They were due to return home on 26 November 2008. What happened then is well known. They were stranded.

After several frantic days of trying to secure a flight home, they managed to leave on 1 December. This is his story.

After some 5 days of high anxiety and frustration, we are finally on our way back to Singapore via U-Tapao Airport on 1 December. The drive to the airport was uneventful, but we were greeted by a long queue of passenger and commercial vehicles when we got to the airport gate about 5 hours before the scheduled flight.

Our taxi driver somehow managed to worm his way through the queue and once in the airport compound, we were speechless when we saw lots of people all over the place, either under the hot sun or seeking cover below tentage, waiting for their flights or to check-in.

We waited in line for SIA's counter to start processing the passengers, but the waiting time and hot conditions were very trying.

Amidst all these frustrations and difficult conditions, a group of local artistes started serenading the stranded travellers (mostly foreigners) with Thai numbers, and gave performances (including a transvestite show) at regular intervals, to help liven up the atmosphere and made the waiting time less tiring.

Meanwhile the Thai Red Cross Society was busily distributing free meals and mineral water to all at the airport, whilst there are some local and commercial groups trying to capitalize on the opportunity by offering food, drinks (including beer) and foot reflexology services to help take away the weary woes.

Topping it all was a booth selling prepaid SIM cards and top-up cards as well as a mobile repair service station. Guess it is the Thais' way of making foreigners feel more at home.

The setting sun made the atmosphere even more warm and soothing and somehow the frustration and anxiety that was built up over the past few days were left behind.

I guess I now truly understand the meaning of "Amazing Thailand", something which I could not relate to previously when I was travelling more regularly to the country.

We are now safely at home and I pray that those who have been stranded will be able to re-unite with their loved ones soon, and also peace and order will return to the country soon.

Dennis Tan, Singapore

Comments by another reader

Feeling's mutual

Hi all,

Thumbs up once again for the innovative and more importantly hospitable Thais. The Thais have once again shown that their internal problems do not relate to their valued visitors.

I do hope that the political unrest is resolved soon for these hard working, warm and hospitable people.

Good Day from Oz

Gerald A de Souza
Australia

Postscript by the Travelbug

The protesters left the two airports, Suvarnabhumi and Don Mueang at 1000 hours on 3 December 2008. On the same day, Thai Airways resumed limited flights at Suvarnabhumi. U-Tapao scaled down operations over the next few days as airlines gradually redeployed their flights.

The Airports of Thailand declared Suvarnabhumi fully operational at 1100 hours on 5 December with 450 out of the usual 700 flights per day. U-Tapao wound down its operations and returned to its peaceful existence.

The stranded travellers, an estimated 300,000, went home at last to be reunited with their families. Whether there will be a lasting peace between the two political factions in Thailand is beyond me.

Suvarnabhumi Airport since the idea was first mooted in 1973, has been dogged by endless problems. We close this sad and disgraceful chapter on the history of Suvarnabhumi. It seems the jinx of Nong Ngu Hao (cobra swamp) lives on.

U-Tapao, about 150 km from Bangkok, not far from the beach resort of Pataya, was a former US B 52 bomber base during the Vietnam War. Currently under the Royal Thai Navy, it was converted for commercial flights during the closure of Suvarnbhumi.

Thank you for sharing your experience with us, Dennis.


Year of the Ox in Bangkok

On 26 January the Lunar New Year begins. Known as Chinese New Year to the Chinese community all over the world, it's also called the Spring Festival in China and Tet in Vietnam.

Like Christmas, Chinese New Year brings back pleasant memories of lion dancers, fire crackers and most of all "ang pows", red packets with money which adults give to children.

One place in Bangkok where you can get the spirit of the occasion is Yaowarat, Chinatown. The whole community celebrates and the main street is closed for a fair.



Fiery dragon in Yaowarat

To feel of the local atmosphere, please see Chinese New Year in Bangkok.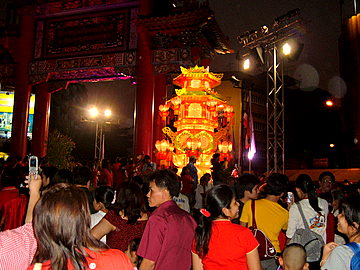 Lighting up Chinatown

However, shopping malls and entertainment areas are not to be outdone. Here's what it was like at Central World Plaza in early 2008.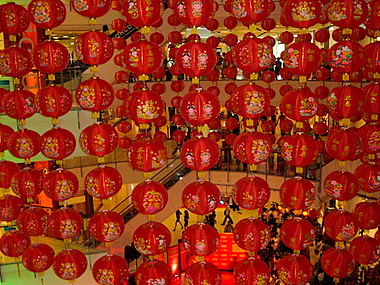 Awash with red lanterns at Central World Plaza

The lion ushers in the New Year

Though more glitzy and upmarket, I somehow feel it lacks the atmosphere of old Chinatown. You be the judge.



Traditional Chinese opera with a modern touch

May I wish all our readers good health, happiness and prosperity in the Lunar New Year, the Year of the Ox.

See you next month.


Next month

Makha Bucha Day (Buddhist All Saints Day) and St Valentine's Day in Thailand

If you enjoyed reading this e-zine, please forward it to a friend. If a friend forwarded this to you and if you found it interesting, please subscribe by clicking on this link, Bangkok Travelbug.


Your comments please

We'd love to hear to hear comments, ideas and feedback from you. Please tell us what you think. Contact us at this link, E- mail-us.

To return to Tour Bangkok Legacies Home Page.

Copyright@2008-2009 Tour Bangkok Legacies
All rights reserved