Hello,






Bangkok Travelbug, the newsletter of Tour Bangkok Legacies, covers people, places and events of historical and cultural significance in Bangkok to give visitors a more enriching travel experience.

My apologies for the mistake in the earlier version where I didn't change the title to the August issue. Sorry for the confusion.

August is one of the very happy months in Thailand. It's the HM Queen Sirikit's birthday and National Mothers' Day as well. It's a time for us to remember our mothers and what they have done for us.

The occasion is also a happy respite for the people burdened with the rising cost of living and the seemingly endless political squabbles.

Here are the major events and features for this month.


Contents

The August issue covers:



Important events for August – 12 August Queen's birthday and National Mothers' Day


New webpage – Bangkok legacies guestbook


Vintage Bangkok – old treasures contributed by a reader


Feature article – The Danish legacy in Bangkok


The Oriental Bangkok

If you enjoyed reading this e-zine, please forward it to a friend. If a friend forwarded this to you and if you found it interesting, please subscribe by clicking on this link, Bangkok Travelbug.


HM the Queen Sirikit's birthday and National Mothers' Day

August is a month for rejoicing in Thailand. HM Queen Sirikit's 76th birthday falls on 12 August 2008 which is also National Mothers' Day in Thailand.

We humbly offer our birthday congratulations to Her Majesty on this happy day.

Thais have a color for every day of the week. As HM the Queen was born on a Friday, blue is her color. Visitors to Bangkok can expect to see the blue royal pendants flying and Thais wearing blue all over the city.

The flower for this important day is the jasmine. This fragrant white flower symbolizes the purity of a mother's love for her children.

Schools have ceremonies for children to honor their mothers, "wai mae" ceremony. Mothers are invited to schools and their children prostrate themselves at their mothers' feet to show their appreciation for their mothers' love and sacrifice.

At Sanam Luang, a huge field in the old city, a candle ceremony is held in the evening for people to offer their birthday wishes to Her Majesty. The occasion ends with the Royal Anthem.

This event is telecast live nationwide by all Thai channels. Thais who are unable to be present at Sanam Luang watch this from their homes or public areas with equal reverence.

A couple of years ago, I was living in an apartment by a level crossing. On alternate nights there'll be a noisy night market with vendors calling out their wares as customers haggled over prices.

Amidst all this, revelers in a make-shift karaoke by the railway track will be wailing their lungs out.

Every other minute, the loud speakers from the market office will be blaring out announcements on behalf of mothers who have lost their kids, kids who have lost their mothers and even wives who have lost their husbands in the crowd.

Every 20 minutes or so, a passing train will drown out the entire hullaballoo. At moments like these, the passing trains were a relief.

On the evening of the Queen's birthday, such a market was on. A TV with loud speakers was hooked up to telecast the ceremony at Sanam Luang live.

When the Royal Anthem was played, the entire market, karaoke included, fell silent and respectfully stood in observance of the occasion. No trains passed the level crossing during that period.

Up on the 7th floor, I stood by my window and watched in silent admiration at the order that was established from all that chaos below.


New web page – Bangkok legacies guestbook

We've added a new page to the website, the Bangkok legacies guestbook for friends and visitors to sign in and leave their comments.

It's our sincere hope that this web page guestbook will serve as a bridge of friendship which extents out as hands across the sea to our friends and loyal visitors all over the world.

Please do us the honor and sign our guestbook at Bangkok legacies guestbook.


Vintage Bangkok – old treasures contributed by a reader

In mid-June this year, a reader sent me this old photo and asked for help in identifying. Vic Plant of North Carolina, USA snapped this shot in 1959 when he first visited Thailand.

It was a photo of what looked like a Chinese junk. It was the first of several other old shots.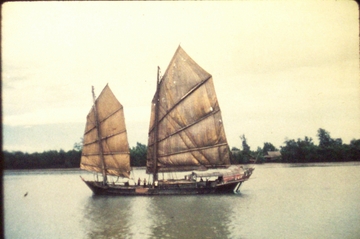 I had to seek help from a couple of friends and was lucky. They knew a retired American who used to sail these waters. This boat was one of a few that carried rocks from the Chao Phraya estuary to construction sites in Bangkok.

He not only knew these boats, he knew their owners as well!

Here's another vintage shot from Vic. You won't see this anymore.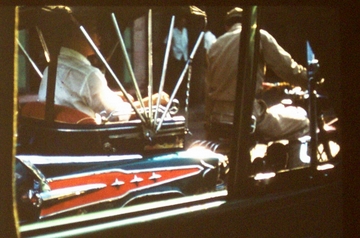 There are more of these vintage photos in old Bangkok photos.


Feature article – The Danish legacy in Bangkok

The Danish legacy in Bangkok dates back to the reign of King Rama IV (1851 – 1868). Save for one prominent landmark, there's little to remind visitors of the early Danish presence. However it took an event in April 2008 to trigger a search on the contributions of the early Danish pioneers in Bangkok.

On 26 April 2008, HM Queen Margrethe of Denmark celebrated her 68th birthday. The Royal Danish Embassy in Bangkok commemorated the occasion with a grand function which also marked 150 years of diplomatic relations between the two kingdoms.

Unlike relations with Britain and France, Danish relations with Thailand were not soured by colonial ambitions. The Danes came as friends and many contributed their services to the kingdom. In reviewing Danish Thai relations, three prominent Danes come to mind.

In 1865 during the reign of King Rama IV, two Danish sea captains started a hotel on the Chao Phraya River to cater for seafarers and traders after a long journey from Europe. The history of this hotel turned a new page with the arrival in 1876 of another Danish mariner, H.N. Andersen.

Andersen stayed on in Bangkok, started a trading company Andersen & Co in 1884 and then bought over the hotel in 1889. That humble hotel is the world renowned Oriental Bangkok today.

Andersen & Co went on be become the East Asiatic Co in 1897 and Bangkok became the company's first overseas branch office. The company was granted the teak concession and rice exports from Thailand.

Today, EAC has grown to an international company dealing in processed food, industrial chemicals and moving and relocation services, and is listed on the Copenhagen Stock Exchange. The old East Asiatic Co building next to the Oriental is still there.

Danish mariners also made their mark in naval warfare. In 1875 a young Danish naval officer arrived in Bangkok, with a letter from King Christian IX of Denmark. Lt Andreas du Plessis de Richelieu had come to offer his services to King Rama V at a time when Britain and France were aggressively pursuing their colonial ambitions.

De Richelieu served in the Royal Thai Navy in various capacities and saw action during the 1893 French naval blockade of the Chao Phraya and bombardment of Bangkok as part of their territorial demands in Laos and Cambodia.

The third prominent Dane, a civil engineer, came to Bangkok in 1885. Svend Aage Westenholz started his career in Bangkok managing a horse tram service. As a former Danish artillery officer, he volunteered for the Thai army together with other Danes in Bangkok during the crisis in 1893.

A year later, Westenholz took over management of the Siam Electric Company Ltd which supplied power to Bangkok and provided an electric tramway service for the city.

The Paknam line, a rail link from Bangkok to the Chao Phraya estuary, was a Belgian-Danish joint venture. This railway carried goods between the ocean going ships anchored at the Chao Phraya estuary and Bangkok. All that remains of this railway today is the road literally called "skirting the old Paknam line".

In 1906 Westenholz started United Plantations which is one of the largest plantation groups in Malaysia today with plantations in Indonesia as well. United Plantations is listed on both the Copenhagen and Kuala Lumpur Stock Exchanges.

The Danish support for the Thais in the conflict with France prompted an angry French demand that the Danes be dismissed (New York Times, August 1893). The demand was ignored. Richelieu went on to become the first and only foreign commander-in-chief of the Royal Thai Navy, from 1900 - 1901.

Before he left Thailand in 1902 after 27 years of service, Richelieu was promoted to Vice-Admiral. King Rama V honored him with the Most Illustrious Order of Chula Chom Klao and an embroidered golden robe.

Richelieu's grandson Allan Aage Hastrup eventually inherited the robe and reportedly put it up for auction in 2007 with a potential buyer waiting in the wings.

However, 106 years later, that magnificent robe found its way back to Bangkok, courtesy of the Royal Danish Embassy, Bangkok. It was on display on the evening of 26 April 2008 at HM Queen Margrethe's birthday celebrations fittingly held at the Royal Ballroom, the Oriental Bangkok.

The Danish legacy has come home. But will it stay home?


Old hotels – The Oriental Bangkok

The Oriental Bangkok on the banks of the Chao Phraya, Bangkok's oldest hotel, is about the most visible Danish legacy in the city. However when most people think of the Oriental Bangkok, they don't even think of her Danish founders and early owners. That's probably because the Danish ceased to be owners by the 1890s.

Talk of the Oriental Bangkok and famous writers come to mind, so do royalty, presidents, prime ministers and celebrities in the movie and music world.

The first writer to be associated with the Oriental was Konrad Korzeniowski, a Polish officer with the merchant navy, who arrived in Bangkok in 1888. If the name doesn't sound familiar, that's because he became a British citizen later and anglicised his name to Joseph Conrad, the author who gave us Lord Jim.

In an age when the romantic allure of the Far East attracted adventurers and writers, others followed in Conrad's footsteps; Somerset Maugham, Noel Coward and American James Michener. These four men were honoured with suites named after them in the Authors' Wing of the Oriental.

Writers stayed at the Oriental, got their inspiration and some even wrote their books there. Please see famous writers at the Oriental for more on these writers.

Over the years, owing to changes in ownership of the Oriental, not many people remember her Danish origins. But the Danes in Bangkok remember the grand dame on the Chao Phraya and her Danish founders.

For the history of this famous hotel, please see Oriental Bangkok.


Next month

Our traditional Thai arts and craft feature is on the bamboo flute makers of Ban Laos.

See you next month.


Your comments please

We'd love to hear to hear comments, ideas and feedback from you. Please tell us what you think. Contact us at this link, E-mail-us.

To return to Tour Bangkok Legacies Home Page.