Hello






This December in Thailand

Welcome back to our December 2008 issue 7 of Bangkok Travelbug.

Bangkok Travelbug, the monthly newsletter of Tour Bangkok Legacies, covers people, places and events of historical and cultural significance in Bangkok to give visitors a more enriching travel experience.


Here are the contents this month
Major events in December


Correction


What other readers have to say


New web page Thailand Souvenirs


Loy Krathong 2008


Christmas in Bangkok
Major events in December
5 December HM the King's Birthday


10 December Constitution Day


25 December Christmas Day


31 December and 1 January, New Year's Eve and New Year's Day

This December in Thailand

December is a universally happy month and more so in Thailand where it's a very special month. It's HM the King's 81st Birthday and also National Fathers' Day on 5 December.

On 10 December it's Constitution Day. In 1932 the permanent constitution came into force six months after the coup that changed the system to a constitutional monarchy.

Although Christmas Day isn't an official holiday in Thailand, the city is still lighted up for the Christmas season.

New Year's Day of course is celebrated in a big way like everywhere else. The holidays officially start on 31 December. Of course many take leave and start earlier.

The Thai New Year was originally celebrated in April. But during the premiership of Field Marshall Plaek Phibun Songkhram from 1938 – 1944, he decreed that Thais observe the New Year on 1 January instead. However Thais continue to celebrate both occasions.

It's pleasantly cool in December and the rains have stopped. The weather and festivities make December the best month to visit Bangkok and Thailand.

However the closing of Suvarnabhumi Airport on the evening of 25 November has placed a black mark on the country in the eyes of the world. At publishing time (1700 hrs 30 Nov), the airport is still closed; the thousands stranded are seeking alternative means to get home. (Bangkok time is GMT+7)

With this unpleasant experience, we can't imagine how many visitors would ever want to come back. Those who are planning to come here will definitely have second thoughts.

It's unfortunate that the current political impasse, with its violent outbursts, is going to mar such a happy month.


Correction

In last month's newsletter, I wrote that Sukhumvit Road is the longest road in Thailand. I was mistaken.

The longest road in Thailand is Phetkasem Road which runs from Bangkok right down peninsula Thailand and ends at Sungei Golok, Narathiwat province, near the Malaysian Thai border, a distance of more than 1,200 km.

Next there's Phahonyothin Road from Bangkok to the northern province of Chiang Rai covering more than 800 km.

I was under the wrong impression that Sukhumvit Road though physically shorter, retains its name for the entire length. It looks like the same applies to the other two roads as well.

My apologies and I stand corrected. I must thank Len Agar of Jomtien, Thailand for pointing this out. Thanks Len. This has been verified with the Tourism Authority of Thailand.


What other readers have to say

Your write-up on the Loy Krathong Festival was fascinating. It provided an excellent historical perspective, while at the same showed how the Festival has transformed to its present-day Festival, with a slight change in the manner in which it is celebrated.

The Sukhumvit Road and Museum Siam write-ups were interesting and provided a very vivid picture to the reader,

Keep it up.

Gurcharan Singh
Phnom Penh, Cambodia


New web page Thailand Souvenirs

We have started an online Thai souvenirs shop which displays Thai antiques and collectibles, ceramics, old Thai coins, maps and stamps as well as traditional Thai dolls.

The store's open. Please step in for the comfort and convenience of shopping from your living room, visit us at Thailand Souvenirs.


Wrong warning by Internet Explorer

A day after I built the page Thailand Souvenirs, I had a shock! A reader e-mailed me to say that he saw this message when he opened the page.

Suspicious Website

This might be a Phishing Website

I reported this false warning to Microsoft and this was their reply.

Thank you for contacting us about: https://www.tour-bangkok-legacies.com/thailand-souvenirs.html.

We have reviewed the information you provided regarding this website and removed the incorrect designation. We thank you for bringing this matter to our attention.

Please note that although we have removed the incorrect designation, it may take up to 24 hours for you to see this change reflected.

In the event that the incorrect designation persists beyond 24 hours from the receipt of this e-mail message, please let us know by replying directly to this message. Please do not reply unless the problem persists.

Thank you, Microsoft SmartScreen/Phishing Filter Support

I'd like to thank Vic Plant of North Carolina, USA for telling me about this. As I use the Firefox browser and not Internet Explorer, I would never have known had it not been for Vic.


Loy Krathong 2008

As promised, here are the photos on Loy Krathong 2008 on 12 November. Here's a preview of the mood that night from the four places in Bangkok I visited.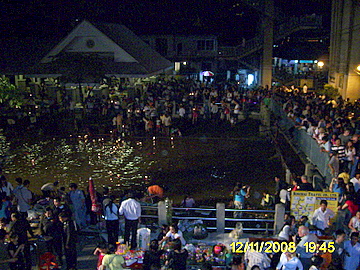 The crowd at Sathon pier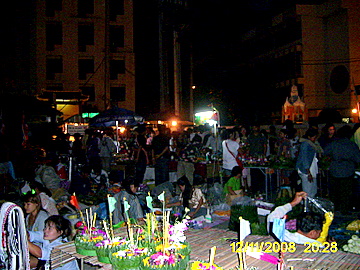 Market scene at River City near the Si Phraya pier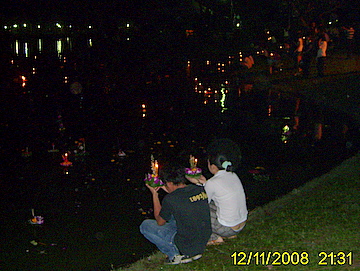 Deep in prayer at Lumphini Park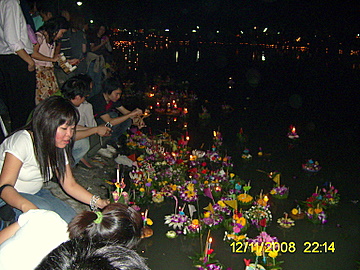 Chulalongkorn University pond

For the full pictorial presentation of Loy Krathong night this year, please see Loy Krathong 2008.


Christmas in Bangkok

Christmas is that nostalgic time of year when I recall pleasant memories of presents, carols, Christmas trees and decorations not only at home but all over town.

Last Christmas I took a stroll down to the entertainment and shopping belt in Bangkok to take in the Christmas mood. Here are some of my Christmas memories from last year.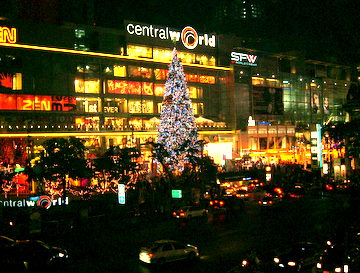 Central World Plaza boasted the tallest Christmas trees in town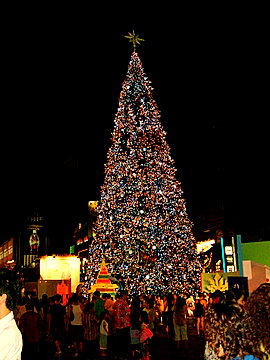 Outdoors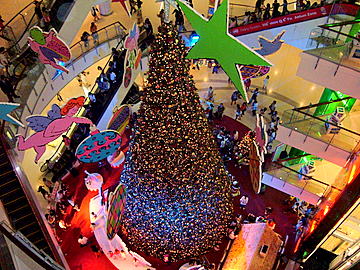 and indoors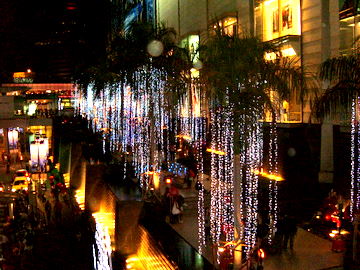 Cascading lights at Siam Paragon to complement the waterfall below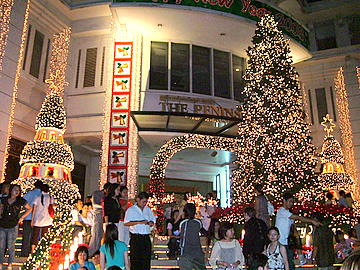 Strains of carols from the steps of the Peninsula Mall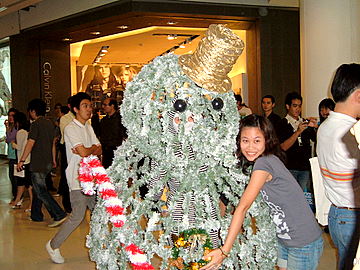 The Bangkok snowman can be just as cuddly and lovable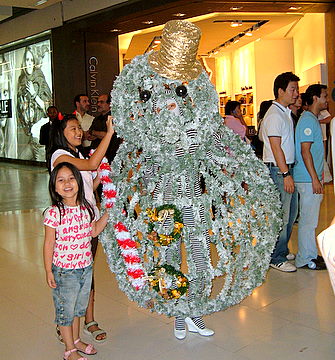 You wouldn't believe this is Bangkok would you? I'm already looking forward to Christmas. With that my dear friends, I'd like to bring 2008 to an end. It has been pleasant bringing this newsletter to you for the last six months.

Though 2008 may have been rough but we still have our happy moments. It leaves me to wish all of you and your families a Merry Christmas. Enjoy the warmth and comfort of your homes and families during this festive season. Have a Happy New Year and may 2009 hold out all the best for you and your endeavours. Let's hope for a better year.

In the spirit of Christmas, visit the Bangkok Churches.

See you next year.


Our January 2009 issue

National Children's Day in Thailand and the Lunar New Year when we bring in the Year of the Ox

If you enjoyed reading this e-zine, please forward it to a friend. If a friend forwarded this to you and if you found it interesting, please subscribe by clicking on this link, Bangkok Travelbug.


Your comments please

We'd love to hear to hear comments, ideas and feedback from you. Please tell us what you think. Contact us at this link, E-mail-us.

To return to Tour Bangkok Legacies Home Page.

Copyright@2008-2009 Tour Bangkok Legacies
All rights reserved