King Rama VI Museum
in memory of King Vajiravudh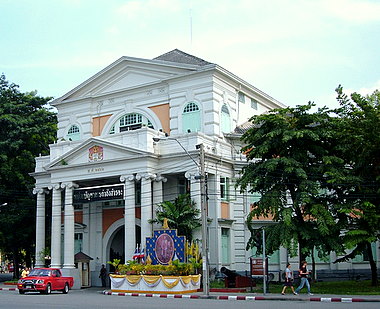 Main gate to the Territorial Defence HQ
The King Rama VI Museum is in Rachawonlop Building, the Territorial Defence Department, a building opened by King Vajiravudh. A statue of King Vajiravudh stands in the inner courtyard facing the arched entrance.
Start your tour of the museum with the video clip on King Vajiravudh. The presentation is in English and Thai. 
The museum is military to the core and a must for military buffs.
There are old photos of King Vajiravudh presenting medals and colors to regiments of the Royal Thai Army; displays of old rifles, machine guns and army uniforms during the reign of King Vajiravudh.
The military nature of the museum is not surprising given King Vajiravudh's Sandhurst background and his service with the Light Infantry in the British Army.
A section of this museum features Thailand's involvement in World War I during the reign of King Vajiravudh. Photographs of the Thai military contingent participating in the victory parades in London, Paris and Brussels captured proud moments in Thai military history.
The crowning glory is the shot of Thai troops marching under the Arc de Triumph, Paris.
King Vajiravudh started the Wild Tiger Corps, a para-military force during his reign and the second half of the museum covers the activities of this militia, which King Vajiravudh took a keen interest in.
This museum also features some of King Vajiravudh's achievements in the civil sector.
These cover the establishment of the Pasteur Institute, Government Savings Bank, the first waterworks, Vajiravudh College and Hua Lam Pong Central Station.
The rooms in the upper floor feature old uniforms of King Vajiravudh, his military epaulettes, medals and headgear of the various military regiments.
In the front room, overlooking Wat Pho, is a life-sized statue of king at work at his desk. King Vajiravudh's favorite portable chair used in visiting military maneuvers is also on display.
The King Rama VI Museum is a tribute to the contributions of King Vajiravudh to the Thai military and civil sectors during his reign.
Map to the King Rama VI Museum
View Larger Map
How to get there
The King Rama VI Museum is located within the Territorial Defence Department in the Ratchawonlop Building, across the road from Wat Pho. Do not be intimidated by the two armed sentries guarding the arched entrance to the building. After all it is a military headquarters.
Just tell them that you wish to visit the museum and you'll be directed to the second floor. Walk through the arched entrance, turn right and proceed upstairs.
To avoid the heavy traffic, take a river boat to the Tha Tien Pier at the end of Wang Thai Road and then a 500 m walk past Wat Pho to the museum.
The museum is open Mondays – Fridays from 09:00 am – 04:00 pm. Please note that the museum is closed on public holidays.
Admission fee is 50 baht payable upstairs at the reception counter outside the museum.
For more Bangkok Museums.
Custom Search
Bookmark this page and tell your friends about it
ADD TO YOUR SOCIAL BOOKMARKS:

Blink

Del.icio.us

Digg

Furl

Google

Simpy

Spurl

Technorati

Y! MyWeb