Tour Bangkok Legacies
for an enriching travel experience
By Eric Lim
Tour Bangkok Legacies is a historical travel website on renowned places preserved for posterity, the momentous events surrounding these places and the legendary figures who left these legacies in the landscape of Bangkok. 

The website is designed to provide independent travelers seeking an enriching historical travel experience in Bangkok. 

Covered in this website is the historical background to famous homes, communities, monuments, temples, revered shrines, old churches, quaint little museums located in obscure corners of the city, even roads, old hotels and the areas these hotels are in. 

Convenient forms of public transportation by rail, road and river boats, with scaled maps are included with directions on how to get there. You can be your own tour guide with the help of this do-it-yourself online historical travel guide book. 

Our historical journey in Tour Bangkok Legacies starts at the world-renowned luxury hotel on the banks of the Chao Phraya River.
The Oriental Hotel Bangkok, is a hotel steeped in the tradition of the literary giants of the 20th century, where the guest list reads like an international Who's Who. How did all this start and who were the people who contributed to the legacy of the Oriental Bangkok?
The second stop in Tour Bangkok legacies is further away from the river. In downtown Bangkok, in a busy junction stands a shrine that draws hundreds of devotees everyday. Thais and foreigners alike pray at this shrine to seek their blessings at the Erawan Shrine.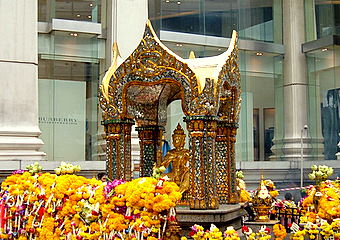 The famous shrine
Less than a hundred metres away stands the Grand Hyatt Erawan Hotel, another luxury hotel in Bangkok. Is the "Erawan" name in the hotel just coincidence, proximity or is there more to the Erawan legend? Find out more about this in Tour Bangkok Legacies.
In bustling downtown Bangkok, tucked away in two quiet sois (lanes) are the houses of two legendary figures who left their legacies in Bangkok, houses crafted in traditional Thai architecture and preserved for posterity.
One of these houses belonged to a former Prime Minister of Thailand, statesman, scholar, actor and writer. 
Legacy of a former statesman
The other belonged to a man with the vision to launch the famous Thai silk industry into the fashion capitals of the world.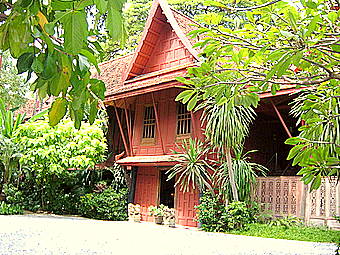 Home of the legendary Thai silk king
Both these houses are open to the public on a tour of Bangkok legacies.
Trace the lives of the early Chinese immigrants to Bangkok and tour their cultural legacies in Yaowaraj, Chinatown Bangkok. In the heart of Chinatown, is an obscure soi (lane) where a doctor, who was to change the course of Chinese history, stayed on his visit to the overseas Chinese in Bangkok.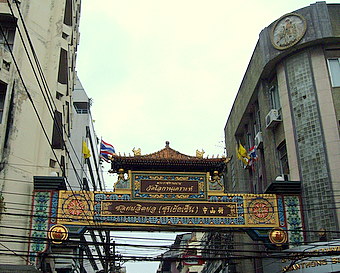 The archway over the soi
In 2004, during the Lunar New Year festival, the soi was named in his honour, leaving another landmark in Tour Bangkok Legacies.
Break away from the stereotyped view of Bangkok and tour Bangkok from a different perspective. Tour Bangkok Legacies for an enriching journey through history for the first or the next time you travel to Thailand.
Let's start our journey through Tour Bangkok Legacies. Back in 1888, Konrad Korzeniowski sailed up the Chao Phraya River. Who??? Read on 

Keep updated, subscribe to our newsletter, Bangkok Travelbug. 
Custom Search
Tour Bangkok Legacies blog The Bangkok Legacies blog keeps visitors informed on updates, news, events and festivals involving the people and places that have left their mark in the historical landscape of Bangkok.
About Bangkok legacies - my Bangkok story About Bangkok legacies relates the series of events that motivated the building of this website Tour Bangkok Legacies and how the website was built. It's my version of "About this site".
Bangkok hotels – online bookings for the best hotels deals Bangkok hotels listed here are a full range of 4 - 5 star hotels, airport hotels, boutique hotels and cheap hotels to give you some of the best discount rates available in Bangkok.
Bangkok guided tours – off the beaten track Bangkok guided tours take small groups of visitors on guided tours in Bangkok and the surrounding provinces. These tours can be by bicycle, boat, walking tours or a combination of two or more means.
Thailand souvenirs – our online souvenirs shop Thailand souvenirs provides a virtual shopping experience for Thai collectibles, ceramics, stamps, coin, wood and other souvenirs online from the comfort of your living room.
Bangkok Legacies Bookstore – buy books online Welcome to the Bangkok Legacies Bookstore, our online bookstore set up with the help of Amazon to provide a selection of books related to the people, places and topics mentioned in our web site. 
Home of M R Kukrit Pramoj – legacy of Thailand's famous son The Home of M R Kukrit Pramoj in Bangkok is a legacy of traditional Thai architecture, history and art, preserving life in a bygone era for posterity.
The Jim Thompson House – a treasure house of antiques The Jim Thompson House in Bangkok is a legacy of traditional Thai architecture and a repository of antiques, old paintings and pottery.
The Democracy Monument – the silent sentinel of freedom The Democracy Monument, Bangkok is the monument to the watershed in Thai political history on 24 June 1932 and witness to the tragedies on 14 October 1973 and 06 October 1976. 
Chinatown Bangkok – Yaowarat, the Chinese legacy Yaowarat or Chinatown Bangkok is as old as Bangkok. The Chinese immigrants settled here during the reign of King Rama I and turn it into a bustling town with some unusual historical landmarks. 
Corrado Feroci – the Italian legacy in Bangkok Corrado Feroci, an Italian artist and sculptor who settled in Bangkok, has created 18 monuments in Thailand of which 9 are in Bangkok
Italian architects in Bangkok – monuments to their artistry Italian architects in Bangkok, Annibale Rigotti and Mario Tamagno have left magnificent landmarks in the city, a throne hall, two palaces, a library, a church and Government House.
Dusit Garden – palaces in the Celestial Garden Dusit Garden is the legacy of a vision by King Rama V in 1897, to build a royal palace complex that is unsurpassed in grandeur and beauty.
Rattanakosin – dawn of a new era Rattanakosin or Bangkok, the new capital established by King Rama I in 1782, was the birth of a new era under the reign of the Chakri kings who have ruled Thailand till today.
Bangkok forts – the citadels of Rattanakosin The Bangkok forts along the Chao Phraya River and defensive canal rings protected the old city when Bangkok was first established as the capital in 1782. What remains of these Bangkok legacies today?
Bangkok Museums – a rich tapestry of Thai history and culture Bangkok museums embody the history and culture of Thailand with numerous museums reflecting the different aspects of people and life in a bygone era.
Bangkok temples – the seat of spiritual strength Bangkok temples have a very special place in Thai history and culture, the Temple of Dawn, Emerald Buddha, Golden Mount. What were their origins?
Bangkok churches – religious harmony in the land of temples Bangkok churches like Santa Cruz, Holy Rosary, Immaculate Conception and Assumption Cathedral are steeped in the history of religious tolerance in Thailand where Christians are a mere 1%.
Bangkok Shrines – the legends and faiths of centuries Bangkok Shrines are dedicated to a rich variety of centuries old Hindu and Chinese gods and goddesses, a legacy of the early Indian Buddhist scholars and Chinese immigrants.
Bangkok Communities – a cultural melting pot Bangkok communities are a rich diversity of various ethnic groups living and working in harmony, providing yet another fascinating facet in a tour of Bangkok legacies.
Traditional Thai art – preserving a cultural heritage Traditional Thai art and handicraft skills have been preserved for generations within communities. Some of these have survived; others are going extinct. What has been done to preserve these skills?
River cruise in Bangkok – sightseeing on the Chao Phraya A river cruise in Bangkok on the Chao Phraya River gives fascinating insights into life on this river of kings. The historical monuments and communities present a picture of stark contrasts.
The Bangkok skytrain and subway – tour Bangkok from a different angle The Bangkok skytrain and subway provide 40 km of mass rapid transit tracks, that's integrated with other land and water transport, for a fast and convenient Bangkok tour.
Bangkok Legacies Site Map – search for your favorite legacy The Bangkok Legacies Site Map helps you find a page in this website. Main topics are listed in the order of the navigation bar. Pages within each topic are listed in order of appearance on the page.
Bangkok photographs – unforgettable travel pictures Bangkok photographs preserve unforgettable images of Bangkok encountered during my travels. Here are some of my favorite travel pictures; images of yesteryear, memorable moments and unusual scenes.
E-mail us – it's nice to hear from you E-mail us to give us your feedback and comments on the website, to exchange links between our websites or just to exchange hellos. It's nice to from you.
Bangkok legacies guestbook – linking friends across the sea Bangkok legacies guestbook is our web page guestbook for visitors to sign in and build up a community of friends of Tour Bangkok Legacies.
Bangkok Travelbug – subscribe to our newsletter Bangkok Travelbug, the newsletter of Tour Bangkok Legacies, covers people, places and events of historical and cultural significance in Bangkok for a more enriching travel experience.
Photo sharing gallery – share your world with us Our photo sharing gallery provides a web page for visitors to share photos from their part of the world and contribute towards an international mosaic covering various corners of the world.
About the author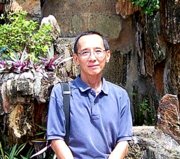 Custom Search
Bookmark this page and tell your friends about it
ADD TO YOUR SOCIAL BOOKMARKS:

Blink

Del.icio.us

Digg

Furl

Google

Simpy

Spurl

Technorati

Y! MyWeb