Hello,






Bamboo flute makers of Ban Laos

Welcome back to our September 2008 issue #004 of Bangkok Travelbug.

Bangkok Travelbug, the newsletter of Tour Bangkok Legacies, covers people, places and events of historical and cultural significance in Bangkok to give visitors a more enriching travel experience.

September is a relatively quiet month in terms of events and festivities. We are straddling the 2nd and 3rd lunar months of the Buddhist Lent which ends on 14 October.

The only significant event is the second anniversary of the coup on 19 September 2006. Given the current political crisis not many will remember this. Two years on and the political squabbles have resurfaced with even greater acrimony and forcefulness.

In the ensuing standoff, neither side is going to blink first and the risk of violence increases. For most of Bangkok, life goes on with a population weary of the seemingly endless bickering.

Please see 2006 coup.

We'd like a say a big thank you to friends and visitors who have given their comments and signed our guestbook. If you haven't done so yet, you can do it here, at the Bangkok legacies guestbook.

Here's what we have in store for you this month.


Contents

The September issue covers:

Arts and craft – The bamboo flute makers of Ban Laos


Website updates – Ratchadamnoen Avenue


Bangkok hotel updates – Furama and Unico


Old places – Pratunam and the Saen Saeb canal

If you enjoyed reading this e-zine, please forward it to a friend. If a friend forwarded this to you and if you found it interesting, please subscribe by clicking on this link, Bangkok Travelbug.


Arts and craft – The bamboo flute makers of Ban Laos

Our arts and craft feature this month is on an old Bangkok community and its craft that has existed for generations.

The bamboo flute makers of Ban Laos or Bang Sai Kai, as it's officially known, are on the Thonburi side of the Chao Phraya River near Wong Wian Yai (big traffic roundabout) where the King Taksin Monument is located.

I first learnt about this community from an old book printed by the Bangkok Tourist Bureau in 2002. Most tourist books cover the popular tourist spots. This book however deals more with Bangkok history, arts and craft and the communities that make this handicraft.

Some of these places are in private homes and some are no longer there.

The Ban Laos (Laos Village) is still there. I found this community fascinating because they are descendents of migrants from Laos who have settled in Bangkok more than 200 years ago. This makes the community as old as Bangkok!

Featured in the book is Khun Jarin, the head of Ban Laos, doyen of the craftsmen. Unfortunately when I visited Ban Laos last year, I found out that he had passed away.

His daughter, Khun Nitaya has carried on with the family and community tradition. In this modern age, it's hard to find communities where trades are still passed down from generation to generation.

It's a very non-touristy place, a refreshing side of Bangkok that gives the real essence of local life. People are friendly and helpful. Khun Nitaya took the time to relate to me the history of her community and their craft. This is the story of the bamboo flute makers of Ban Laos.

Well, do you feel adventurous enough to venture over to Thonburi? Here's the map to Ban Laos.


Ratchadamnoen Avenue – Bangkok's Champ Elysee

Ratchadamnoen Avenue, an old road in Bangkok, has several historical attractions. We've revamped this city guide with a fresh approach for your tour of this famous road on your next Bangkok holiday.

The road was built in 1899 in the reign of King Rama who was inspired by his European tour in 1897. Linking the Grand Palace to the palaces in Dusit Garden, Ratchadamnoen has several features that date back to early Bangkok:
An old fort built in 1782 when Bangkok was established as the capital



Two royal temples built in the mid 19th century, each with their own special characteristics



A royal museum in memory of the last absolute monarch of Thailand



A royal gallery dedicated to fostering and preserving Thai art.



A monument dedicated to the watershed in Thai political history, the birth of constitutional monarchy in Thailand, which is the centerpiece of the area.
Central Ratchadamnoen Avenue is an area popular for mass demonstrations and has seen three major political upheavals from 1973 – 1992. For this reason, the memorial for the 1973 uprising is in Ratchadamnoen Avenue. Another memorial is planned for the tragedy in 1992.

Visit this part of the old city in Ratchadamnoen Avenue the next time you're in Bangkok. However, wait for this political unrest to be over first.


Bangkok hotel updates

Furama Hotels International has taken over the management of a number of Bangkok hotels. The group, consisting of FuramaXclusive Hotels and FuramaXclusive Villas and Spa, are a Singapore-based hotel management group managing boutique brands ranging from business hotels to villas and resorts.

The hotels under their management are in Bali, Bangkok, Beijing, Guangzhou, Shanghai, Singapore and Sydney. Here are the hotels under the Furama name:

FuramaXclusive Asoke Hotel, former Unico Grande Asoke



FuramaXclusive Sathorn Hotel, former Unico Grande Sathorn Boutique Serviced Residence



FuramaXclusive Sukhumvit Hotel, former Unico Grande Sukhumvit Hotel
Unico is a Thai real estate company operating hotels, serviced residences, condominiums and a golf course near Suvarnabhumi Airport. The hotels still operating under the Unico name are:

Unico Leela Hotel in Nana Sukhumvit



Unico Grande Silom Hotel in Silom Road



Unico Grande Srinakarin Hotel near Suvarnabhumi Airport
Changes in names of Bangkok hotels are a frequent feature. The former Chin House Luxurious Residence in Soi Sala Daeng is now known as Bandara Suites Hotel.


Old places – Pratunam and the Saen Saab canal

Our historical focus this month is on Pratunam and the Saen Saab canal. Why am I writing about a murky and smelly canal that most visitors would rather avoid?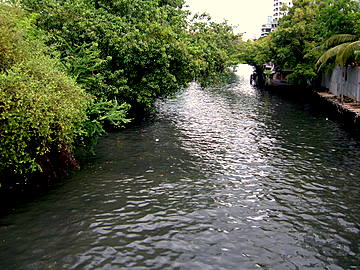 Saen Saab canal

This canal has a long and interesting history. Pratunam got its name from the sluice gate in the Saen Saab which is more than 170 years old.

The canal was dug by Chinese labourers in the reign of King Rama III (1824 – 1851) to move troops to the east in preparation for a war with Vietnam for control over Cambodia. Back then it was easier to move troops along waterways than overland.

Cambodia has long been a bone of contention for Thailand. For centuries Thailand has either been fighting with Cambodia or over Cambodia which Thailand considered a vulnerable eastern flank. Please note that before 1939, Thailand was called Siam. To avoid confusion, I've used Thailand throughout this article.

Up till the 13th century the Angkor Empire controlled large parts of present day Thailand right up to Lopburi. In the 14th century with the rise of the Ayutthaya Empire and the decline of Angkor, Ayutthaya sacked Angkor and the survivors fled to start a new kingdom in Phnom Penh.

After the first destruction of Ayutthaya by the Burmese in 1569, the former came under Burmese control. Cambodia invaded a dispirited Thailand six times in the following two decades.

The late 16th century saw the revival of Ayutthaya under King Naresuan and the decline of Cambodia. In the early 1700s, power struggles in the Cambodian court broke out as rivals sought Vietnamese or Thai backing to secure their thrones. Both Thailand and Vietnam tried to put their candidate on the throne to control Cambodia. This struggle went on for the next century.

After the second destruction of Ayutthaya in 1767, a new leader emerged. Phraya Taksin slipped through the Burmese siege, rode south and rallied his forces. A new capital was established in Thonburi.

Within six months he drove the Burmese out and imposed authority over the former territories of Ayutthaya. Next he turned to secure the eastern border, attacked Cambodia and annexed the provinces of Battambong and Siam Reap. In three years, the Thai kingdom, enlarged and united was at the pinnacle of its power.

In the reign of King Rama I (1782 – 1809), a Thai protégé, King Eng kept Cambodia in the Thai camp. This relationship ended in 1806 when Prince Chan, son of King Eng acceded to the throne.

Resentful of Thai dominance, King Chan turned to Vietnam as the latter increased their military presence in Cambodia.

In the reign of King Rama III, a power struggle in the Cambodian court gave Thailand the chance to intervene. War was declared on Vietnam to bring Cambodia under Thai influence again. It was for this war that the Saen Saab canal in Pratunam was dug.

The war dragged on from 1833 to 1844 until Thailand and Vietnam settled the conflict. In 1848 when Duong with Thai backing became king of Cambodia, the country was firmly back in the Thai fold.

The entry of the colonial powers Britain and France in the 2nd half of the 19th century, completely upset the balance of power in the region. French ambitions for the region around the Mekong river basin brought it into conflict with Thailand.

In 1893, gunboat diplomacy and blockade of the Chao Phraya River by France forced Thailand to give up the eastern Thai provinces of Chantaburi and Trat to French occupation.

In this political climate, King Rama V embarked on his first European tour. Russia was his first stop. The photo of King Rama V with Czar Nicholas II made the front pages of European papers.

Close Russian Thai relations probably brought France to the negotiating table with Thailand. Thailand regained Chantaburi and Trad as a result but at a steep price. She had to give up Battambong and Siam Reap in Cambodia and territories in Laos to France.

At the outbreak of World War II Thailand took advantage of weakened German occupied France and reoccupied Battambong and Siam Reap with the connivance of Japan. Thailand was forced to relinquish these territories after WWII.

Tussle over border areas with Cambodia continued right up to the second half of the 20th and early 21st centuries. As at 2008, there are still lingering territorial disputes, a cause for animosity and tension in Cambodian-Thai relations.

Whatever the situation at the border, it's peaceful at the Saen Saab canal. Canal boats are taking people to work and school and back home along a waterway that's a legacy of the efforts of the thousands of Chinese labourers who toiled to dig the canal for a war more than 170 years ago.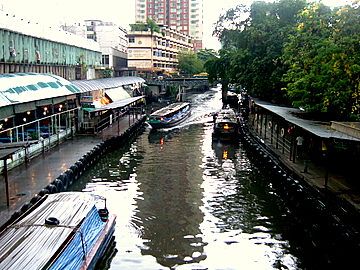 Saen Saab canal boats

For an idea of what Pratunam is like today, please see the hotels in Pratunam.


Next month

Remembering the tragic month of October

See you next month.


Your comments please

We'd love to hear to hear comments, ideas and feedback from you. Please tell us what you think. Contact us at this link, E-mail-us.

To return to Tour Bangkok Legacies Home Page.

Copyright@2008-2009 Tour Bangkok Legacies
All rights reserved