Assumption Cathedral Bangkok
French legacy on the Chao Phraya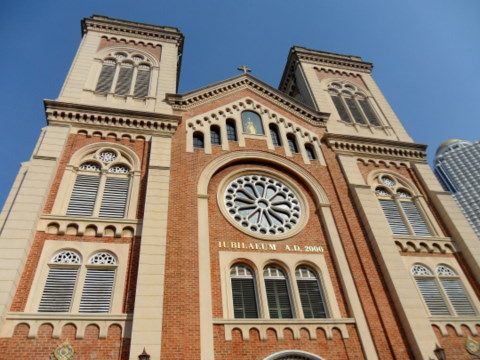 The French legacy
The French built Assumption Cathedral,
an old Catholic church in Bangkok opposite the famous Oriental Hotel, not far from the French Embassy. Brainchild of a French missionary, Father Pascal in 1809 and creation of a French architect, the cathedral was completed in 1821, in the reign of King Rama II.
The cathedral was named Assumption to honor the taking up of the Virgin Mary to heaven after her death. The Feast of the Assumption, St Mary's Day on 15th August commemorates this religious occasion.

Finally; the Immaculate Virgin, preserved free from all stain of original sin, when the course of her earthly life was finished, was taken up body and soul into heavenly glory, and exalted by the Lord as Queen over all things, so that she might be the more fully conformed to her Son, the Lord of lords and conqueror of sin and death.

Catechism of the Catholic Church 3:6

The French were present in Thailand since 1662, when the capital was in Ayutthaya. With the destruction of the old capital, missionary work was put on hold. This was resumed after the establishment of Bangkok as the capital.
A French architect designed the original Assumption Cathedral with material imported from France and Italy. The present church was reconstructed in 1909. Damaged during World War II, the cathedral was restored after extensive repairs.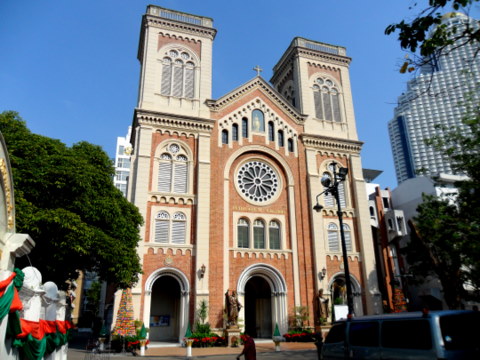 An impressive tall rectangular structure, the cathedral is a departure from the 18th century Bangkok churches like the Santa Cruz Church and the Holy Rosary Church with their domed belfries and high steeples.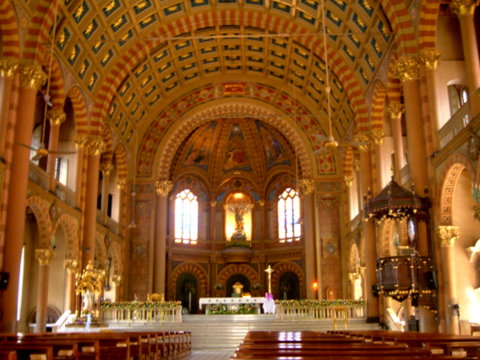 Peace and tranquility

It's striking red brick exterior sets the cathedral apart from the surrounding white buildings. Tall square towers flank the main entrance leading to the spacious nave with a high ornate ceiling. The cathedral is open everyday for worshippers.

The Assumption Convent, Catholic Mission of Bangkok, Assumption Printing Press and rectory enclose the shady tree-lined courtyard facing the cathedral, creating the impression of a self-contained little township.
As the main church of the Catholic Archdiocese in Thailand, the cathedral had the honor to host the visit of the late Pope John Paul II in May 1984, a memorable occasion for the Catholic Church in Bangkok.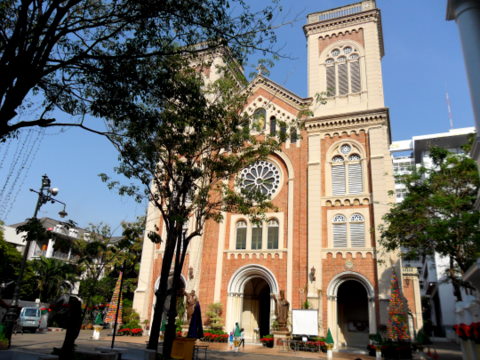 Several educational institutions have grown around the cathedral: Assumption Suksa School, Assumption Convent, and Assumption College.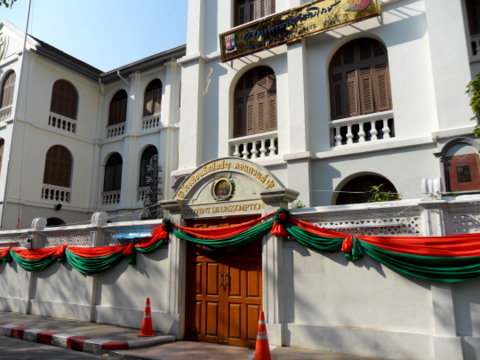 Assumption Convent

The educational institutions of Assumption are synonymous with academic excellence in Thailand.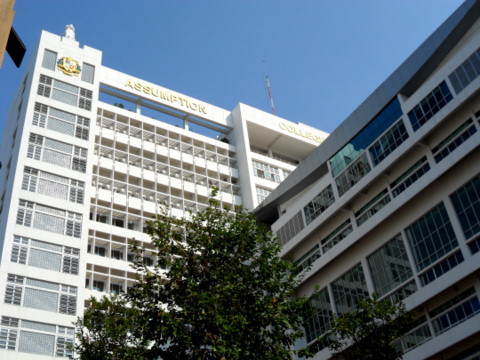 Assumption College

Assumption Cathedral Bangkok is one of the many historical buildings preserved for posterity in an architectural style that's rarely seen today. Like a little part of old Europe transferred to Bangkok, it's a quaint legacy of the early French community.


Assumption Cathedral at Christmas

Here are some shots of this old cathedral at Christmas 2008.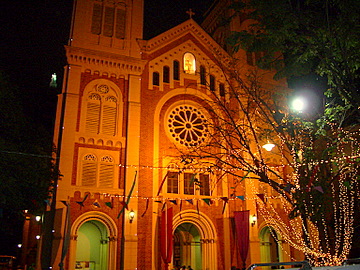 The facade in the lights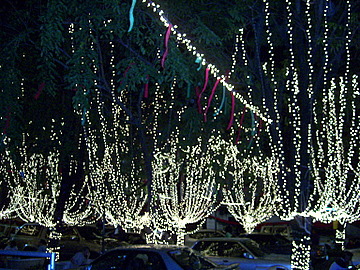 Lighted trees in the carpark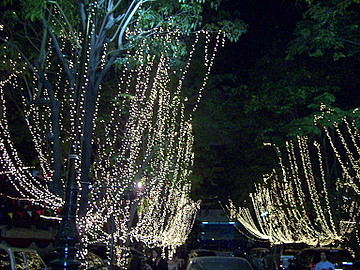 Bookmark this Bangkok legacy
ADD TO YOUR SOCIAL BOOKMARKS:

Blink

Del.icio.us

Digg

Furl

Google

Simpy

Spurl

Technorati

Y! MyWeb
For a map to Assumption Cathedral and for other Bangkok churches.